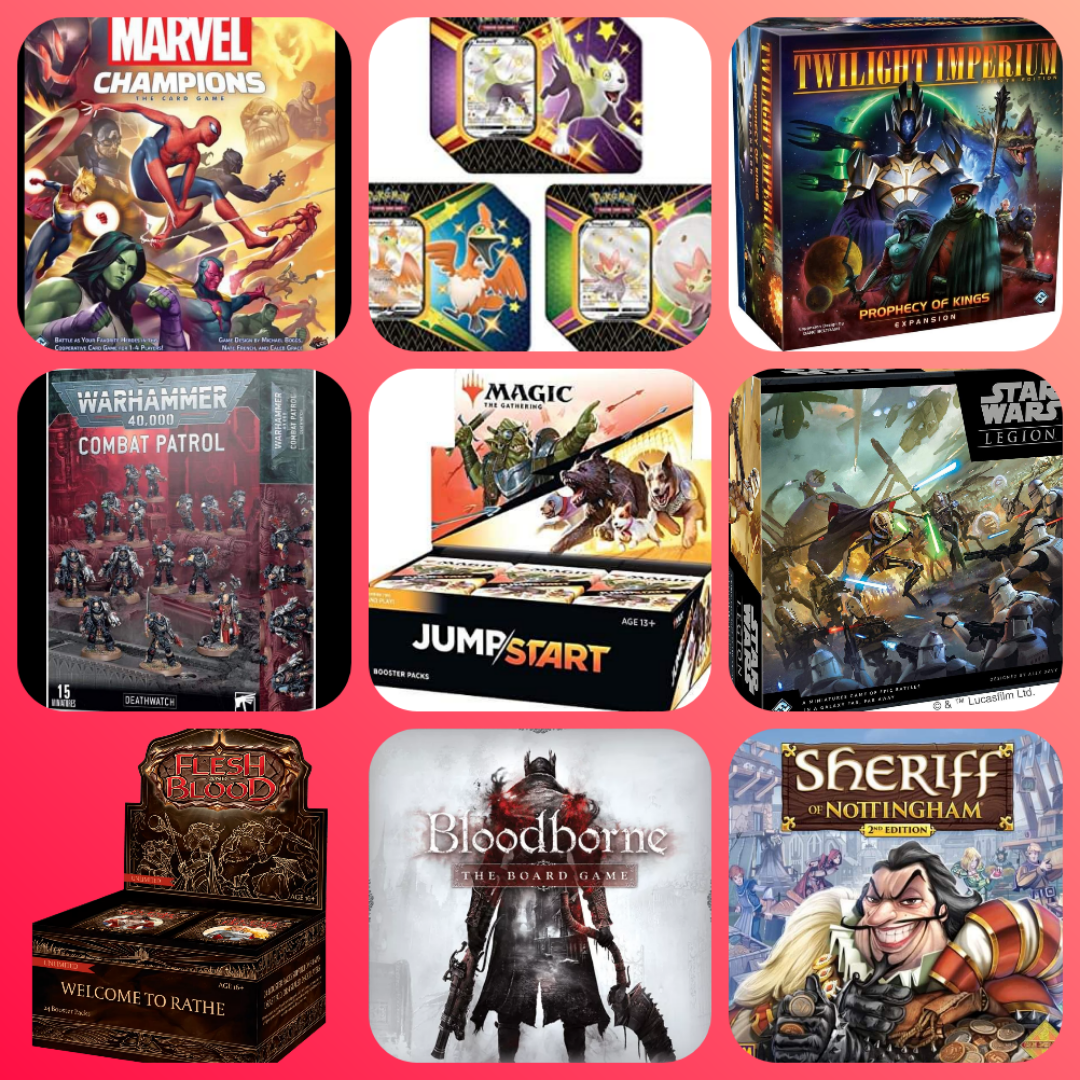 Restocked This Week at mythic Games!
– Sheriff of Nottingham
– Marvel Champions LCG: Core Game
– MTG: Jumpstart Boosters, & Ashiok Accessories Bundle
– Pokemon: Shining Fates Tins, Shining Fates Elite Trainer Boxes, Shining Fates Boosters, Battle Styles 3-Pack Blisters, Urshifu V Boxes, Vivid Voltage Theme Decks, Champion's Path Boosters, & Battle Styles Boosters
– Flesh and Blood: Welcome to Rathe Boosters, & Arcane Rising Boosters
– The Key: Murder at the Oakdale Club
– Warhammer 40K: Combat Patrol Deathwatch, Elite Edition, Necrons Lokhusts Heavy Destroyer, Space Marines Devastator Squad, Paints and Tools, Space Marine Captain in Phobos Armor, Chaos Space Marines Raptors, T'au Empire Commander, Start Collecting T'au Empire, & XV88 Broadside Battlesuit-
Warhammer Age of Sigmar: Warcry Catacombs, Getting Started, Start Collecting Gloomspite Gitz, Battletome Orruk Warclans, & Tzeentch Pink Horrors
– Star Wars Legion: Clone Wars Starter, Stap Riders, Inferno Squad, AAT Trade Federation Battle Tank, Cad Bane, Phase 2 Clone Troopers, Downed AT-ST, & Rebel Troopers Upgrade
– Marvel Crisis Protocol: Venom, & Corvus Glaive and Proxima Midnight
– Bloodborne
– Twilight Imperium: Prophesy of Kings
– Dixit: Mirrors Expansion
– Dragon Ball Super: Unison Warrior Set 3 Ultimate Decks
– 7 Wonders Duel- Raiders of Scythia
– Res Arcana
– Big Book of Battle Mats 2
– Giant Book of Battle Mats 2
– Coup
– Fluxx
– Marvel Fluxx
– Astronomy Fluxx
– Star Wars Outer Rim
– Disney Villainous: Perfectly Wretched
– Batman Talisman
– Pandemic Legacy Season 1
– Cosmic Encounter
– Dominion: Core Game, Menagerie Expansion, Seaside Expansion, & Dark Ages Expansion
– Obscurio
– Mysterium
– King of Tokyo
– Zombicide: No Rest for the Wicked, & Naiade Guest Box
– A Feast For Odin
– Fields of Arle: Core Game, & Tea and Trade Expansion
– Pandemic: Fall of Rome
– Cheating Moth
– Lord of the Rings Journeys in Middle-Earth: Dwellers in Darkness Expansion
– Lord of the Rings LCG: Core Game, The Black Riders, & Road to Rivendell
– Parade
– Tsuro: The Game of the Path
– Bang!
– Catan: 25th Anniversary Edition Core Game, Crop Trust Scenario, Trading Post, Hexadock, & Hexatowers
– Catan Junior
– Bohnanza
– Ticket to Ride: India Map, & Africa Map
– Paleo
– Mansions of Madness: Streets of Arkham Expansion
– Arkham Horror LCG: Where the Gods Dwell, Point of No Return, Dark Side of the Moon, Phantom of Truth, Shattered Aeons, Pallid Mask, Before the Black Throne, Blood on the Altar, Return to the Night of the Zealot, Guardians of the Abyss, The Circle Undone, The Secret Name, The Wages of Sin, For the Greater Good, Union and Disillusion, In the Clutches of Chaos, A Thousand Shapes of Horror, Nathaniel Cho Starter, Harvey Walters Starter, Winifred Habbamock, Jacqueline Fine Starter, & Stella Clark Starter
– Small World: Power Pack 1, & Power Pack 2
– The Grizzled
– Star Wars X-Wing: Phoenix Cell, Skystrike Academy, Fugitives and Collaborators, Epic Battles, Guardians of the Republic, Slave I, M3-A Interceptor, Hound's Tooth, Starfield Playmat, Starkiller Base Playmat, & Vulture-class Droid Fighter
– Star Wars Armada: Rebellion in the Rim, & Imperial Class Star Destroyer
– Star Wars Imperial Assault: Twin Shadows, Tyrants of Lothal, & The Bespin Gambit
– Star Wars RPG: Starships and Speeders, Collapse of the Republic, Friends Like These, Onslaught at Arda I, Strongholds of Resistance, Desperate Allies, Lead by Example, The Jewel of Yavin, Game Master's Kit, Chronicles of the Gatekeeper, Unlimited Power, & Fly Casual
– Oh My Goods
– Sentinels of the Multiverse: Unity Expansion
– Troyes Dice
– Kitchen Rush
– Shadowrun Crossfire DBG: Prime Runner
– Jungle Speed
– Farkle
– Dragonwood
– The Princess Bride: Prepare To Die, Battle of Wits, & I Hate To Kill You
– New Phone, Who Dis?
– Secret Hitler
– D&D: Volo's Guide to Monsters, Ranger Spellbook Cards, Arcane Spellbook Cards, Xanathar's Spellbook Cards, & DM Screen Reincarnated
– D&D Unpainted Minis: Djinni, Iron Golem, Sprite and Pseudodragon, Ballista, Male Goliath Barbarian, & Leucrotta
– Pathfinder Unpainted Minis: Hydra, Goblin Rogue Female, Cannons, Stag, & Giant Eagle
– Pokemon: Bulbasaur Sleeves, & Pokeball Pro Binders
– Chessex: Battlemats, Megamats, Mat Markers, & Dice Sets, Assorted
– Citadel: Skulls, Plastic Glue, & Drill
– The Army Painter: Paints, Basing Material, Laser Line, Frame Cutters, Hobby Knife, Brushes, & Spray Primers, Assorted
– GF9: Basing Material, Assorted
– Ultimate Guard: Smarthive Deck Storage Boxes, Superhive Deck Storage Boxes, 100ct Deck Boxes, 4-Pocket Binders, 14-Pocket Pages Standard and Mini American (Perfect for Legion and X-Wing), & Katana Sleeves, Assorted
– Beckett: Penny Sleeves
– Oakie Doakie: Dice Sets, Assorted
– Dragon Shield: Smoke Side-Loading Perfect Fit Sleeves, Smoke Perfect Fit Sleeves, Crimson Matte Sleeves, Yellow Matte Sleeves, & Black Matte Sleeves
– Ultra Pro: Card Sorting Trays, Amethyst Playset Binders, & Deck Boxes, Assorted
– KMC: Perfect Fit Black Sleeves
– Gamegenic: Dungeon Deck Boxes, Playmat Tubes, Standard Card Game Sleeves, Tarot Sleeves, Mini American Sleeves, Standard American Sleeves, Standard Card Game Matte Sleeves, Sidekick Deck Boxes, Stronghold Deck Boxes, & Watchtower Deck Boxes, Assorted
– FFG: Gaming Tokens Silver, & Gold
– BCW: 3-Row Cardboard Storage Boxes