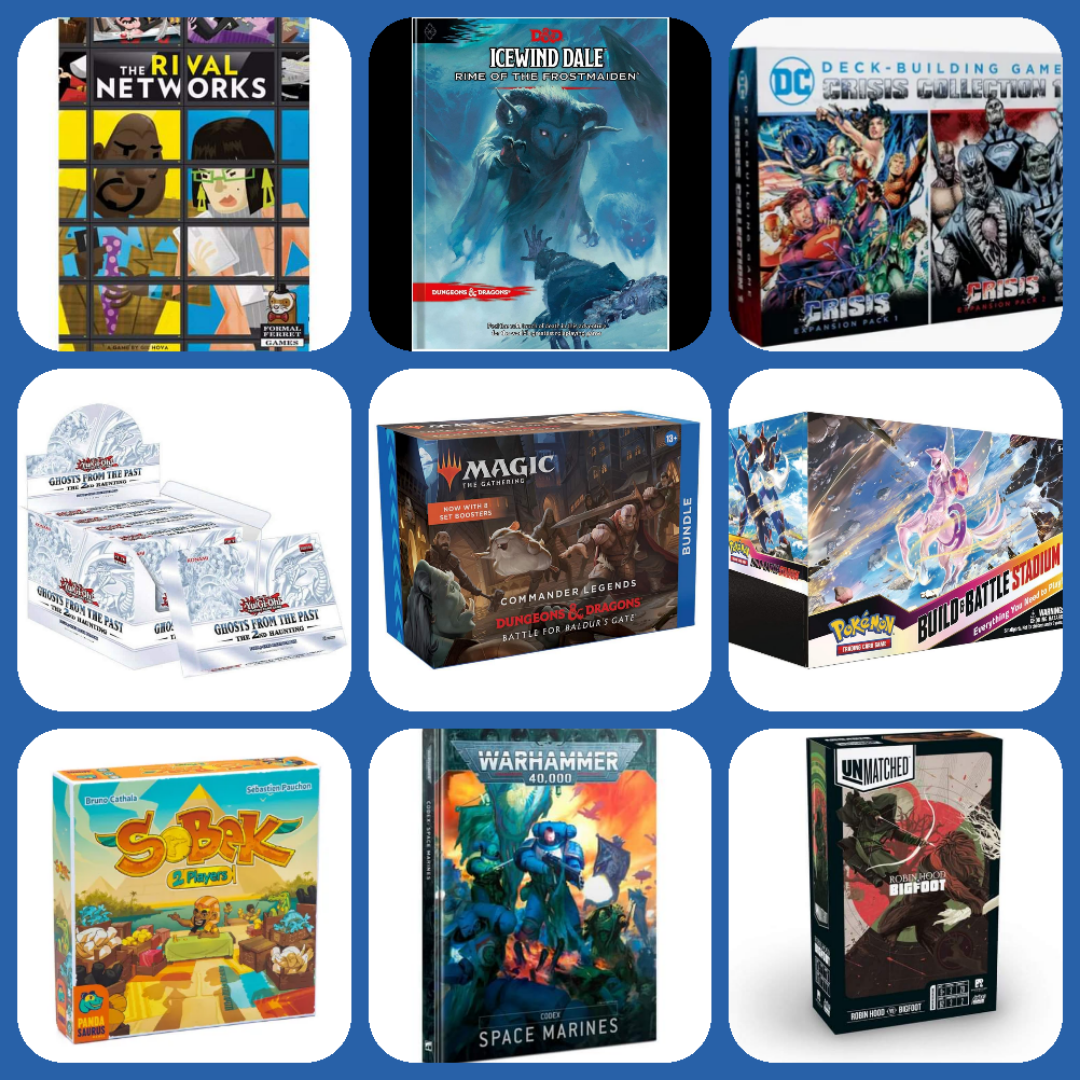 Restocked This Week at Mythic Games! 6/17/22
MTG: Commander Legends Battle for Baldur's Gate Bundles, Baldur's Gate Playmats (5 Styles), & Mochi Kami Plush Dice Bag
Pokemon: Astral Radiance Build and Battle Stadium
Yu-Gi-Oh!: Ghosts From the Past Second Haunting
D&D: Icewind Dale Rime of the Frostmaiden, Tome of Beasts 2, Monster Manual, Player's Handbook, Plush Mimic Dice Bag, Druid Spellbook Cards, Martial Spellbook Cards, Xanathar's Spellbook Cards, Warlock Class Folio, & Starter
The Rival Networks
DC Deckbuilding Game: Crisis Collection 1, Forever Evil, & Crossover Collection 1
Sobek: 2 Players
Warhammer 40K: Codex Space Marines, Ghazghkull Thraka, Hive Tyrant, Shadowseer, Illuminor Szeras, Codex Death Guard, Typhus Herald of the Plague, Blightlord Terminators, Havocs, Codex T'au Empire, Grey Knights Strike Squad, & Venerable Dreadnought
Onitama: Sensei's Path
Unmatched: Robin Hood vs Big Foot
Red Cathedral
Furnace
Five Tribes: Whims of the Sultan
3 Dragon Ante: Legendary Edition
Sagrada: 5-6 Player Expansion
War of the Ring: Lords of Middle-Earth
The Thing: Infection at Outpost 31
Here to Slay: Core Game, Berserkers and Necromancers, & Warriors and Druids
Unstable Unicorns: NSFW Core, & Adventures
Pandemic: Reign of Cthulhu
Genotype
G.I. Joe RPG: Core Rulebook
Dominion: Cornucopia and Guilds
Century: Golems of the Eastern Mountains
Red Dragon Inn: Pooky
Munchkin: Core Game, & Munchkin 3 Clerical Errors
Catan: Explorers and Pirates 5-6 Player Expansion
Shards of Infinity: Into the Horizon
Poetry for Neanderthals
Ultimate Werewolf Extreme
Codenames
Quarto
Balderdash
D&D Tarot Deck
Pathfinder: Deck of Endless NPCs, & Alchemy Deck
Monster Scenery: Broken Ground
Battle Mats: Dungeon, Cyberpunk, Towns and Taverns, & Wilderness
D&D Frameworks Minis: Human Male Monk, Human Female Rogue, Elf Male Ranger, & Tiefling Female Rogue
D&D Unpainted Minis: Skeletons, Dragonborn Female Fighter, Crag Cat, Elf Male Wizard, Ice Troll Female, Human Female Paladin, Crawling Claws, Tiefling Bard Female, Umber Hulk, Dragonborn Female Sorcerer, Giant Spider and Egg Clutch, Goliath Male Fighter, Kobold Inventor Sorcerer and Dragon Shield, Aasimar Male Paladin, Wererat and Weretiger, Elf Male Druid, Nightwalker, Human Male Wizard, Bugbears, Spiders, Ghost and Banshee, & Grung
Pathfinder Unpainted Minis: Townspeople and Accessories, Blue Dragon, Male Goblin Alchemist, Grizzly, Bone Devil, Dire Wolf, Children, Elf Male Fighter, Hyenas, Male Goblin Fighter, Infantrymen, & Stag
Army Painter: Speedpaints, Spray Primers, Basing Kit, Brushes, Basing Materials, Plastic Glue, Super Glue, Super Glue Activator, Measuring Tape, Frame Cutter, Magnets, Tweezers, Dips, & Tufts, Assorted
Citadel: Mouldline Remover, Synthetic Brushes, Contrast Paints, Paints, & Technical Paints, Assorted
Vallejo: Protectors of Virtue Paint Set
Primal Horizon: Miniatures Magnets, Assorted
Gamegenic: Stronghold Deck Boxes, & Squire Deck Boxes, Assorted
Chessex: Dice Sets, & Battle Mats, Assorted
Dragon Shield: Dual Matte Sleeves, & Matte Sleeves, Assorted
Zelda: Link and Gannon Sleeves& Triforce Sleeves
Ultra Pro: Great Wave off Kanagawa Alcove Deck Boxes, Eclipse Deck Boxes, & 9-Pocket Pages, Assorted
MDG: Dice Sets, Assorted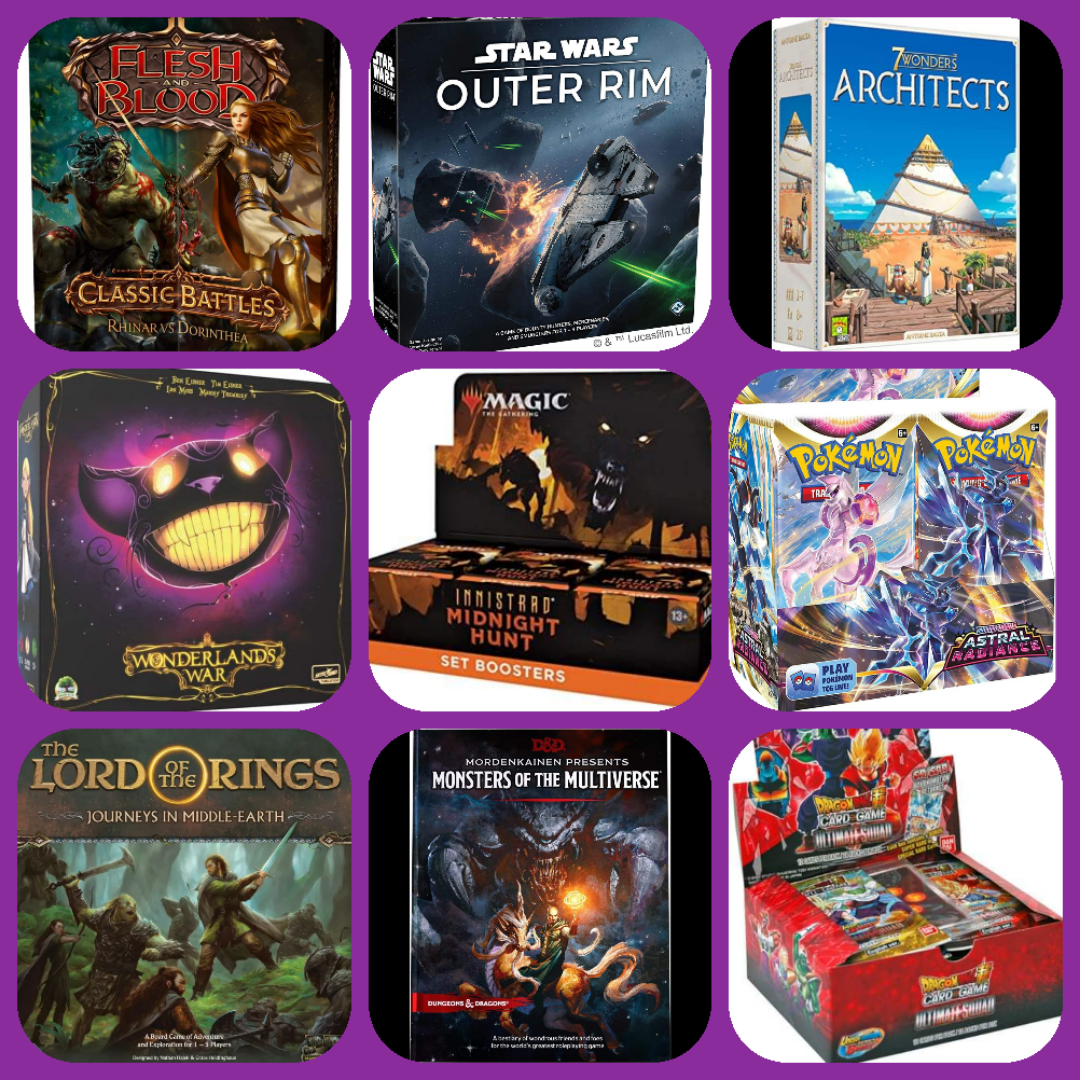 Restocked This Week at Mythic Games! 6/10/22
MTG: Innistrad Midnight Hunt Set Boosters, & Secret Lair Street Fighter Playmats, Assorted
Pokemon: Astral Radiance Boosters, Astral Radiance Build and Battle Boxes, Astral Radiance Mini Binders, & Kleavor VStar Boxes
Flesh and Blood TCG: Classic Battles Rhinar vs Dorinthea
Dragon Ball Super TCG: Ultimate Squad Boosters
Wonderland's War
Star Wars Outer Rim
The Guild of Merchant Explorers
D&D 3 Dragon Ante: Legendary Edition
Targi
7 Wonders Architects
7 Wonders: Core Game, & Armada
Lord of the Rings Journeys in Middle-Earth: Core Game, & Shadowed Paths
Star Wars Legion: Cassian Andor and K-2SO, Rebel Veterans, Padme Amidala, Fleet Troopers, Dice, & Movement Tools
Star Wars X-Wing: Xi-class Light Shuttle, & Dice
Warhammer 40K: T'au Pathfinder Team, Tyranid Venomthropes, Blood Angels Furioso Dreadnought, Orks Warbikers, & Astra Militarum Sentinel
Tokaido
Hadrian's Wall
Black Orchestra
Rising Sun: Monster Pack
Brass Birmingham
Camel Up
Forbidden Sky
Welcome to the Moon
Terraforming Mars: Prelude
Pandemic: Iberia
Catan: Seafarers
Odin's Ravens
D&D: Mordenkainen Presents Monsters of the Multiverse, Essential Kit, Starter, Deep Magic Pocket Edition, Tome of Beasts 2 Pocket Edition, Vault of Magic Pocket Edition, Arcane Spellbook Cards, Druid Spellbook Cards, Bard Spellbook Cards, Cleric Spellbook Cards, Paladin Spellbook Cards, Ranger Spellbook Cards, Xanathar's Spellbook Cards, & Creature and NPC Cards
Giant Book of Battle Mats Volume 2
DC Deckbuilding Game: New Gods
Dominion: Empires, & Base Cards
Shards of Infinity: Into the Horizon
Vampire the Masquerade RPG: Core Rulebook
Star Wars Force and Destiny RPG: Gamemaster Kit
Star Wars Age of Rebellion RPG: Friends Like These
Dixit: Harmonies
Happy Salmon
Happy Little Dinosaurs
Here to Slay: Necromancer and Berserker
Best of Werewolves of Miller's Hollow
The Binding of Isaac: 4 Souls
Theory 11 Playing Cards: The Mandalorian, Monarchs, & Purple Monarchs
Bicycle Playing Cards: Dragon, Unicorn, Fire Element, & Mosaic
Cyanide and Happiness: Joking Hazard
Cards Against Humanity: Design Pack, Picture Pack 1, Ass Pack, Jew Pack, 2000s Pack, Sci-Fi Pack, Geek, Pack, World Wide Web Pack, Period Pack, & Fantasy Pack
D&D Icons of the Realms Painted Minis: Fizban's Treasury of Dragons Boosters, & Super Boosters
D&D Unpainted Minis: Beholder, Mimics, Drider, Kobolds, Half-Elf Wizard Male, Frost Salamander, Goblin and Goblon Boss, Half-Orc Paladin Male, Spider and Egg Clutch, Female Elf Cleric, Grung, Winter Wolf, Behir, Female Human Cleric, Raging Troll, Froghemoth, Bugbears, Human Male Ranger, & Spiders
MTG Unpainted Minis: Jin-Gitaxias, & Archangel Avacyn
Pathfinder Unpainted Minis: Bone Golem, Giant Scorpion, Horse and Hitch, & Guards
Army Painter: Speedpaints, Spray Primer, Drill Bits, & Paints, Assorted
Citadel: Ironbreaker, Naggaroth Night, Warpstone Glow, Synthetic Glaze Brushes, Grey Seer, & Grey Seer Spray
Ultra Pro: Folding Dice Trays, Pro-Matte Sleeves, Pro-Fit Sleeves, Satin Tower Deck Boxes, & Satin Cube Deck Boxes, Assorted
Gamegenic: Dungeon Deck Boxes, Sidekick Deck Boxes, Watchtower Deck Boxes, Squire Deck Boxes, Playset 3-Ring Binder, Standard American Sleeves, & Double Sleeving Kits, Assorted
Dragon Shield: Dual Matte Sleeves, Perfect Fir Sleeves, & Life Ledgers, Assorted
MDG: Dice Sets, & Folding Dice Trays, Assorted
KMC: Perfect Fit, Black Perfect Fit, & Side-In Perfect Fit Sleeves
Chessex: Dice Sets, Assorted
BCW: Cardboard Storage Boxes, Assorted
Ultimate Guard: Archive Deck Boxes, Assorted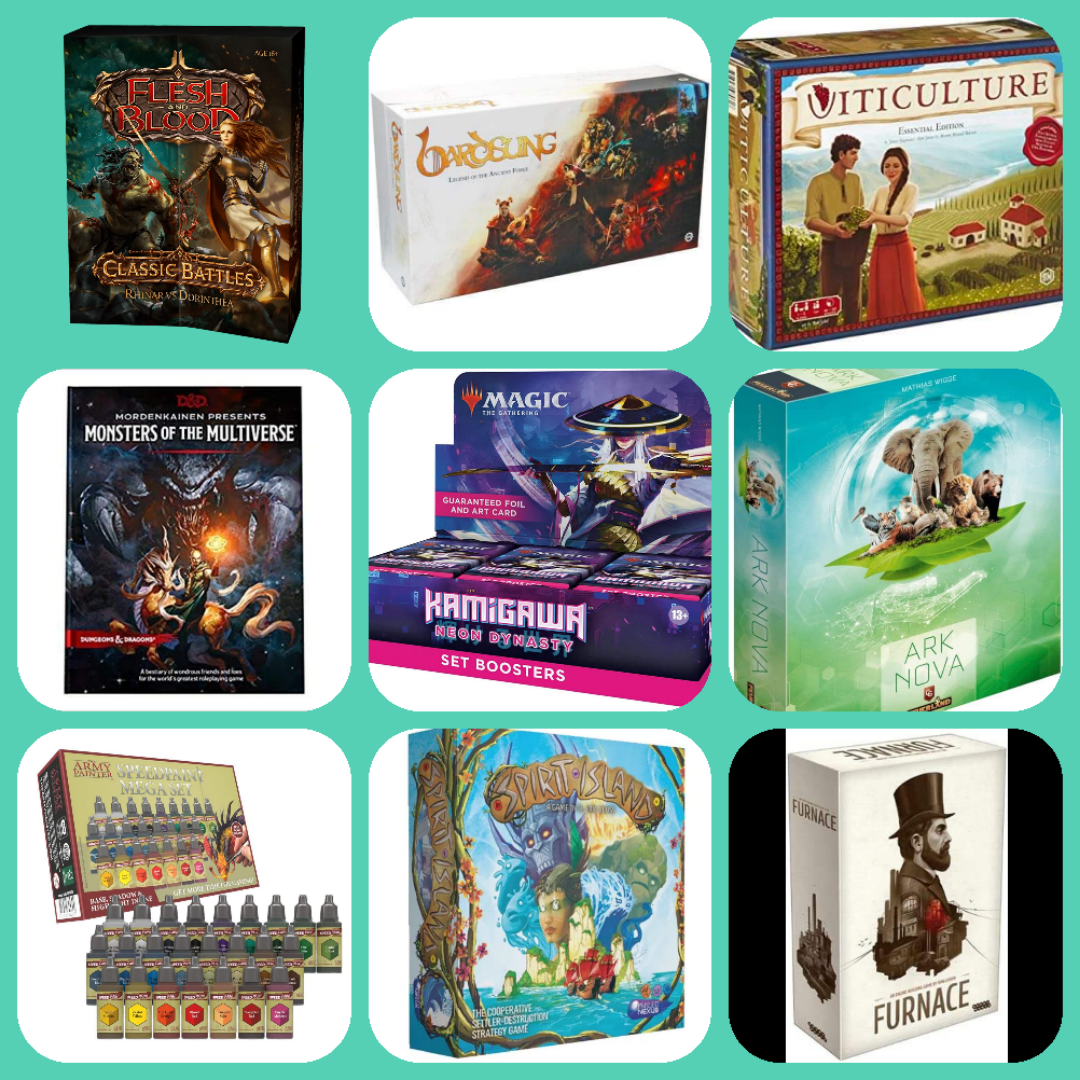 Restocked This Week at Mythic Games! 6/3/22
MTG: Kamigawa Neon Dynasty Set Boosters, Kamigawa Neon Dynasty Bundles, Zendikar Rising Set Boosters, & Secret Lair Ryu and Ken Playmat
Flesh and Blood TCG: Classic Battles Rhinar vs Dorinth
Ark Nova
Bardsung
Viticulture: Essential Edition Core Game, & Metal Lira Coins
Spirit Island: Core Game, Feather and Flame, & Deluxe Invader Board
D&D: Mordenkainen Presents Monsters of the Multiverse, Explorer's Guide to Wildemount, Core Rulebook Gift Set, & DM Screen Wilderness Kit
Arkham Horror LCG: Revised Core Set, & Union and Disillusion
Lovecraft Letter
Zombicide Invader: Black Ops
Abomination: The Heir of Frankenstein
Furnace
Dice Forge: Rebellion
Star Wars Legion: Snowtroopers, & Fleet Troopers
Smash Up: Pretty Pretty
Marvel Splendor
Lord of the Rings LCG: Fortress of Nurn
Power Rangers DBG: Zeo Stronger Than Before
Lost Cities: Rivals
Fox in the Forest Duet
Tea Dragon Society
Scythe: Metal Coins
Crossing
Lucidity
Terraforming Mars: Hellas and Elysium
Euphoria
Munchkin Deluxe, & Munchkin
Secret Hitler
Tanto Cuore: Oktoberfest
D&D Unpainted Minis: Harengon Rogues, Green Slaad, Human Monk Female, Young Copper Dragon, Half-Orc Fighter Female, Blink Dogs, Kobolds, Elf Ranger Male, Ghost and Banshee, Human Ranger Female, Yuan-Ti Malisons, Aasimar Wizard Female, Kobold Inventor Dragonshield and Sorcerer, Dragonborn Paladin Male, Crocodile, Orc Adventurers, Goblin and Goblin Boss, Tiefling Warlock Male, & Gnome Artificer Female
MTG Unpainted Minis: Thraben Inspector and Tireless Tracker
Pathfinder Unpainted Minis: Blue Dragon, & Male Elf Rogue
Army Painter: Speedpaint Mega Sets, Individual Speedpaints, Varnish, Primer, Paints, Tweezers, Brushes, Glue, & Green Stuff, Assorted
Foam Brain: Plastic Inclusions Dice Sets, Metal Dice Sets, Dice Trays, Roll-Up Dice Mats, & Dice Bags, Assorted
Folded Space: Gloomhaven Box Insert, & Wingspan Box Insert
Zelda: Triforce Sleeves
DBS: Dragon Balls Sleeves
Yu-Gi-Oh!: Albaz Sleeves
MDG: Dice Sets, & Dice Bags, Assorted
Dragon Shield: Dual Matte Sleeves, Matte Sleeves, & Double Shell Deck Boxes, Assorted
Ultra Pro: Satin Tower Deck Boxes, Satin Cube Deck Boxes, Eclipse Sleeves, Eclipse Deck Boxes, & Pro-Matte Sleeves, Assorted
Gamegenic: Stronghold Deck Boxes, Casual Albums, & Squire Deck Boxes, Assorted
Chessex: Dice Sets, Assorted
Koplow: Jumbo D20s, & Dice Bags, Assorted
Ultimate Guard: Deck Case 133+ Deck Boxes, Assorted
KMC: Perfect Hard Sleeves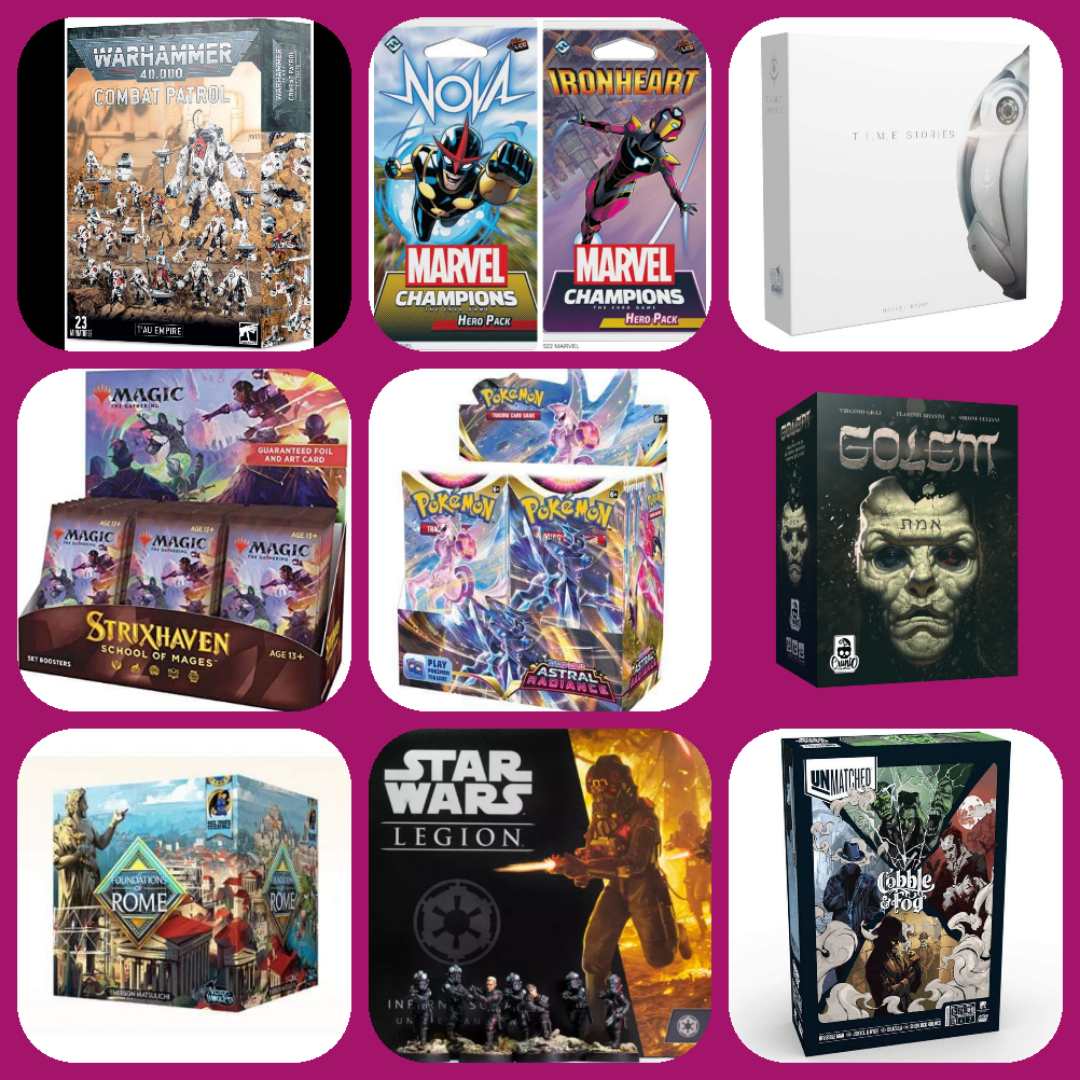 Restocked This Week at Mythic Games! 5/27/22
MTG: Strixhaven Set Boosters
Pokemon: Astral Radiance Boosters, Astral Radiance ETBs, Astral Radiance 3-Pack Blisters, Astral Radiance 1-Pack Blisters, Astral Radiance Build and Battle Boxes, & Pikachu Gaming Trove
Golem
Marvel Champions LCG: Nova, Ironheart, & Core Game
Unmatched: Cobble and Fog
Time Stories
Foundations of Rome: Senator Pledge
Star Wars Legion: Inferno Squadron, T-47 Airspeeder, Fleet Troopers, Director Orson Krennic, Chewbacca, General Veers, Imperial Specialists, E-Web Heavy Blaster, Upgrade Card Pack, & Dice Pack
Star Wars X-Wing: HMP Droid Gunship, BTL-A4 Y-Wing, & TIE-sk Striker
Star Wars Armada: Venator Class Star Destroyer, Victory Class Star Destroyer, & Republic Fighter Squadrons
Marvel Crisis Protocol: Dr Strange and Clea, Thor and Valkyrie, Deadpool and Bob Agent of Hydra, Hulkbuster, Rogue and Gambit, Loki and Hela, Captain America and War Machine, Shuri and Okoye, Mysterio and Carnage, NYC Terrain Pack, Dice Pack, & Movement Tools
Warhammer 40K: Combat Patrol T'au Empire, Exalted Sorcerers, & Cadian Heavy Weapons Squad
Warhammer AOS: Annihilators
Mansions of Madness: Path of the Serpent
Catan: Explorers and Pirates 5-6 Player
Carcassonne: Princess and Dragon, Traders and Builders, & Hills and Sheep
Civilization A New Dawn
Patchwork
Arcadia Quest
Aftermath
Chess: Luxury Version
Crazy Eggs
Spot It Marvel
Exploding Kittens: NSFW
Exploding Minions
Secret Hitler
Cards Against Humanity: Family Edition Glow in the Dark, Retail Product, Human Pack, Green Box, Weed Pack, Saves America Pack, Jew Pack, Absurd Box, & Picture Pack 1
D&D: Snowy Owlbear Phunny Plush
D&D Unpainted Minis: Young Green Dragon, Shambling Mound, & Young White Dragon
Army Painter: Speedpaint Medium, Super Glue, & Blood Red Speedpaint
Citadel: Zandri Dust Spray, Khorne Red, & Black Templar Contrast
Ultimate Guard: Katana Black Sleeves, & Boulder Deck Boxes, Assorted
Ultra Pro: Pro-Matte Black, & Pro-Matte Blue Sleeves
Yu-Gi-Oh!: Masquerena Deck Boxes
Chessex: Dice Sets, Assorted
Gamegenic: Dungeon Deck Boxes, Watchtower Deck Boxes, Sidekick Deck Boxes, Games' Lair Deck Boxes, & Stronghold Deck Boxes, Assorted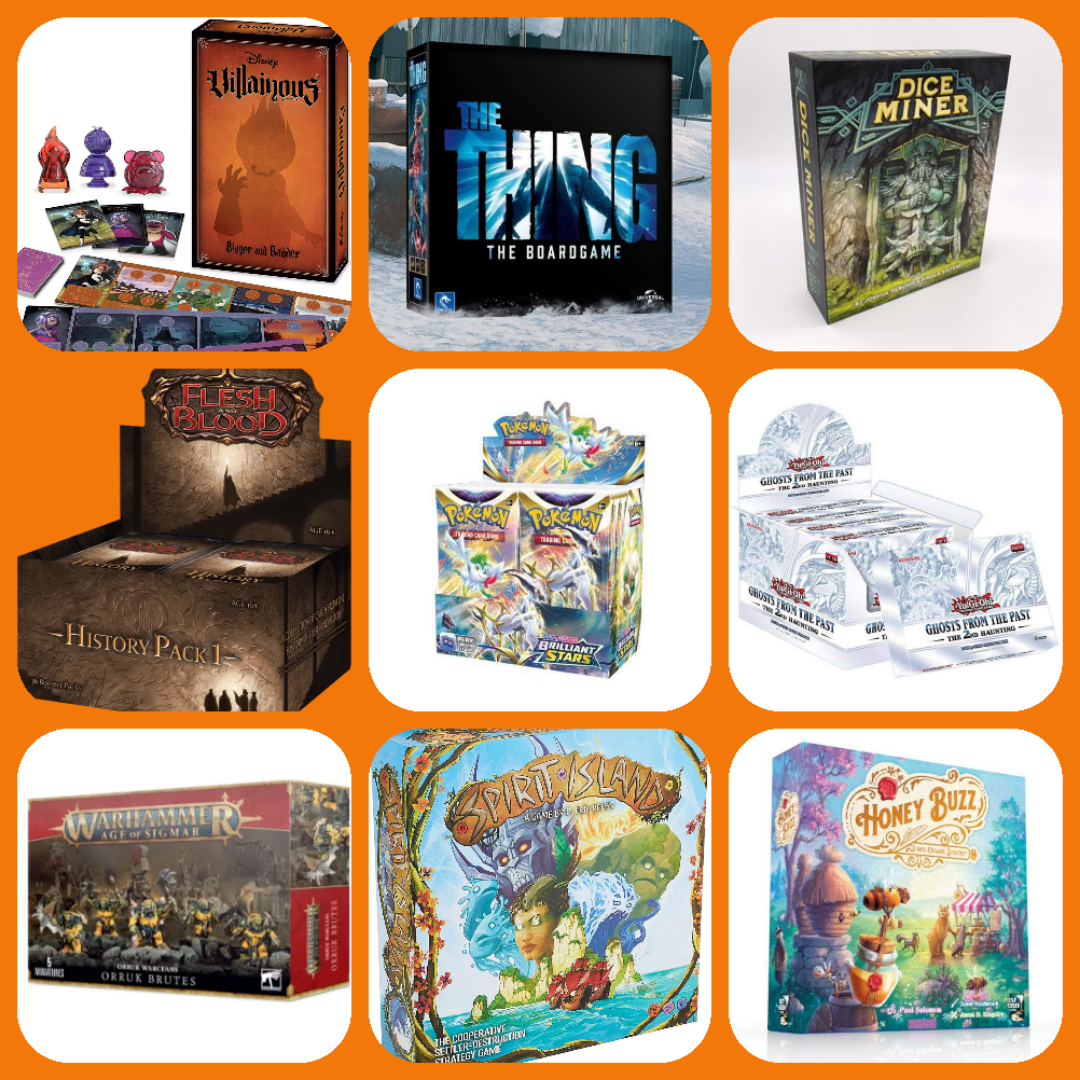 Restocked This Week at Mythic Games! 5/20/22
Pokemon: Brilliant Stars Boosters
Yu-Gi-Oh!: Ghosts From the Past Second Haunting
Flesh and Blood: History Pack 1
Dice Miner
The Thing Board Game: Core Game, Norwegian Outpost Expansion, Human Minis, Alien Minis, & Norwegian Minis
The Thing Infection at Outpost 31
Spirit Island
Disney Villainous: Bigger and Badder
Horizon Zero Dawn: Thunderjaw
Brass Birmingham
7 Wonders
Now or Never
Warhammer AOS: Orruk Brutes
BattleTech: Ilclan
Catan: Treasures Dragons and Adventures
Dice Throne: Gunslinger vs Samurai, Cursed Pirate vs Artificer, Tactician vs Huntress, & Seraph vs Vampire Lord
Solar Storm
Honey Buzz
Quest for El Dorado: Heroes and Hexes
Mysthea: Essential Edition
Giant Book of Battle Mats Volume 2
Codenames
Coup
Tiny Epic Zombies
Abyss: Leviathan
A Fake Artist Goes to New York
Cryptid
Mage Knight: Lost Legion
Odin's Ravens
Dominion: Adventures
Harry Potter Labyrinth
Unicorn Glitterluck: Cloud Stacking
Zombie Dice 2: Double Feature
Mystery Puzzle: Recipe for Murder
Here to Slay: Berserkers and Necromancers
Alien RPG: Colonial Marnies Operations Manual, & GM Screen
G.I. Joe RPG: Core Rulebook
D&D: Deep Magic Pocket Edition, DM Screen Reincarnated, Deep Magic Paladin Spell Cards, & Deep Magic Ranger Spell Cards
Pathfinder RPG: Secrets of Magic Pocket Edition
MTG: Kamigawa Kami Plush Gamer Pouch
D&D Unpainted Minis: Phase Spider, Human Male Bard, Giant Spider and Egg Clutch, Male Aasimar Fighter, Storm Giant, Alhoon and Intellect Devourer, & Ice Troll Female
Pathfinder Unpainted Minis: Raptors, Huge Air Elemental Lord, Blue Dragon, & Bone Devil
MTG Unpainted Minis: Zurgo Helmsmasher and Undying Krumar, & Thraben Inspector and Tireless Tracker
Army Painter: Basing Material, Paints, Shades, Frame Cutters, & Spray Primers, Assorted
Primal Horizon: Miniature Magnets, Assorted
Dragon Shield: Dual Matte Sleeves, Matte Sleeves, Mini Matte Sleeves, & Perfect Fit Sleeves, Assorted
MDG: Dice Sets, Assorted
Gamegenic: Sidekick Deck Boxes, & Watchtower Deck Boxes, Assorted
Chessex: Dice Sets, Assorted
Monster: Dual Playmat Tubes, Assorted
Ultra Pro: Eclipse Sleeves, Assorted
Koplow: Jumbo 55mm D20s, Assorted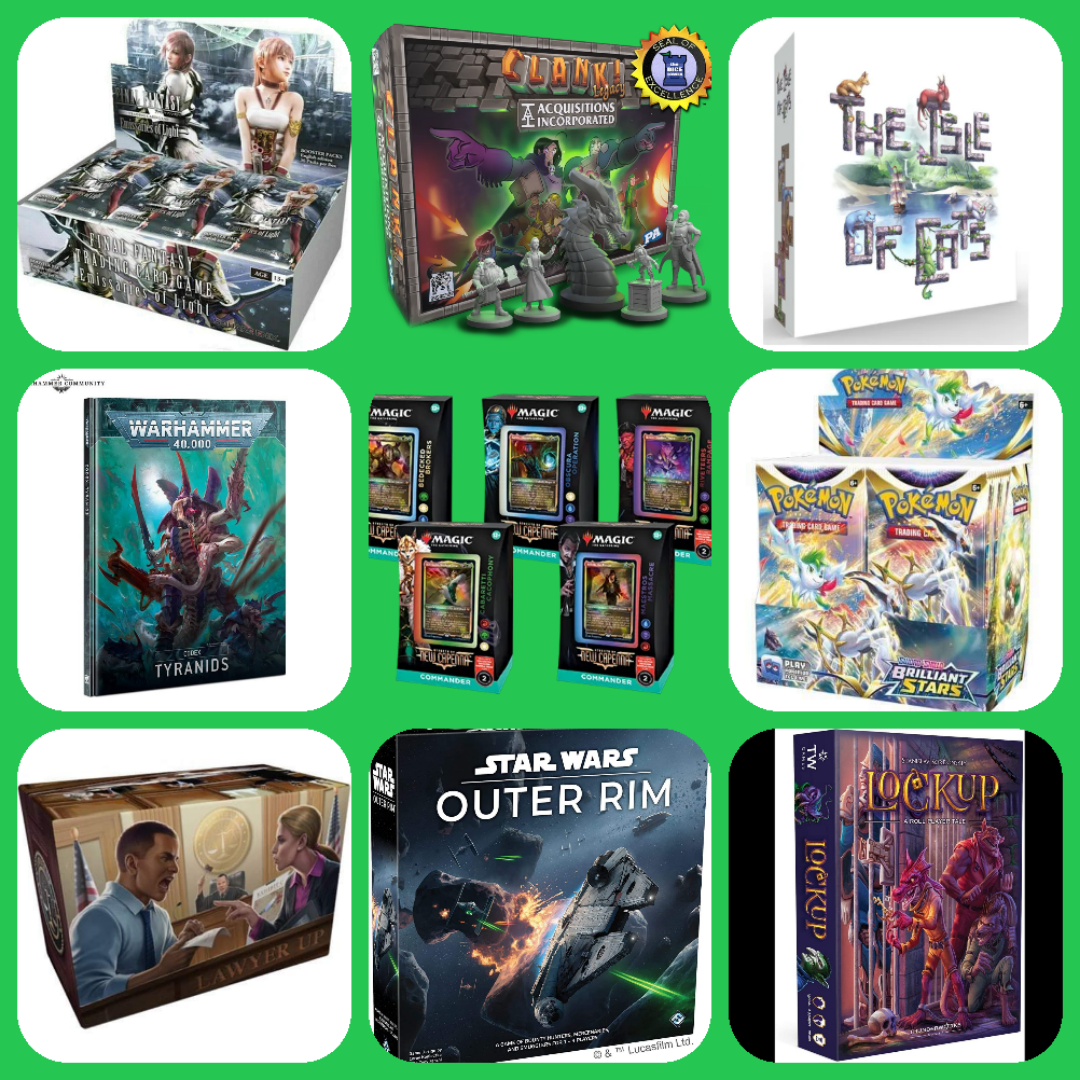 Restocked This Week at Mythic Games! 5/13/22
MTG: Streets of New Capenna Commander Decks, Streets of New Capenna Bundles, Kamigawa Neon Dynasty Bundles, Theros Beyond Death Boosters, Kamigawa Neon Dynasty Theme Boosters, Streets of New Capenna Deck Boxes, Kamigawa Neon Dynasty PLush Dice Bags, Kamigawa Neon Dynasty Playmats, & Kamigawa Neon Dynasty Sleeves, Assorted
Pokemon: Brilliant Stars Boosters, Pokeball Tins, Spring 2022 Collector's Chest Tins, Vivid Voltage ETBs, Champion's Path Hatterene V Boxes, Morpeko Boxes, Seaside Binders, Brilliant Stars Binders, Lucario Binders, & Arceus V Figure Collections
The Isle of Cats
Lawyer Up
Final Fantasy TCG: Emissaries of Light Boosters
Time Stories: Brotherhood of the Coast, & Estrella Drive
Lockup: A Roll Player Game
Clank Legacy
Arkham Horror LCG: Murder at the Excelsior Hotel
Kingdomino
7 Wonders
7 Wonders Duel
Architects of the West Kingdom: Collector's Box
Axis and Allies: Europe 1940
This War of Mine
Railroad Ink: Lush Green
Bang!: The Bullet
Wavelength
Red Dragon Inn
Dungeon Board Game
Dice Forge: Rebellion
Dice Throne: Pirate vs Artificer, Treant vs Ninja, Barbarian vs Moon Elf, & Pyromancer vs Shadow Thief
The Crew: Mission Deep Sea
Sherlock Holmes: The Thames Murders and Other Cases
Warhammer 40K: Codex Tyranids, Poxwalkers, Necrons Lokhusts Heavy Destroyer, Skorpekh Destroyers, & Tyranid Warriors
Warhammer Kill Team: Core Book
Warhammer AOS: Vanguard-Raptors, Chaos Spawn, & Bladegheist Revenants
Marvel Crisis Protocol: Hulk, Doctor Voodoo and Hood, & Mordo and Ancient One
Star Wars Outer Rim
Star Wars Legion: Darth Vader, Death Troopers, B1 Battle Droids, Rebel Troopers, Imperial Specialists, Stormtrooper Upgrade, Rebel Commandos, & Snowtropers
Star Wars X-Wing: TIE-sk Striker, BTL-B Y-Wing, & TIE-D Defender
Star Wars Armada: Republic Fighter Squadrons, Nebulon-B Frigate, Imperial Fighter Squadrons, & Upgrade Card Collection
Ticket to Ride: First Journey
Catan: 5-6 Player Expansion
Orleans: Invasion
Resistance: Avalon
Mage Knight: Krang, & Shades of Tezla
Harry Potter Sequence
Dixit
Unlock Kids
Monikers
Carcassonne
Carcassonne Travel
Fluxx: Core Game, & Olympus Fluxx
Dominion: Base Extra Cards
Left-Right-Center
Tanto Cuore: Oktoberfest
Dad Joke Face-Off: After Dark
Secret Hitler
D&D: Magic Item Cards, Ranger Spellbook Cards, & Plush Mimic
Pathfinder: Magic Armaments Deck
D&D Unpainted Minis: Spectator and Gazer, Dragonborn Female Sorcerer, Ghouls, Aasimar Male Fighter, Grick and Grick Alpha, Displacer Beast, Alhoon and Intellect Devourer, Abominable Yeti, Bugbear Barbarian and Rogue, & Bugbears
Pathfinder Unpainted Minis: Timber Wolves
Army Painter: Paints, Speedpaints, Spray Primers, Frame Cutters, Tufts, & Shades, Assorted
Vallejo: Fleshtones Paint Set
Citadel: Drill, Skirmish Carrying Case, Casandora Yellow, & Valhallan Blizzard
Primal Horizon: Magnets, Assorted
MDG: Dice Sets, Assorted
Dragon Shield: Dual Matte Sleeves, Matte Sleeves, Sealable Perfect Fit Sleeves, Double Shell Deck Boxes, Assorted
Ultra Pro: Vivid 12-Pocket Binders, Eclipse Sleeves, Standard Sleeves, & Zip Pro-Binders, Assorted
Monster: Playmat Tubes, Assorted
Chessex: Dice Sets, Assorted
Gamegenic: Dungeon Deck Boxes, Watchtower Deck Boxes, Stronghold Deck Boxes, Squire Deck Boxes, Sidekick Deck Boxes, Gaming Tokens, Thick Inner Sleeves, Standard Card Game Sleeves, Side Holder Deck Boxes, & Zip Albums, Assorted
Zelda: Sleeves
KMC: Perfect Size Sleeves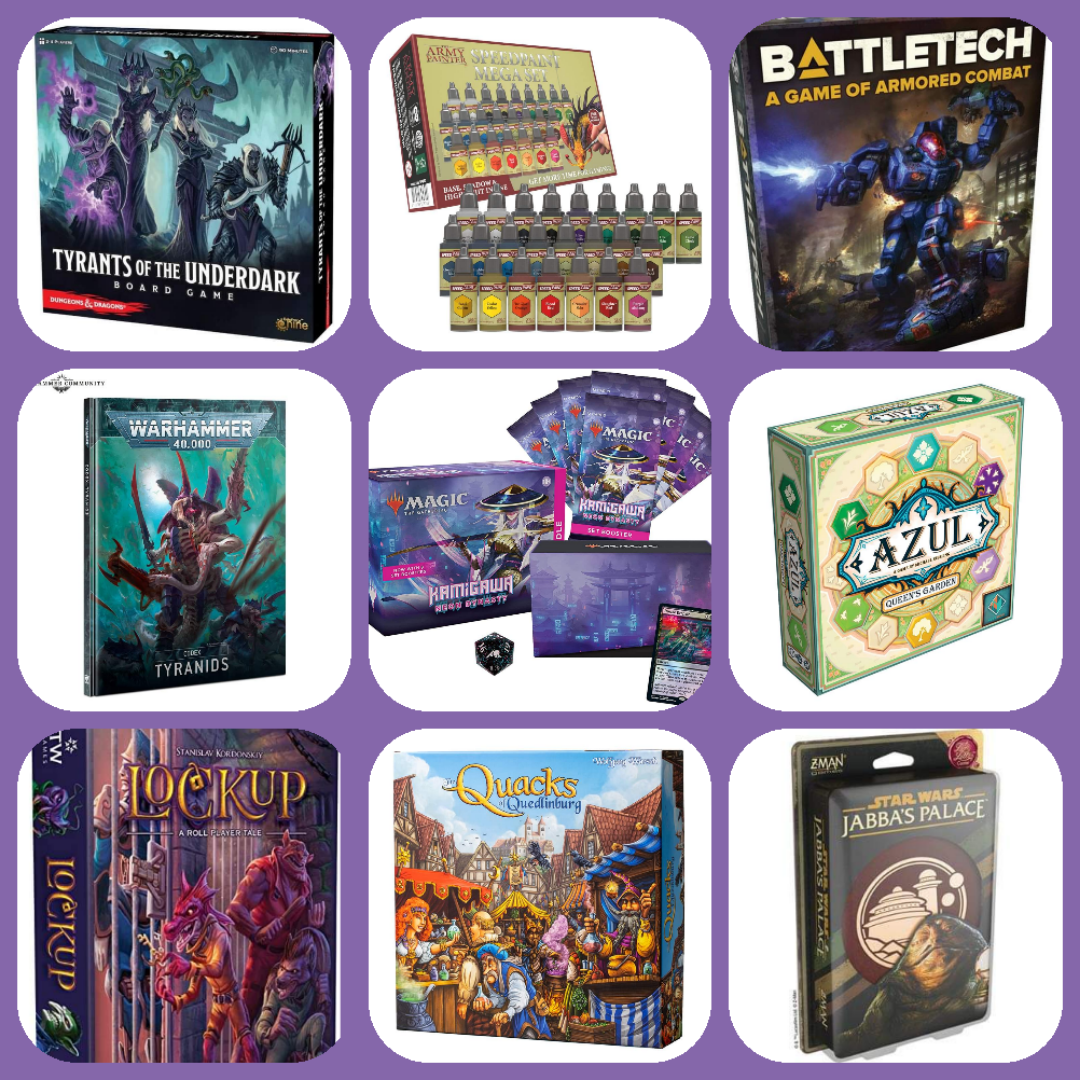 Restocked This Week at Mythic Games! (5/6/22)
MTG: Kamigawa Neon Dynasty Bundles, Strixhaven Set Boosters, & Innistrad Crimson Vow Bundles
Pokemon: Lucario Sleeves
Azul: Queen's Garden
Quacks of Quedlinburg
Dog Lover
Lockup: A Roll Player Tale
D&D 3 Dragon Ante: Legendary Edition
D&D Tyrants of the Underdark: Board Game
Orleans
Call to Adventure: Name of the Wind
BattleTech: A Game of Armored Combat
Warhammer 40K: Codex Tyranids, Codex Grey Knights, Riptide Battlesuit, & Megatrakk Scrapjet
Warhammer Age of Sigmar: Blue Horrors
Star Wars Legion: Core Set, Clone Wars Core Set, & Count Dooku
Star Wars X-Wing: Starter Set
Star Wars Jabba's Palace: A Love Letter Game
Vampire the Masquerade RPG: Dice
The Crew: Mission Deep Sea
Time Stories: Marcy Case
Smash Up: Big in Japan, Obligatory Cthulhu Expansion, Science Fiction Double Feature, Pretty Pretty, & Bigger Geekier Box
Power Grid: Recharged Edition
Caper Europe
Dice Forge
Munchkin
Quirky Circuits: Penny and Gizmo's Snow Day
Just One
Math Fluxx
Atlantis Rising: Deluxe Components
Superfight
Marvel Legendary DBG: Heroes of Asgard
Dominion: Cornucopia and Guilds
Century Spice Road
Catan: 5-6 Player Expansion
Catan Junior
Rivals of Catan Deluxe
Ticket to Ride: 1910
LOTR LCG: Dark of Mirkwood
Elder Sign: Gates of Arkham, & Unseen Forces
D&D: Out of the Abyss, Magic Item Cards, & Endless Quest To catch a Thief
D&D Frameworks Minis: Elf Male Monk
D&D Unpainted Minis: Harpy and Arakocra, Human Male Ranger, Froghemoth, Lizardfolk and Lizardfolk Shaman, Lizardfolk Barbarian and Cleric, Male Half-Elf Bard, Cloud Giant, Dragonborn Male Paladin, & Nightwalker
MTG Unpainted Minis: Wrenn and Seven
Pathfinder Unpainted Minis: Blue Dragon, Human Female Bard, & Human Female Oracle
Army Painter: Speedpaints, Paints, Shades, Magnets, Glue, Primer, Tufts, & Magic Super Glue Activator, Assorted
Citadel: Chaos Black Spray Primer, & Lothern Blue
Gamegenic: Dungeon Deck Boxes, Sidekick Deck Boxes, Squire Deck Boxes, Watchtower Deck Boxes, Stronghold Deck Boxes, Tarot Sleeves, & Mini European Sleeves, Assorted
Foam Brain: Plastic Inclusions Dice Sets, Metal Dice Sets, 100-Sided Dice, Large D20s, & More, Assorted
Ultra Pro: Standard Sleeves, Eclipse Deck Boxes, & Eclipse Sleeves, Assorted
Ultimate Guard: Katana Sleeves, Sidewinder Deck Boxes, Arkhive Deck Boxes, & Superhive Deck Boxes, Assorted
Monster: Playmat Tubes, & Double Deck Boxes, Assorted
Chessex: Dice Sets, Assorted
Dragon Shield: Double Shell Deck Boxes, Matte White, Matte Petrol, Matte Slate, Dual Matte Snow, & Perfect Fit Sealable Sleeves
MDG: Dice Sets, Assorted
DEX: Binders, Assorted
Chessex: Dice Sets, Assorted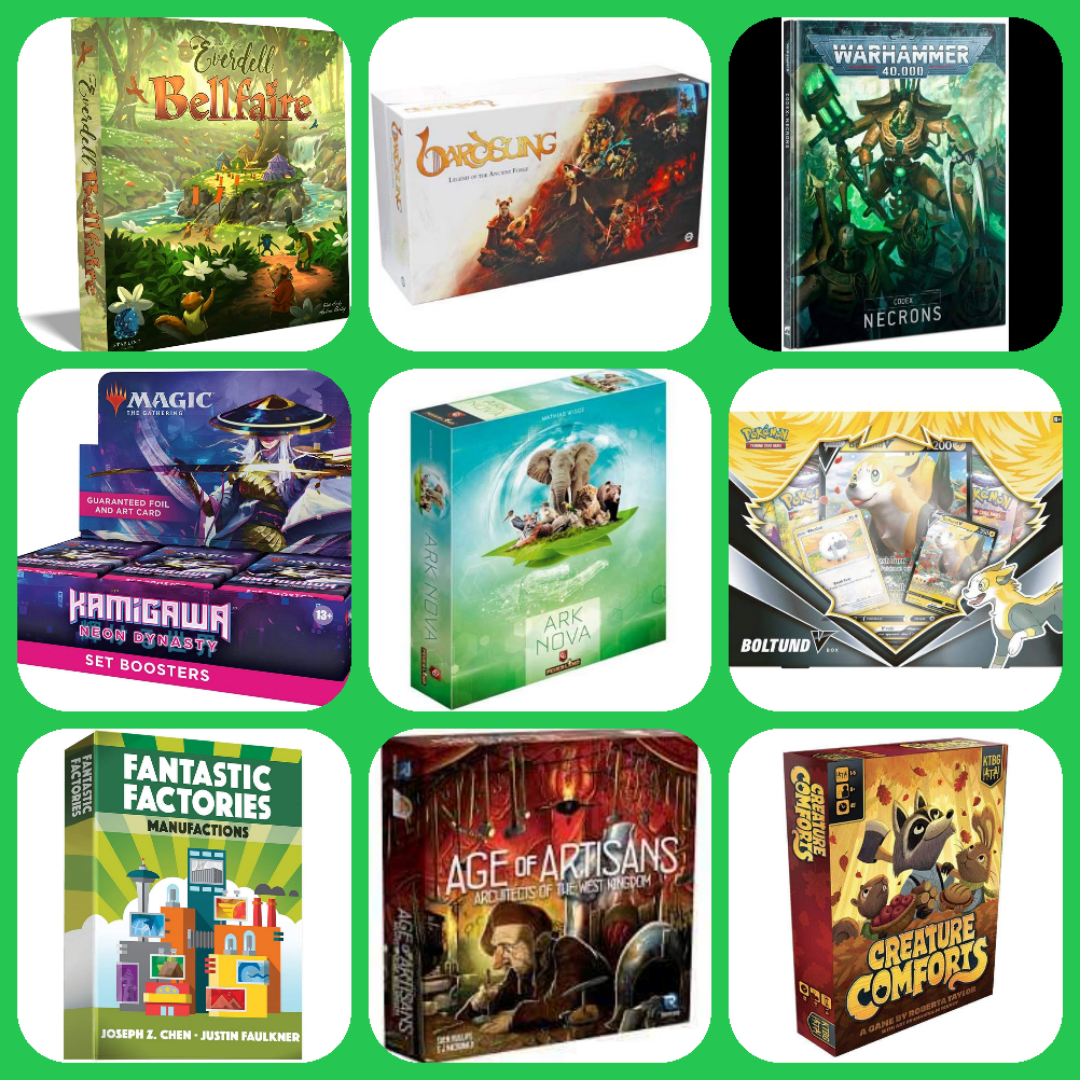 Restocked This Week at Mythic Games! (4/29/22)
MTG: Kamigawa Neon Dynasty Set Boosters, Kaldheim Set Boosters, Zendikar Rising Gift Bundles, Mana 7 Forest Sleeves, & Mana 7 Mountain Sleeves
Pokemon: Boltund V Boxes, V Heroes Tins, & Morpeko V-Union Special Collection
Ark Nova
Bardsung: Legend of the Ancient Forge
Warhammer 40K: Codex Necrons, Orks Beast Snagga Boyz, & Cadian Heavy Weapons Squad
Warhammer Age fo Sigmar: Start Collecting Soulblight Gravelords, & Start Collecting Daemons of Slaanesh
Warhammer Quest: Cursed City
Creature Comforts
Everdell: Bellfaire
Fantastic Factories: Manufactions, & Subterfuge
Architects of the West Kingdom: Age of Artisans, & Playmat
Arkham Horror LCG: Curse of the Rougarou, & Carnivale of Horrors
Castles of Mad King Ludwig
Labyrinth
Martian Fluxx
Harbour: High Tide
Munchkin
Munchkin Warhammer 40K
Scythe: Realistic Resources
Monopoly: Schitt's Creek
Pathfinder RPG: Core Rulebook
D&D: Monster Manual, Magic Item Cards, Druid Spellbook Cards, & Starter Box
Giant Boox of Battle Mats 2
D&D Frameworks: Kobolds, Mindflayer, Ghast and Ghoul, & Wight
D&D Unpainted Minis: Night Hag and Dusk Hag, Vampires, Goblins, Giant Spider and Egg Clutch, Winter Wolf, Kobold Inventor Dragonshield and Sorcerer, Young White Dragon, Young Black Dragon, Young Copper Dragon, Young Bronze Dragon, Young Silver Dragon, Displacer Beast, Yuan-Ti Malisons, & Minotaur
MTG Unpainted Minis: Archangel Avacyn
Pathfinder Unpainted Minis: Dire Wolf, Dolphins, & Giant Eagle
Army Painter: Speedpaint Mega Set, Paints, Shades, Spray Primer, Laser Line, Basing Material, Brushes, & Individual Speedpaints, Assorted
Citadel: Painting Handle, & Crusade Case
Chessex: Dice Sets, Assorted
Monster: Playmat Tubes, Assorted
Koplow: Dice Bags, Assorted
MDG: Dice Sets, & Dice Bags, Assorted
Dex: Binders, Assorted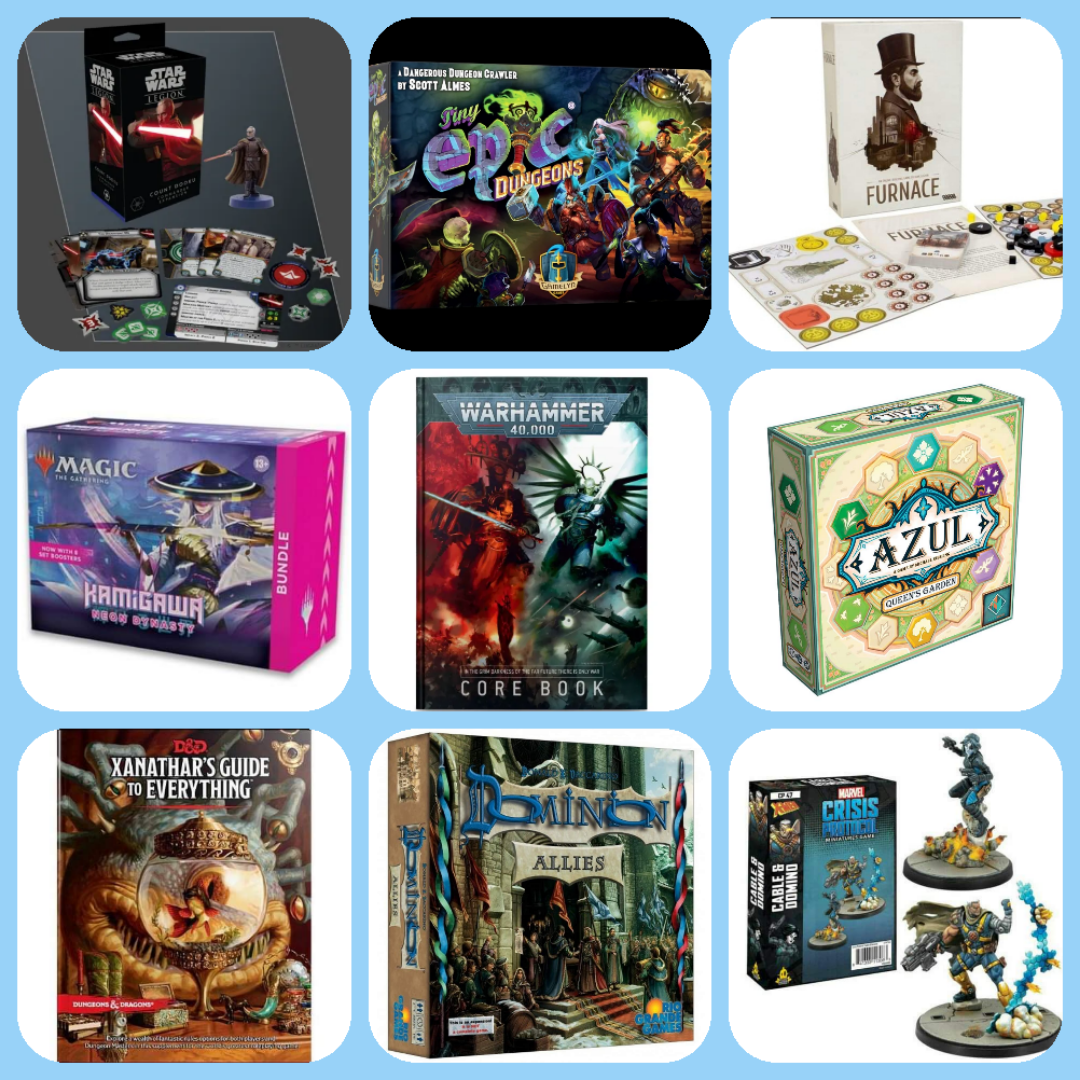 Restocked This Week at Mythic Games! (4/22/22)
MTG: Kamigawa Neon Dynasty Bundles
D&D: Xanathar's Guide to Everything, Player's Handbook, Dungeon Master's Guide, Mimic Phunny Plush, Beholder Phunny Plush, & Snowy Owlbear Phunny Plush
Star Wars legion: Count Dooku, Rebel Pathfinders, Imperial Royal Guard, & Super Tactical Droid
Marvel Crisis Protocol: Cable and Domino, & Dice Pack
Warhammer 40K: Core Rulebook, Aeldari Guardians, Celestine, Brood Brothers, Codex Space Marines, Codex Grey Knights, Codex Adepta Sororitas, Codex Thousand Sons, Lord Inquisitor Kyria Draxus, Black Templars Upgrades and Transfers, & Assault Intercessors + Paint Set
Warhammer Age of Sigmar: Daemon Prince, Start Collecting Daemons of Slaanesh, Start Collecting Slaves to Darkness, Dreadblade Harrows, AOS Paints + Tools, Spirit Hosts, Blue Horrors, Pink Horrors, Everchosen Vanguard Knights, Necromancer, Dire Wolves, & Chainrasp Hordes
Azul: Queen's Garden
Dominion: Allies, Prosperity, Alchemy, & Dark Ages
Furnace
Talisman
D&D Legend of Drizzt Board Game
Dice Forge
Tokaido
Tiny Epic Dungeons
Fantastic Factories: Subterfuge
The Hunger
Caper: Europe
Disney Villainous: Bigger and Badder
LOTR LCG: Dark of Mirkwood, & Treason of Saruman
Hive
Catan
Clank in Space: Cyber Station 11
Yu-Gi-Oh!: Battle of Chaos Boosters, Grand Creators Boosters, Kuriboh Collection Playmat, Masquerena Deck Boxes, & Masquerene Sleeves
Dragon Ball Super: Realm of the Gods Boosters
Digimon TCG: Next Adventure Boosters
Orleans
Century Golem: Endless World
Terraforming Mars
Aeon's End
Eldritch Horror
Arkham Horror LCG: Dim Carcossa
Smash Up: Science Fiction Double Feature
The Crew: Quest for Planet Nine
Dice Throne: Cursed Pirate vs Artificer, Barbarian vs Moon Elf, & Pyromancer vs Shadow Thief
Stellar
Subastral
Bohnanza: Bohna Nostra, & Princes and Pirates
Concordia
Cytosis
Coup: Reformation
Fox in the Forest Duet
Harry Potter Hogwarts Battle: Monster Box of Monsters
Codenames: Harry Potter
Unstable Unicorns
Happy Little Dinosaurs: Base Game, & Perils of Puberty
Marvel Legendary DBG: Messiah Complex, New Mutants, Spider-Man Paint the Town Red, Noir, Ant-Man, Dimensions, & Heroes of Asgard
Bohnanza: 25th Anniversary Edition
Tea Dragon Society
Pathfinder RPG: Advanced GM Screen
Troyes
Night Cage
Exit: Forbidden Castle, & Abandoned Cabin
Calico
Astronomy Fluxx
Ecosystem
Pandemic Hot Zone: North America
Aeon's End
Spicy Dice
Unfair: Alien B-Movie Dinosaur Western
Wits and Wagers: Family
Mexican Train Deluxe
Alien RPG: Core Rulebook
Call of Cthulhu RPG: Investigator Handbook
Blood Rage: 5th Player Expansion
Drunk Stoned or Stupid
MTG Unpainted Minis: Wrenn and Seven
D&D Unpainted Minis: Young Red Dragon, Half-Elf Paladin, Bugbear Barbarian, Genis Efreeti, Shambling Mound, Bronze Dragon Wyrmling, Silver Dragon Wyrmling, Dragonborn Male Paladin, Aasimar Female Fighter, Tiefling Female Warlock, Gnome Male Artificer, Black Dragon Wyrmling, Dragonborn Female Sorcerer, Elf Female Druid, Human Female Ranger, Human Male Ranger, Wereboar and Werebear, Wererat and Weretiger, Elf Female Fighter, Sprite and Pseudodragon, Death Dog, Earth Elemental, Kobold Dragonshield Inventor and Sorcerer, & Spectator and Gazers
Pathfinder Unpainted Minis: Saber-Tooth Tiger, Stag, Flying Ray, Raptors, Human Female Bard, & Plague Doctor and Cultist
Army Painter: Speedpaint Mega Set, Speedpaint Starter Set, Individual Speedpaints, Tufts, Paints, Shades, Brushes, Spray Primers, Drill, Wet Palette, & Super Glue, Assorted
Citadel: Crusade Figure Case, Grey Seer Spray Primer, Texture Spreader, Water Pot, Xereus Purple, Nuln Oil, Aethermatic Blue, Kislev Flesh, & Agrax Earthshade
Foam Brain: Plastic Inclusions Dice Sets, Metal Dice Sets, Metal D20s, & D100s, Assorted
Gamegenic: Dungeon Deck Boxes, Squire Deck Boxes, & Side-Holder Deck Boxes, Assorted
Dragon Shield: Batman Sleeves, Matte Slate Sleeves, Matte White Sleeves, Classic Clear Sleeves, Perfect Fit Sealable Sleeves, Perfect Fit Side-Loading Sleeves, Perfect Fit Side-Loading Smoke Sleeves, Double Shell Deck Boxes, & Perfect Fit Sleeves, Assorted
Chessex: Battlemats, Dice Sets, & Loose Dice, Assorted
MDG: Folding Dice Trays, Dice Bags, Dice Sets, & Loose Dice, Assorted
DEX: Binders, Assorted
GF9: Basing Material, Assorted
Monster: Double Deck Boxes, Assorted
Ultimate Guard: Omnihive Deck Boxes, Assorted
Ultra Pro: Pro-Matte Sleeves, Pro-Fit Sleeves, & 100ct Deck Boxes, Assorted
KMC: Perfect Fit Sleeves, & Perfect Hard Sleeves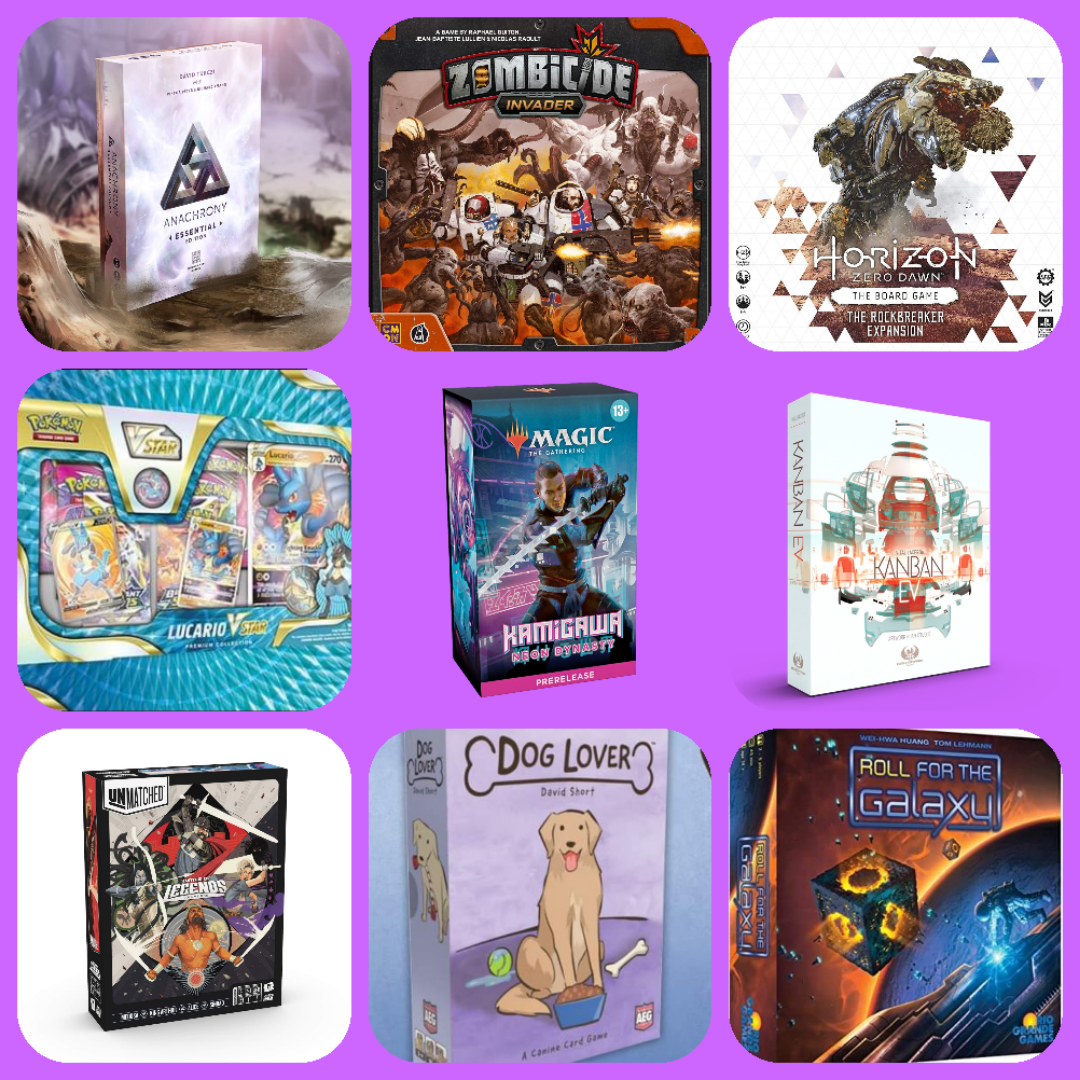 Restocked This Week at Mythic Games! (4/15/22)
MTG: Kamigawa Neon Dynasty Prerelease Kits, Zendikar Rising Set Boosters, Innistrad Midnight Hunt Set Boosters, & Innistrad Midnight Hunt Draft Boosters
Pokemon: Lucario V-Star Boxes, Vivid Voltage ETBs, Sinnoh Stars Mini Tins, Shining Fates Pikachu V Boxes, & Morpeko V-Union Box
Unmatched: Battle of Legends Vol 1
Dog Lover
Kanban EV
Horizon Zero Dawn: Rockbreaker, & Thunderjaw
Anachrony: Essential Edition, Fractures of Time, & Classic Expansion
Zombicide Invader: Core Game, Dark Side, Black Ops, Survivors of the Galaxy, Deck Holders, & 3D Doors
Roll for the Galaxy
Boss Monster
Cthulhu Wars Duel: Extinction
Arkham Horror LCG: Revised Starter, & Machinations Through Time
Eldritch Horror: Core Game, & Cities in Ruin
Cthulhu Death May Die: Black Goat of the Woods
Machi Koro: 5th Anniversary Expansions
Railways of North America
Railroad Ink: Lush Green
Dice Throne: Tactician vs Huntress
Star Wars Legion: Wookiee Warriors, Super Tactical Droid, TX-130 Saber-Class Fighter Tank, AAT Trade Federation Battle Tank, B1 Battle Droids, B1 Battle Droid Upgrade, Dewback Rider, Scout Troopers, Rebel Commandos, Vital Assets, & Premium Trooper Bases
Star Wars X-Wing: TIE-D Defender
Warhammer 40K: Codex Space Marines, Codex Blood Angels, Necron Chronomancer, Death Jester, Shadowseer, Hammerfall Bunker, Furioso Dreadnought, Windriders, Tidewall Shieldline, & Armoured Containers
Marvel Legendary DBG: Dr. Strange and the Shadows of Nightmare, Venom, Revelations, & Fear Itself
Welcome to your Perfect Home
Aeon's End DBG: Core Game, & War Eternal
Valeria Card Kingdoms: Darksworn
Resistance: Avalon
Coup: Reformation
Fantastic Factories
Barrage: 5th Player Expansion
Quarriors
King of New York: Power Up
Genotype
On Mars: Upgrade Pack
Mage Knight: Krang
Drawing Without Dignity
Fiasco RPG: Unknown Monsters
Vampire the Masquerade RPG: Core Rulebook, Camarilla, & Storyteller's Toolkit
D&D: Beholder Phunny Plush, Barbarian Tokens, & Druid Spellbook Cards
Pathfinder RPG: Core Rulebook, & Character Sheets
Warlock Tiles: Dungeon Tiles 2
Epic Encounters: Chamber of the Serpent Folk, & Arena of the Undead Horde
D&D Icons of the Realms Painted Minis: Goblin Warband, Lolth Spider Queen, & Adventuring Party
D&D Unpainted Minis: Frost Giant Skeleton, Mimics, Green Slaad, Orcs, Bugbear Barbarian, Adult Remorhaz, Froghemoth, Myconid Sovereign and Sprouts, Wyvern, Crawling Claws, Young Blue Dragon, Young Black Dragon, Phase Spider, Aasimar Female Paladin, Winter Wolf, & Zombies
Pathfinder Unpainted Minis: Bone Devil, Half-Orc Male Druid, Nymph and Dryad, Giant Octopus, Dire Wolf, Bounty Hunter and Outlaw, & Doors
MTG Unpainted Minis: Archangel Avacyn, & Wrenn and Seven
Army Painter: Speedpaint Starter Set, Brushes, Spray Primers, Varnish, Laser Line, & Paints, Assorted
Citadel: Mephiston Red, Steel Legion Drab, Warplock Bronze, Moot Green, Plaguebearer Flesh, Painting Handles, Pallette Pads, & Synthetic Brushes, Assorted
GF9: Basing Materials, Assorted
Chessex: Mondomat, & Dice Sets, Assorted
Dragon Shield: Dual Matte Lightning Sleeves, Black Matte, Yellow Matte, Copper Matte, Orange Matte, Sky Blue Matte, Jet Matte, Night Blue Matte, Deck Shells, & Batman Playmat
MDG: Dice Sets, Assorted
Ultra Pro: 9-Pocket Pages
BCW: 5-Row Card Storage Boxes, & 660ct Card Storage Boxes
Marvel: Thanos Playmat, Spider-Man Playmat, & Wolverine Playmat
Ultra Pro: Eclipse Sleeves, Assorted
Monster: Playmat tUbes, Assorted
Gemegenic: Stronghold Deck Boxes, Sidekick Deck Boxes, Fourtress Deck Boxes, Casual Binders, Catan Sleeves, Scythe Sleeves, Watchtower Deck Boxes, Squire Deck Boxes, & Dungeon Deck Boxes, Assorted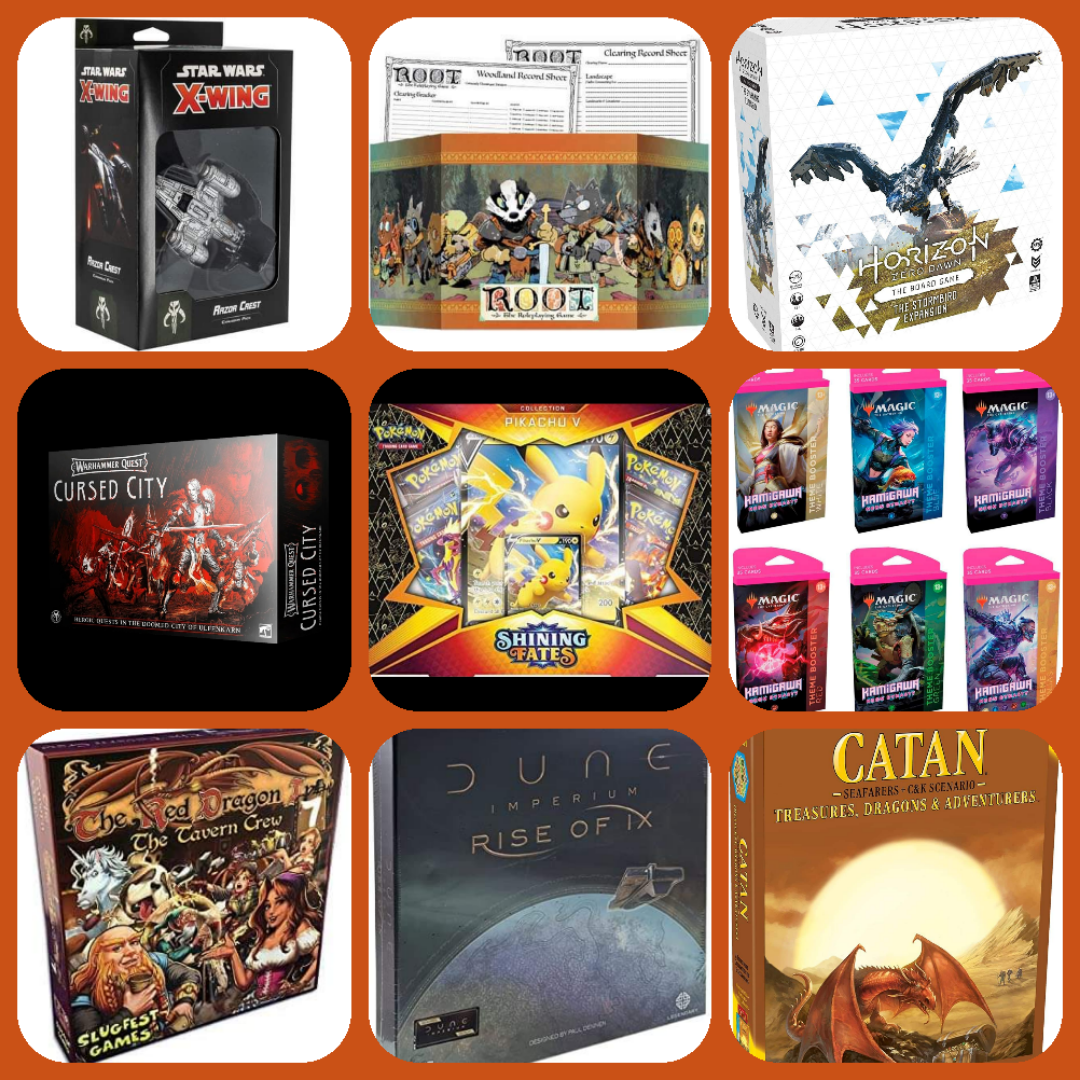 Restocked This Week at Mythic Games! (4/8/22)
MTG: Kamigawa Neon Dynasty Theme Boosters, & AFR Alcove Deck Box
Pokemon: Shining Fates Pikachu V Collections, Brilliant Stars Boosters, Brilliant Stars ETBs, Battle Academy 2022, & celebrations Collector's Chest Tins
Dune Imperium: Rise of Ix
Sherlock Holmes: The Thames Murders and Other Cases
Time Stories: Madame
Poetry for Neanderthals
Too Many Bones
Horizon Zero Dawn: Stormbird
Summoner Wars: Master Set
Root RPG: GM Accessory Pack, Denizens Deck, & Equipment Deck
Star Wars Legion: Vital Assets, Priority Supplies, Dice Pack, & Movement Tools and Range Rulers
Star Wars X-Wing: Razor Crest, & Hound's Tooth
Warhammer Quest: Cursed City
Warhammer 40K: Orks Mozrog Skragbad, Tyranid Warriors, Start Collecting Genestealer Cults, Cadian Command Squad, Bladeguard Veterans, Primaris Chaplain on Bike, Primaris Infiltrators, Primaris redemptor Dreadnought, Vanguard Veteran Guard, Belisarius Cawl, & Skitarii Marshal
Warhammer Age of Sigmar: Deathrattle Skeletons
Project L
Fantasy Realms
Shards of Infinity
Red Dragon Inn: Box 7 The Tavern Crew
Castles of Tuscany
Century Spice Road
Arkham Horror LCG: Stella Clark
Genotype
Quoridor
Fiasco RPG: Core Box
Hero Realms: Fighter Pack, Thief Pack, & Wizard Pack
Catan: Treasures Dragons and Adventurers, Seafarers, & Seafarers 5-6 Player Expansion
Troyes: Ladies of Troyes
Cosmic Encounter: Cosmic Storm
Mystery Puzzle: Foul Play and Cabernet
Welcome to the Moon
Innovation
One Deck Dungeon: Abyssal Depths
Crime Scene: London, & Brooklyn
The Game: Face to Face
Bicycle: Fyrebird Playing Cards
Folded Space: Twilight Imperium Box insert, & Twilight Imperium Prophecy Box Insert
D&D Unpainted Minis: Succubus and Incubus, Froghemoth, Gargoyles, & Kobold Inventor Dragonshield and Sorcerer
MTG Unpainted Minis: Lolth the Spider Queen
Pathfinder Unpainted Minis: Unicorn, Dire Wolf, Timber Wolves, & Elf Female Paladin
Chessex: Mondomat, & Dice Sets, Assorted
Gamegenic: Dungeon Deck Boxes, Squire Deck Boxes, Watchtower Deck Boxes, Standard Card Game Sleeves, Sidekick Deck Boxes, Stronghold Deck Boxes, & Casual Albums, Assorted
Ultimate Guard: Katana Sleeves, Assorted
Dragon Shield: Ivory Matte Sleeves, & Double Shell Deck Boxes, Assorted
MDG: Dice Sets, Assorted
Ultra Pro: Eclipse Dice Sets, Assorted
Monster: Playmat TUbes, Assorted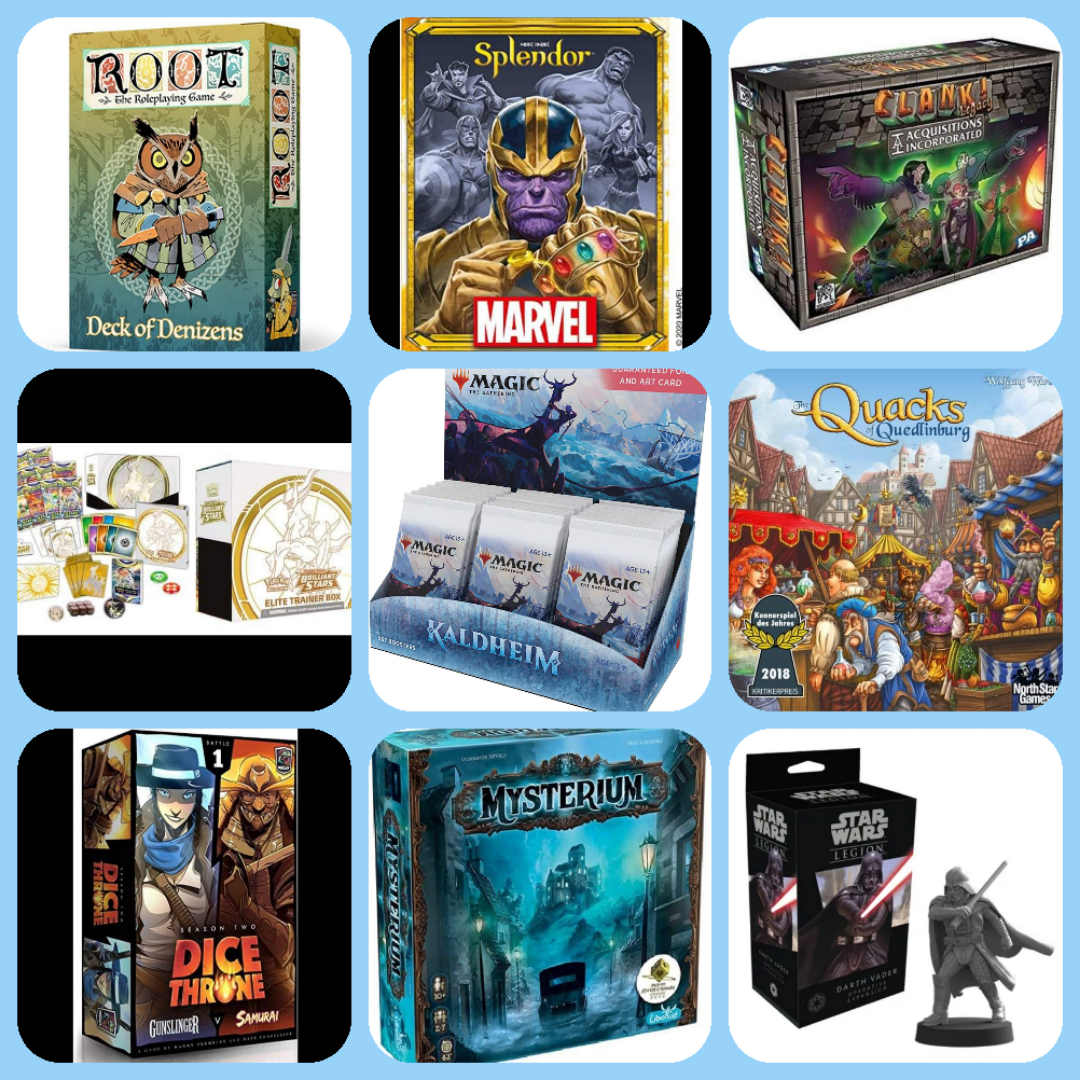 Restocked This Week at Mythic Games! (4/1/22)
MTG: Kaldheim Set Boosters
Pokemon: Brilliant Stars ETBs, Brilliant Stars Boosters, Battle Academy 2022, Celebrations Deluxe Pin Collections, 25th Celebration Wood Deck Boxes, & Celebrations Collector's Chest Tins
Mysterium
Root RPG: Denizens Deck, & Equipment Deck
Salem 1692
Railroad Ink: Lush Green
Century Golem Edition
Quacks of Quedlinburg
Tiny Epic Tactics
Ticket to Ride
Harry Potter Hogwarts Battle: Charms and Potions
Talisman: The Reaper
Horrified: Universal Monsters
Skull
Fox in the Forest Duet
Catan: Cities and Knights, Hexadocks Base, & Hexadocks Extension
Cantaloop Book 1: Breaking Into Prison
Dominion: Dark Ages
Small World: Underground, Power Pack 1, & Power Pack 2
Dice Throne: Gunslinger vs Samurai, & Seraph vs Vampire Lord
Hive
Splendor Marvel
Clank Legacy: Core Game, & The C Team
Super Mario Labyrinth
Star Wars Legion: Darth Vader, & Stormtroopers
Star Wars X-Wing: A-SF-01 B-Wing, Hotshots and Aces, & TIE-sk Striker
Star Wars Armada: Recusant-class Destroyer
Elder Sign: Omens of the Pharaoh
Quarriors: Light vs Dark, & Quarmageddon
Fiasco RPG
Munchkin: Deluxe Core Game, Munchkin 2 Unnatural Axe, Munchkin 5 De-Ranged, & Munchkin Petting Zoo
Dragon Farkle
Aeon's End: Return to Gravehold
Castles of Tuscany
Quest
Crime Scene: Brooklyn, & London
Mystery Puzzle: Foul PLay and Cabernet
Quoridor Mini
D&D: Untold Encounters of the Random Kind, Essentials Kit, Core Rulebook Gift Set, Mordenkainen's Tome of Foes, Player's Handbook, Out of the Abyss, Cleric Spell Cards, Druid Spell Cards, Bard Spell Cards, & Beholder Phunny Plush
Pathfinder RPG: Lost Omens Ancestry Guide
D&D Icons of the Realms Painted Minis: Goblin Warband, & Adventurer's Camp
Epic Encounters: Tower of the Lich Empress, & Caverns of the Frost Giant
Monster Scenery: Verdant Forest
Big Book of Battle Mats
MTG Unpainted Minis: Zurgo Helmsmasher and Undying Krumar
D&D Unpainted Minis: Gargoyles, Ice Troll Female, Ghouls, Aasimar Male Fighter, Mimics, Dragonborn Male Fighter, Spectator and Gazers, Male Human Warlock, Sprite and Pseudodragon, Dwarf Cleric Male, Phase Spider, Spiders, Human Paladin Male, Green Hag and Night Hag, Troll, Male Goliath Barbarian, Young Red Dragon, Succubus and Incubus, Blue Dragon Wyrmling, Gricka nd Grick Alpha, Multiclass Fighter/Wizard, Bronze Dragon Wyrmling, Alhoon and Intellect Devourer, Warforged Monk, Yuan-Ti Anathema, Air Genasi Female, Winter Eladrin and Spring Eladrin, Beholder, Gelatinous Cube, & Gold Dragon Wyrmling
Pathfinder Unpainted Minis: Unicorn, Plague Doctor and Cultist, Giant Octopus, Town Guards, Bone Devil, Balisse and Astral Deva, Dolphins, Raptors, Dire Wolf, & Cultist and Devil
Army Painter: Paints, Primers, Drill Bits, Super Glue, & Brushes, Assorted
Folded Space: Twilight Imperium Box Insert
Ultra Pro: Eclipse Sleeves, Assorted
Monster: Playmat Tubes, Assorted
Chessex: Dice Sets, Assorted
Yu-Gi-Oh!: Kuriboh Kollection Sleeves
Dragon Shield: Great Wave Sleeves, Olive Matte Sleeves, Emerald Matte Sleeves, Deck Shells, & Perfect Fit Sealable Clear Sleeves
Foam Brain: Plastic Inclusions Dice Sets, 100-Sided Dice, Large Metal D20s, Folding Dice Trays, +1/-1 Counter Dice, Dice Mats, Dice Bags, & Metal Dice Sets, Assorted
MDG: Dice Sets, Metal Dice Sets, & Folding Dice Trays, Assorted
Gamegenic: Dungeon Deck Boxes, Casual Albums, Mini American Sleeves, Stronghold Deck Boxes, Mini European Sleeves, Squire Deck Boxes, & Standard Card Game Sleeves, Assorted
Ultimate Guard: Boulder Deck Boxes, Assorted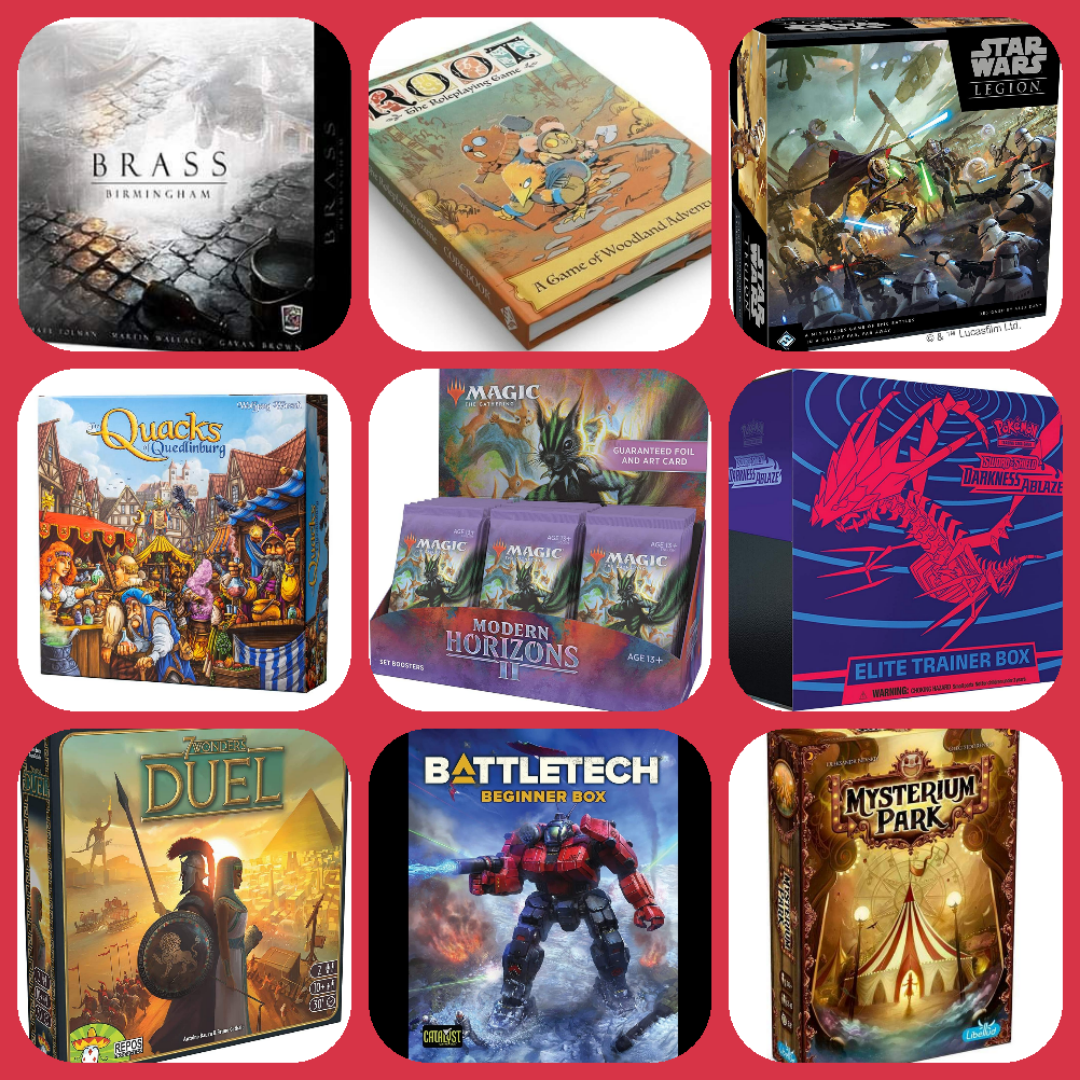 Restocked This Week at Mythic Games! (3/25/22)
MTG: Modern Horizons 2 Set Boosters, Kamigawa Neon Dynasty Commander Decks, Arena Starter 2021, & Throne of Eldraine Boosters
Pokemon: Darkness Ablaze ETBs, Brilliant Stars ETBs, Pikachu Alcove Deck Boxes, Lucario Playmats, & Mew Binders
Root RPG: Core Book, Travelers and Outsiders, Equipment Deck, Denizen Deck, GM Accessories, & Faction Dice
Quacks of Quedlinburg
Fort: Cats and Dogs
Mysterium Park
Genotype
Queendomino
Brass Birmingham
7 Wonders Duel
Inis
Star Wars Legion: Clone Wars Starter, Priority Supplies, 74-Z Speeder Bikes, Premium Large Bases, Clan Wren, & Stormtrooper Upgrade
Star Wars Unlock
BattleTech: Beginner Box
Warhammer 40K: Dark Angels Deathwing Command Squad, Adepta Sororitas Castigator, Adepta Sororitas Retributor Squad, Orks Battlewagon, Imperial Knights Knight Valiant, Genestealer Cults Neophyte Hybrids, Genestealer Cults Acolyte Hybrids, Genestealer Cults Sanctus, Killzone Essentials, Space Marines Primaris Repulsor Executioner, Space Marine Primaris Eliminators, T'au Pathfinder Team, Aeldari Dark Reapers, Aeldari Guardians, Codex Aeldari, & Codex Thousand Sons
Warhammer Age of Sigmar: Start Collecting Soulblight Gravelords, Soulblight Gravelords Direwolves, Shrine Luminor, Warcry Stormstrike Stormcast Eternals, Stormcast Eternals Paint Set, & Warcry Kruelboyz
Marvel Legendar DBG: Dark City
LOTR LCG: Lost Realm, Assault on Osgiliath, Land of Sorrow, & Hunt for Gollum
Tsuro
Magic Maze
Kingsburg
Catan Junior
Clank: Temple of the Ape Lords, & Sunken Treasures
Dice Forge: Rebellion
Dominion: Alchemy
Spicy
Ramen Fury
Elder Sign: Gates of Arkham
Sherlock Holmes: The Thames Murders and Other Cases
Monsdrawsity: Robots
Vaesen RPG: Cards
Gloom
Choose Your Own Adventure: House of Danger
Love Letter
Dixit: Origins
Skull
Munchkin Tails
Concept Kids
Hero Realms: Ranger Pack
Exit: Dead Man on the Orient Express
Fox in the Forest Duet
Codenames Duet
Fluxx
Wavelength
Taboo
Super Mario Labyrinth
Clue: Nightmare Before Christmas
Theory 11 Playing Cards: Avengers
Cards Against Humanity: Weed Pack, Period Pack, Retail Pack, Jew Pack, 90s Pack, 2000s Pack, & Ass Pack
Secret Hitler
D&D: Icewind Dale Rime of the Frostmaiden, Paladin Spellbook Cards, Xanathar's Guide Cards, Monk Token Set, Mind Flayer Plush Dice Bag, Mimic Phunny Plush, & Snowy Owlbear Phunny Plush
Epic Encounters: Temple of the Snake God, & Chamber of the Serpent Folk
Warlock Tiles: Dungeon Tiles 2
D&D Icons of the Realms Painted Minis: Companions of the Hall, Grung Warband, & Monster Menagerie 1 Boosters
Critical Role Minis: NPCs of Exandria Set 1
D&D Unpainted Minis: Winter Wolf, Ice Troll Female, Flumph, Wight and Ghast, Ogre Female, Wereboar and Werebear, Grung, Red Dragon Wyrmling, Jackalwere, Human Druid Male, Dragonborn Female Sorcerer, Half-Orc Female Fighter, Air Genasi Female, Rust Monster, Dragonborn Male Fighter, Mimics, Human Female Ranger, Dwarf Male Paladin, Displacer Beast, Spiders, Halfling Cleric Female, Alhoon and Intellect devourer, Dwarf Cleric Male, Bronze Dragon Wyrmling, Firbolg Druid Female, Giant Spider and Egg Clutch, Human Female Monk, & Young Blue Dragon
Pathfinder Unpainted Minis: Plague Doctor and Cultist, Bone Devil, Pit Devil, Grizzly, & Dwarf Female Barbarian
Citadel: Crusade Figure Case, Drill, Spray Stick, Nuln Oil, Leadbelcher, Celestra Grey, Mouldline Remover, Painting Handle XL, & Emperor's Children
Army Painter: Paints, Primers, Shades, Spray Primers, & Basing Material, Assorted
Primal Horizon: Miniature Magnets, Assorted
Dragon Shield: Dual Matte Eucalyptus Sleeves, Dual Matte Snow, Green Matte, White Matte, Petrol Matte, Great Wave Sleeves, Deck Shell Deck Boxes, & Double Shell Deck Boxes, Assorted
MDG: Dice Sets, & Folding Dice Trays, Assorted
Zelda: Sleeves
Q-Workshop: Celtic Dice Bag
Koplow: Dice Bags, Assorted
Chessex: Dice Sets, Assorted
Monster: Playmat Tubes, Assorted
Gamegenic: Dungeon Deck Boxes, Sidekick Deck Boxes, Side Holder Deck Boxes, Watchtower Deck Boxes, Stringhold Deck Boxes, Mini American Sleeves, & Casual Albums, Assorted
Ultimate Guard: Boulder Deck Boxes, & Omnihive Deck Boxes, Assorted
Ultra Pro: Pro-Fit Sleeves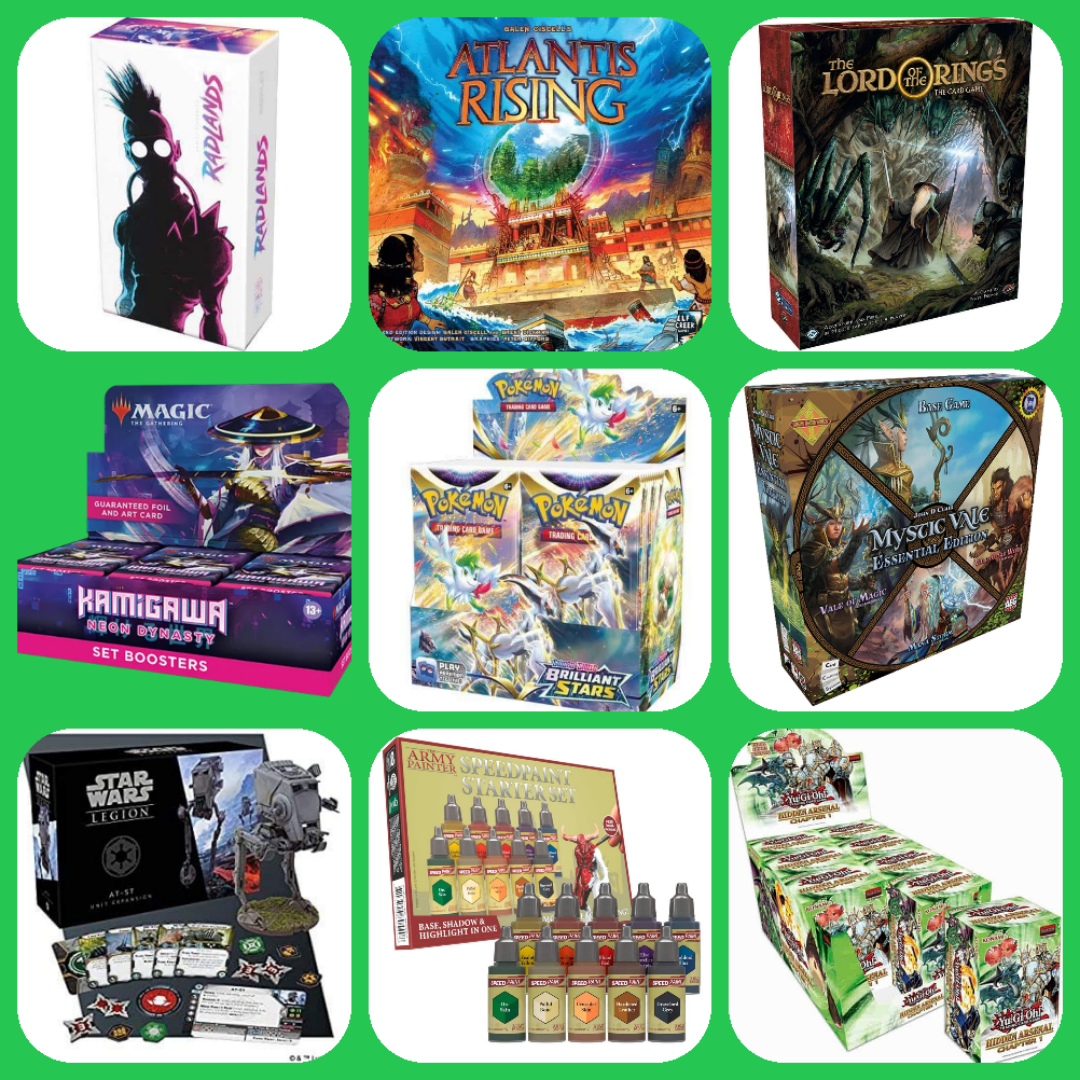 Restocked This Week at Mythic Games! (3/18/22)
MTG: Kamigawa Neon Dynasty Set Boosters, Kamigawa Neon Dynasty Theme Boosters, Modern Horizons 2 Draft Boosters, Innistrad Midnight Hunt Set Boosters, Innistrad Midnight Hunt Draft Boosters, & Strixhaven Draft Boosters
Pokemon: Brilliant Stars Boosters, Brilliant Stars ETBs, Brilliant Stars 3-Pack Blisters, Brilliant Stars Build and Battle Stadiums, & Brilliant Stars Build and Battle Boxes
Yu-Gi-Oh!: Hidden Arsenal Chapter 1
Radlands
Mystic Vale: Essential Edition
7th Continent
Beyond the Sun
Atlantis Rising
Blood Rage
Ticket to Ride: Rails and Sails
Terraforming Mars: Prelude
Carcassonne
Dog Lover
Arkham Horror LCG: Murder at the Excelsior Hotel
LOTR LCG: Revised Core Set, Thing in the Depths, Black Serpent, Temple of the Deceived, Mumakil, Beneath the Sands, Dark of Mirkwood, Road Darkens, Treason of Saruman, Druadan Forest, Encounter at Amon Din, Blood of Gondor, Three Trials, Dunland Trap, Conflict at the Carrock, Journey to Rhosgobel, Dead Marshes, Redhorn Gate, Long Dark, Road to Rivendell, Shadow and Flame, Withered Heath, Roam Across Rhovanion, Ghost of Framsburg, Wrath and Ruin, & Fate of Wilderland
One Night Ultimate Werewolf: Daybreak
Dice Throne: Pyromancer vs Shadow Thief
Smash Up: Science Fiction Double Feature, Monster Smash, It's Your Fault, Cease and Desist, & The Bigger Geekier Box
Here to Slay: Warriors and Druids
D&D: Premium Book and Character Folio, Princes of the Apocalypse DM Screen, Creature and NPC Cards, & Monster Cards CR 0-5
Shadowrun RPG: Core Rulebook Seattle Edition, Kechibi Code, & High Rollers Dice
Giant Book of Battle Mats Volume 2
Star Wars Legion: AT-ST, Death Troopers, TX-225 GAVw Occupier Combat Assault Tank, Dice Pack, Darth Vader, Rebel Commandos, & Imperial Specialists
Star Wars X-Wing: HMP Droid Gunship, Mining Guild TIE, & Major Vonreg's TIE
Marvel Crisis Protocol: Ghost Rider
Abyss: Kraken
Risk Legacy
Hanamikoji
Chinatown
Rhino Hero
D&D Unpainted Minis: Ettin, Dragonborn Female Paladin, Allip and Deathlock, Planetar, Half-Orc Paladin Male, Halfling Female Rogue, Phase Spider, & Zombies
Pathfinder Unpainted Minis: Giant Scorpion
Army Painter: Speed Paint Starter Sets, Paints, Shades, Hobby Knife, Side Cutters, Spray Primers, Brush Sets, & Battlefield Basing Sets, Assorted
Dragon Shield: The Batman Sleeves, Lagoon Dual Matte Sleeves, Clear Matte Sleeves, Ruby Matte Sleeves, Purple Matte Sleeves, Black Matte Sleeves, Blue Matte Sleeves, & Deck Shell Deck Boxes, Assorted
Ultra Pro: Eclipse Sleeves, Eclipse Dice, Pro-Fit Sleeves, Yu-Gi-Oh Size Pro Fit Sleeves, Pro-Matte Sleeves, & Standard Sleeves, Assorted
Ultimate Guard: 100ct Boulder Deck Boxes, Katana Sleeves, & Smarthive Deck Boxes, Assorted
Monster: Double Deck Boxes, & Playmat Tubes, Assorted
Chessex: Dice Sets, Assorted
MDG: Dice Sets, Assorted
KMC: Perfect Size Sleeves, & Perfect Size Hard Sleeves
Gamegenic: Standard American Sleeves, Catan Sleeves, Casual Albums, Sidekick Deck Boxes, Squire Deck Boxes, & Stronghold Deck Boxes, Assorted
BCW: 5000ct Cardboard Storage Boxes
Restocked This Week at Mythic Games! (3/11/22)
MTG: Kamigawa Neon Dynasty Bundles, Kamigawa Neon Dynasty Theme Boosters, & Kaldheim Commander Decks
Pokemon: Brilliant Stars Boosters, Brilliant Stars Build and Battle Kits, Brilliant Stars Mini Binder w/ Booster, Lycanroc and Corviknight V Battle Decks, & Pokeball Deck Boxes
Descent: Legends of the Dark
Zombicide: No Rest for the Wicked
Tranquility
Quest for El Dorado
Blood Rage: Core Game, Gods of Asgard, & Mystics of Midgard
Fort: Cats and Dogs
Horizon: Zero Dawn
Nemesis: Terrain Expansion
7 Wonders Duel: Pantheon
Dice Throne: Seraph vs Vampire Lord
One Deck Dungeon: Core Game, & Forest of Shadow
Princess Bride Adventure Book Game
Arkham Horror LCG: Return to the Night of the Zealot
King of Tokyo: Anubis
Power Rangers: Heroes of the Grid
Inis: Seasons of Inis
Batman Adventures: Shadow of the Bat
Catan: Treasures Dragons and Adventurers
Tammany Hall
Dominion: Renaissance
Barenpark: Core Game, & Bad News Bears
Takenoko: Chibis
Kingdomino
Warhammer 40K: Codex Necrons, & Triarch Stalker
Star Wars Legion: Clone Wars Core Set, Death Troopers, Scout Troopers, & Rebel Troopers Upgrade
Star Wars X-Wing: Epic Battles
D&D: Starter Set, Druid Class Folio, Phunny Plush Beholder, Phunny Plush Displacer Beast, Phunny Plush Mimic, & Plush Mind Flayer Dice Bag
Pathfinder RPG: Gamemastery Guide
Dixit
Viticulture: Metal Coins
Labyrinth
Harry Potter Labyrinth
Star Realms: Box Set, & Crisis
Carcassonne
Time Stories: Hadal Project
Exit: Forbidden Castle
Jurassic Park: Danger
Rhino Hero
Balderdash
Farkle
Secret Hitler
Mystery Puzzle: Sherlock Holmes, Alfred Hitchcock, Recipe for Murder, & Foul Play and Cabernet
D&D Painted Minis: Van Richter's Guide to Ravenloft Boosters
D&D Unpainted Minis: Giant Constrictor, Diving Griffon, Zombies, Silver Dragon Wyrmling, Phase Spider, Ankheg, Dwarf Cleric Male, Gnome Artificer Male, Half-Orc Paladin Male, Allip and Deathlock, Goliath Male Barbarian, Halfling Rogue Female, Half-Orc Fighter Female, Half-Elf Monk Female, Dragonborn Male Fighter, & Bugbears
Pathfinder Unpainted Minis: Timber Wolves, Bartender/Dancing Girl, Stag, & Half-Elf Male Ranger
Army Painter: Speed Paint Starter Sets, Battlefield Basing Set, Paints, Basing Material, Shades, & Magic Super Glue Activator, Assorted
GF9: Basing Material, Assorted
Citadel: Assembly Stand, Plastic Glue, Magos Purple, & White Scar
MDG: Dice Sets, Assorted
Chessex: Dice Sets, Assorted
Gamegenic: Dungeon Deck Boxes, Side Holder Deck Boxes, Standard American Sleeves, Watchtower Deck Boxes, & Squire Deck Boxes, Assorted
BCW: Cardboard Storage Boxes, Assorted
Dragon Shield: Dual Matte Lagoon Sleeves, Dual Matte Orchid Sleeves, Blue Matte Sleeves, Black Matte Sleeves, & Double Shell Deck Boxes, Assorted
Koplow: Dice Bags, Assorted
Ultra Pro: Eclipse Matte Sleeves, & Pro-Matte Sleeves, Assorted
Ultimate Guard: Katana Sleeves, & Smarthive Deck Boxes, Assorted
Monster: Playmat Tubes, & Double Deck Boxes, Assorted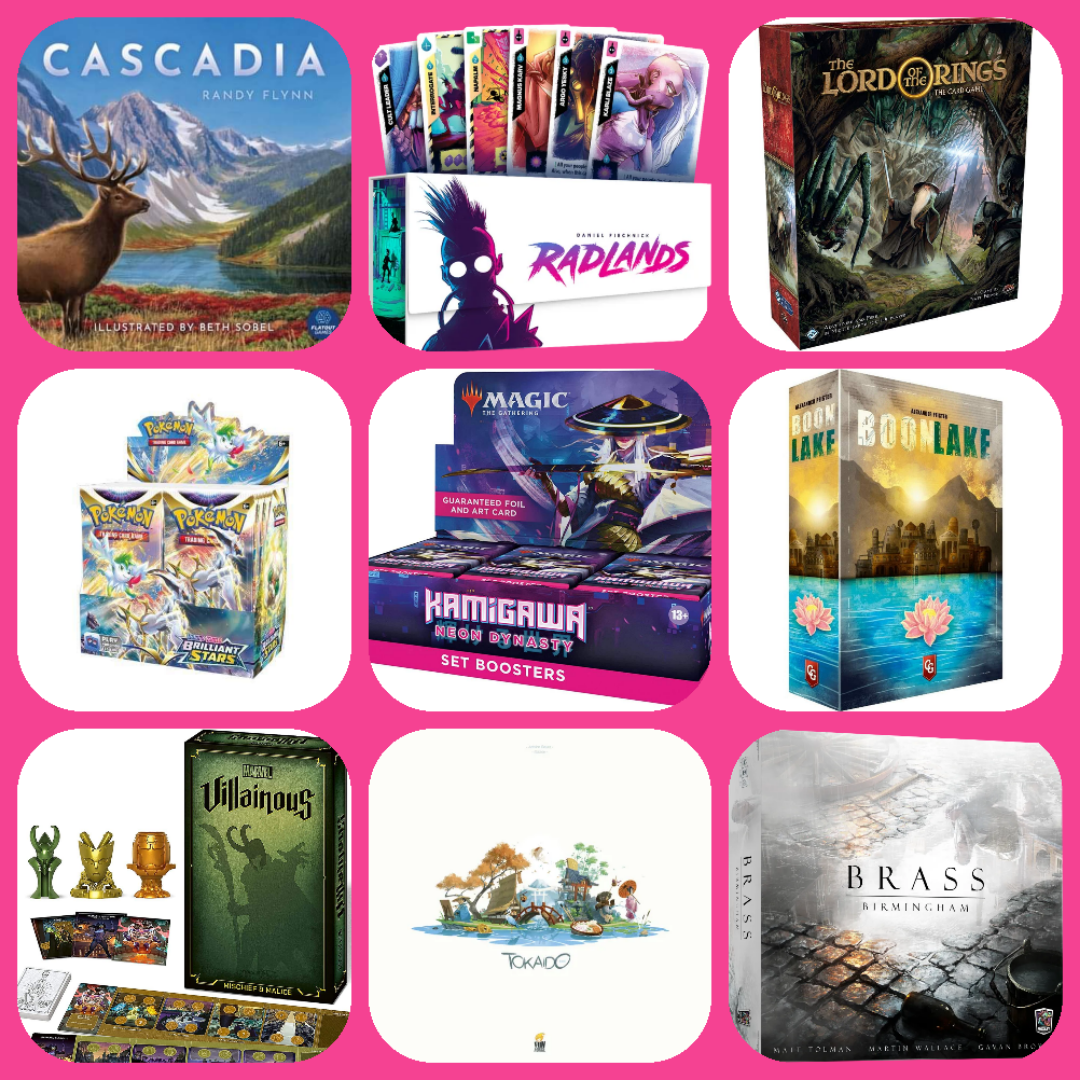 Restocked This Week at Mythic Games! (3/4/22)
MTG: Kamigawa Neon Dynasty Set Boosters, Kamigawa Neon Dynasty Collector's Boosters, Kamigawa Neon Dynasty Commander Decks, Commander Legends Boosters, & Mana 7 Playmats, Assorted
Pokemon: Brilliant Stars Boosters, Brilliant Stars ETBs, Shining Fates ETBs, Celebrations Collector's Chest Tins, Pikachu Playmats, 4-Pocket Binders, & 9-Pocket Binders, Assorted
Boonlake
Tokaido
Cascadia
Radlands
Tapestry: Arts & Architecture
Brass Birmingham
Brass Lancashire
Digimon TCG: Ulforce Veedramon Starter Deck
LOTR LCG Revised Core Set, Shadow and Flame, & The Long Dark
Arkham Horror LCG Revised Core set, & Dunwich Legacy Investigator
Near and Far
Western Legends
Thunderstone Quest
Inis
Cryptid
Small World: River World
Carcassonne: Bridges Castles and Bazaars
Clank: Mummy's Curse
Clank in Space: Apocalypse
Smartphone Inc
Pandemic: In the Lab
Undaunted: North Africa
UNLOCK Timeless Adventures
Dice Throne: Cursed Pirate vs Artificer
RWBY Combat Ready
Rivals for Catan: Age of Enlightenment, & Age of Darkness
Troyes
Bumuntu
Imhotep
Jaws
Fuse
Exit: Dead Man on the Orient Express
Ramen Fury
Batman Adventures: Arkham Asylum
Marvel Villainous: Mischief and Malice
Marvel Crisis Protocol: Mr Sinister, & Bullseye and Daredevil
Star Wars RPG: Force and Destiny Game Masters Kit. & Age of Rebellion Forged in Battle
Star Wars Armada: Profundity, & Victory Class Star Destroyer
Star Wars X-Wing: TIE Advanced x1
Star Wars Legion: Phase 1 Clone Trooper Upgrade
Warhammer 40K: Recruit Edition, Ghostkeel Battlesuit, Codex Space Marines, Bladeguard Veterans, Windriders, Wraithlord, Wraithguard, Combat Patrol Adepta Sororitas, Kabalite Warriors, Custodian Guard, Deathwatch Veterans, Primaris Lieutenant w/ Power Sword, Combat Patrol Orks, Vindicator, Commander Shadowsun, Knight Canis Rex, & Drukhari Scourges
Warhammer Age of Sigmar: Start Collecting Skaven Pestilens, Bloodletters, Start Collecting Daemons of Slaanesh, Battletome Stormcast Eternals, Knight Judicator w/ Gryph Hound, & Path to Glory Diary
BattleTech: Beginner Box, Inner Sphere Command Lance, Inner Sphere Urban Lance, Inner Sphere Heavy Battle Lance, & Inner Sphere Support Lance
Coup: Reformation
Resistance: Avalon
Cat Lady: Box of Treats
D&D: Core Rulebook Gift Set, Player's Handbook, Dungeon Master's Guide, Monster Manual, Icewind Dale Rime of the Frostmaiden, Frostmaiden DM Screen, Starter Box, Wizard Class Folio, Monster Cards CR 0-5, Creature and NPC Cards, Cleric Spellbook Cards, Druid Spellbook Cards, & Ranger Spellbook Cards
Epic Encounters: Tower of the Lich Empress
Book of Battle Mats: Towns and Taverns
D&D Icons of the Realms Painted Minis: Sahuagin Warband, & Denizens of Castle Ravenloft
D&D Unpainted Minis: Adult White Dragon, Winter Wolf, Blink Dogs, Aasimar Female Paladin, Green Hag and Night Hag, Werewolves, Unicorn, Human Male Bard, Gargoyles, Human Female Druid, Sprite and Pseudodragon, Tabaxi male Rogue, Crawling Claws, Winter Wolf, Orc Adventurers, Kenku Adventurers, Red Dragon Wyrmling, Half-Elf Female Monk, & Jackalwere
Pathfinder Unpainted Minis: Earth Elemental Lord, Hyenas, Giant Octopus, Grizzly, Dire Wolf, Goblin Alchemist, Goblin Female Rogue, & Goblin Rogue Male
Mr Jack Pocket
Silver and Gold
The Fox in the Forest
Terraforming Mars: Venus Next
Ultimate Werewolf Extreme
Munchkin Legends
Munchkin Booty
Munchkin 9: Jurassic Snark
Monster Scenery: Verdant Forest
Army Painter: Drill, Paints, Primers, Brushes, Shades, Tufts, & Basing Material, Assorted
Citadel: Painting Handles, Drill, Dryad Bark, Wraithbone, Black Templar, Troll Slayer Orange, Skeleton Horde, Blood Angels Red, Ork Flesh, Tesseract Glow, Evil Sunz Scarlet, & Corax White
Chessex: Battlemats, & Dice Sets, Assorted
Dragon Shield: All Might Sleeves, Magenta Sleeves, Nebula Sleeves, Deck Shells, Double Shells, & Perfect Fit Sleeves, Assorted
MDG: Dice Sets, Assorted
Foam Brain: Metal Dice Sets, & Plastic Inclusions Dice Sets, Assorted
Gamegenic: Standard Sleeves, Standard Sleeve Value Packs, Sidekicks, Squires, Side Holders, Watchtowers, Fourtress, & Casual Albums, Assorted
Ultra Pro: Vivid 12-Pocket Binders, Eclipse 100ct Deck Boxes, & Eclipse Matte Sleeves, Assorted
Ultimate Guard: Katana Sleeves, Assorted
Monster: Playmat Tubes, Assorted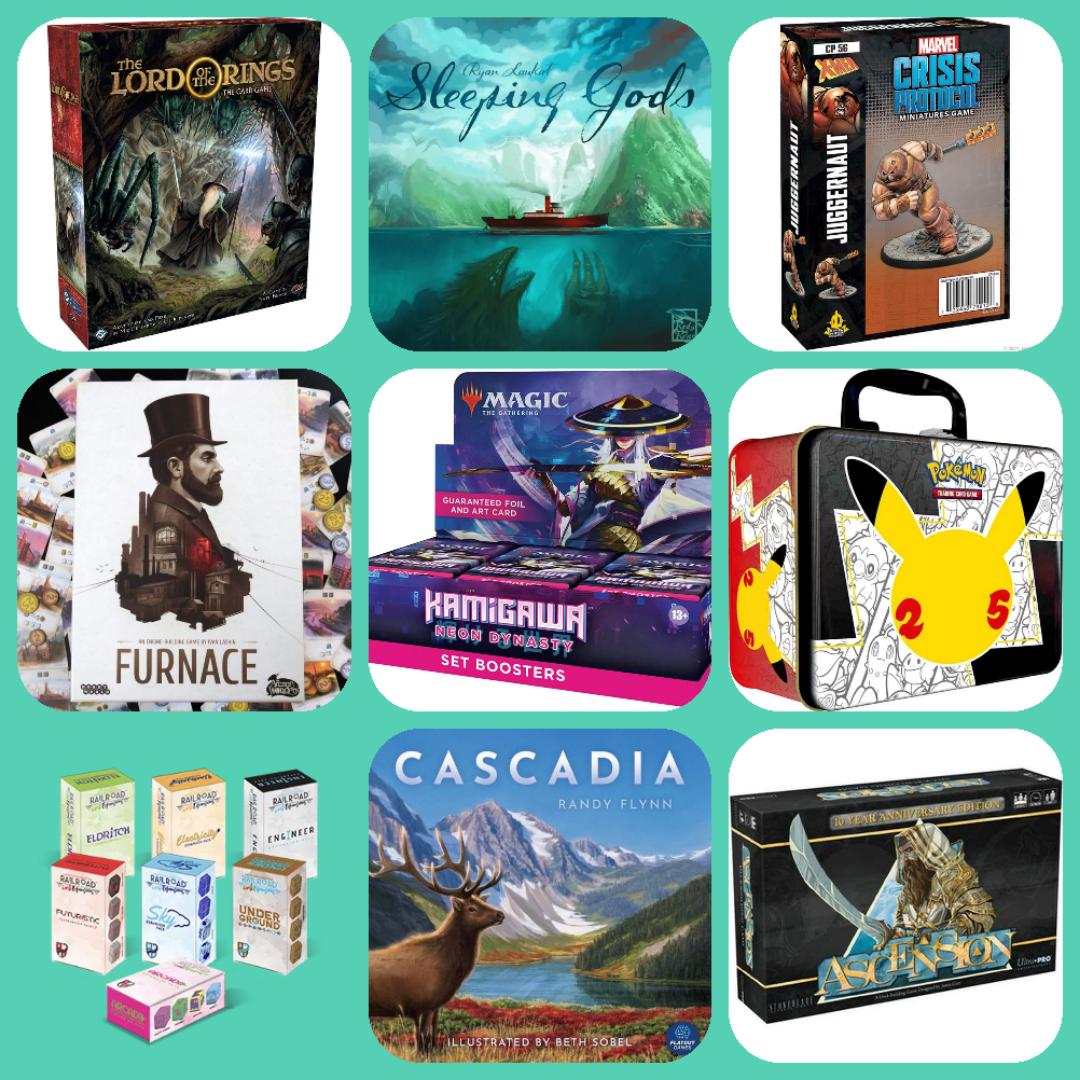 Restocked This Week at Mythic Games! (2/25/22)
MTG: Kamigawa Neon Dynasty Set Boosters, Collector's Boosters, Bundles, & Commander Decks
Pokemon: Celebrations Collector's Chest Tins, & Pikachu V-Union Boxes
Furnace
Sleeping Gods
Cascadia
Imperium Legends
Undaunted Normandy
Welcome to the Moon
Concordia: Solitaria
Five Tribes: Artisans of Naqala
Ascension: 10 Year Anniversary Edition
LOTR Journeys in Middle-Earth
LOTR LCG: Revised Starter
Arkham Horror LCG: Revised Starter, & City of Archives
Marvel Champions LCG: Star-Lord
Marvel Crisis Protocol: Juggernaut, X-23 and Honey Badger, Gambit and Rogue, Colossus and Magik, Doctor Strange and Clea, Doctor Strange and Wong, & Dice Set
Warhammer 40K: Myphitic Blight-Hauler, & Retributor Squad
Star Wars Legion: AT-ST, TX-225 GAVw Occupier Combat Assault Tank, B1 Battle Droids Upgrade, & Phase 1 Clone Trooper Upgrade
Star Wars X-Wing: Starter Box, & Fury of the First Order
Star Wars Armada: Chimaera, Victory Class Star Destroyer, Hammerhead Corvettes, Imperial Assault Carriers, Rebel Transports, & Upgrade Cards
Battletech: Clan Heavy Striker Star
Zombicide: Urban Legends, Wulfsburg, & No Rest for the Wicked
Scythe: Legendary Box
Project Elite
Star Realms: The Unity
Caverna
Agricola: Bubulcus
Catan Junior
Railroad Ink: Arcade, Eldritch, Electricity, Engineer, Futuristic, Sky, & Underground
Small World
Exit: Gate Between Worlds, Forbidden Castle, & House of Riddles
Bohnanza
Farkle: Dice Cup
Joking Hazard: Deck Enhancement 2
D&D Icons of the Realms Painted Minis: Icewind Dale Rime of the Frostmaiden
D&D: Tome of Beasts 2 Pocket Edition, Display Beast Phunny Plush, & Endless Quest Escape the Underdark
D&D Unpainted Minis: Storm Giant, Shadow, & Young White Dragon
Citadel: Retributor Armor, Wraithbone, Plastic Glue, & Grey Seer Spray
GF9: Basing Material, Assorted
Folded Space Box Inserts: Marvel Champions Red Skull, Quacks of Quedlinburg and Expansions, Root and Expansions, & Viticulture and Expansions
Yu-Gi-Oh! Kuriboh Kollection: Deck Boxes, Playmats, & 9-Pocket Binders
Gamegenic: Games' Lair Deck Storage Boxes, Side Holder Deck Boxes, Mini Eurpoean Sleeves, Standard Card Game Sleeves, Fourtress Deck Boxes, & Squire Deck Boxes, Assorted
Dragon Shield: Dual Matte Eucalyptus Sleeves, Dual Matte Lightning Sleeves, Sapphire Matte Sleeves, Night Blue Matte Sleeves, Perfect Sealable Clear Sleeves, & Deck Shell Deck Boxes, Assorted
Chessex: Dice Sets, Assorted
MDG: Dice Sets, Assorted
Koplow: Large D20s, & Dice Bags, Assorted
Q-Workshop: Dice Towers, Assorted
Monster: Playmat Tubes, & Double Deck Boxes, Assorted
Ultra Pro: Pro-Matte Sleeves, & Pro-Fit Sleeves, Assorted
Ultimate Guard: Katana Sleeves, Assorted
BCW: Cardboard Storage Boxes, Assorted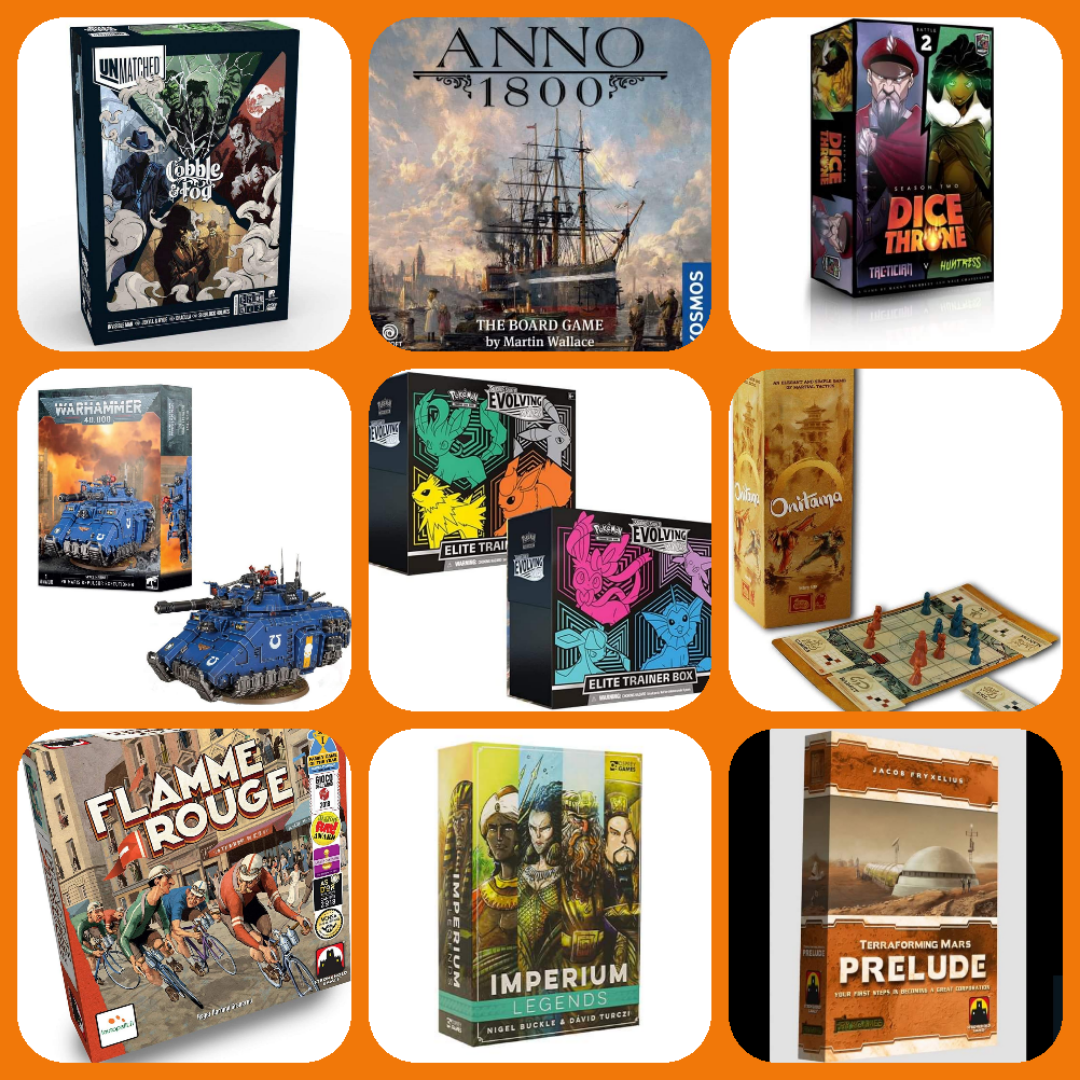 Restocked This Week at Mythic Games! (2/18/22)
Pokemon: Evolving Skies Elite Trainer Boxes, Collector's Chest Tins, Battle Styles Elite Trainer Boxes, V-Union Special Collections, Evolutions Boosters, Deck Boxes, 3-Ring Binders, 4-Pocket Binders, & 9-Pocket Binders, Assorted
Onitama
Flamme Rouge
Anno 1800
Terraforming Mars: Prelude, & Colonies
Cerebria
Imperium Legends
Food Chain Magnate
Dice Throne: Tactician vs Huntress
Digimon: Classic Collection Boosters
Unmatched: Cobble and Fog
Warhammer 40K: Primaris Repulsor, Eldrad Ulthran, Farseer, Jain Zar, Harlequin Shadowseer, Celestine Living Saint, Morvenn Vahl, Primaris Invader ATV, & Vanguard Veteran Squad
BattleTech: ComStar Battle Level II, Desert Map Pack, & Inner Sphere Urban Lance
Gloom: Unhappy Homes
D&D: Zip Book and Character Folio, Cleric Spellbook cards, Druid Spellbook Cards, Creature and NPC Cards, Endleess Quest Into the Jungle, & Paladin Spellbook Cards
Marvel Legendary DBG: SHIELD
Rising: The Batman Who Laughs
Red Dragon Inn: Zariah the Summoner, & Witchdoctor Natyli
Munchkin: Deluxe Base Game, Conan, & Legends
Cabo Deluxe
Atlantis Rising: Deluxe Components
Sleeping Gods: Tides of Ruin
Exit: Haunted Roller Coaster, Polar Station, Theft on the Mississippi, & Stormy Flight
Epic Encounters: Temple of the Snake God
D&D Unpainted Minis: Halfling Female Rogue, Aasimar Female Wizard, Nightwalker, Frost Salamander, Troll, Firbulg Driod Female, Tabaxi Male Rogue, Goliath Male Barbarian, Jackalwere, Sea Hag and Bheur Hag, Gold Dragon Wyrmling, Lich and Mummy Lord, Human Male Wizard, Human Female Monk, Blue Dragon Wyrmling, Harpy and Arakocra, Dragonborn Male Paladin, Death Dog, Black Dragon Wyrmling, & Night Hag and Dusk Hag
Pathfinder Unpainted Minis: Necromancers
Critical Role Unpainted Minis: Core Spawn Crawlers
Citadel: Mephiston Red, & Nuln Oil
Army Painter: Brushes, & Paints, Assorted
Ultimate Guard: Katana Sleeves, Assorted
Ultra Pro: Satin Tower Deck Boxes, Assorted
Q-Workshop: Dice Bags, Assorted
MDG: Dice Sets, Assorted
Monster: Playmat Tubes, Assorted
Dex: 4-Pocket Binders, Assorted
Dragon Shield: Double Shell Deck Boxes, Assorted
Chessex: Dice Sets, Assorted
Koplow: Dice Bags, Assorted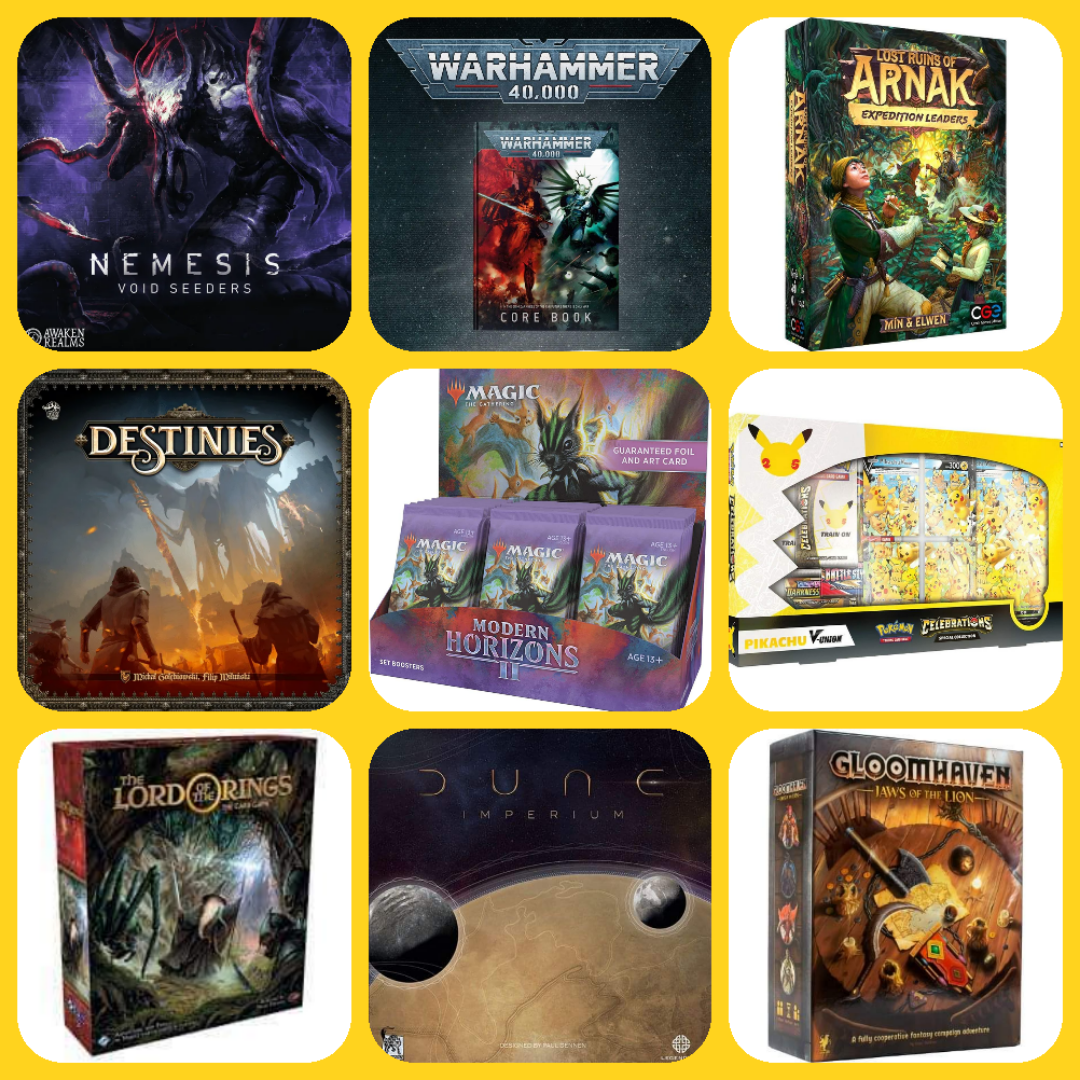 Restocked This Week at Mythic Games! (2/11/22)
MTG: Modern Horizons 2 Set Boosters, Zendikar Rising Set Boosters, & Commander Legends Boosters
Pokemon: Celebrations Pikachu V-Union Boxes, First Partner Kanto Packs, Urshifu Decks, Charmander Playmat, Mew 3-Ring Binder, Seaside 3-Ring Binder, Mew 9-Pocket Binder, & Squirtle Playmat
Lost Ruins of Arnak: Expedition Leaders
Five Tribes: Artisans of Naqala
Dune Imperium
Star Wars X-Wing: M3-A Interceptor, Delta-7 Aethersprite, TIE Advanced X1, & TIE-D Defender
Warhammer 40K: Core Rulebook, Genestealer Cults Abberants, Battle Sister Squad, Khorne Berzerkers, Plague Marines, Rubric Marines, & Orks Boyz
Warhammer AOS: Vampire Lord
Cosmic Encounter: Core Game, Dominion, & Alliance
Destinies
Parks: Nightfall
7 Wonders
D&D: Displacer Beast Phunny Plush, Rime of the Frostmaiden Dice Set, Cleric Tokens, Cleric Spellbook Cards, Paladin Spellbook Cards, Druid Spellbook Cards, & Xanathar's Spellbook Cards
Gloomhaven: Jaws of the Lion
A Feast for Odin: Norwegians
Undaunted: Reinforcements
This War of Mine: Tales from the Ruined City
Kingdomino: Age of Giants
Red Dragon Inn: Ohava vs Murgath
Cartographers Heroes: Nebblis Map Pack, Affril Map Pack, & Undercity Map Pack
Catan: Cities and Knights, & 5-6 Player
Carcassonne: Count King and Robber, & The Tower
Ticket To Ride: Rails and Sails
Terraforming Mars
Ginkgopolis
Fantastic Factories
Runes & Regulations: Core Game, & Nefarious Neighbors
Munchkin Babies
Go Nuts for Donuts
Marvel Champions LCG: Venom
Lord of the Rings LCG: Revised Core Set, Journey to Rhosgobel, Druaden Forest, Race Across Harad, Redhorn Gate, & Black Serpent
Arkham Horror LCG: Path to Carcosa, Dim Carcosa, & Unspeakable Oath
Hadara
Nemesis: Voidseeders
Gloom: Unfortunate Expeditions
Exit: Dead Man on the Orient Express
Blood Rage: Mystics of Midgard
Fluxx
Pirate Fluxx
So Clover!
Joking Hazard
Bicycle: Sea King Playing Cards
D&D Unpainted Minis: Spectator and Gazers, Goliath Male Fighter, Wraith and Specter, Orc Adventurers, Gnoll Witherlings, Night Hag and Dusk Hag, Crawling Claws, Firbolg Druid Female, Human Druid Male, Jackalwere, & Shadow
Pathfinder Unpainted Minis: Hell Hounds, Giant Octopus, & Bartender/Dancing Girl
Masterson: Sta-Wet Handy Palettes
Citadel: Skulls, Liquid Green Stuff, & Fire Dragon Bright
Army Painter: Precision Side Cutters, Brush Sets, Glue, & Tufts, Assorted
Vallejo Fantasy Tufts: Neon, Blue, Turquoise, Pink, & Fire
GF9: Basing Material, Assorted
MTG: Midnight Hunt 9-Pocket Pro-Binders, & Strixhaven Japanese Mystic Archive Playmats, Assorted
Foam Brain: Plastic Inclusions Dice Sets, Metal Dice Sets, Roll-Up Dice Mats, Large Metal D20s, & Jumbo D20s, Assorted
Ultra Pro: Eclipse Sleeves, & Pro-Matte Sleeves, Assorted
Dragon Shield: Copper Matte Sleeves, & Double Shell deck Boxes, Assorted
Gamegenic: Sidekick Deck Boxes, Standard Card Game Sleeves, Standard Card Game Sleeves Value Packs, Standard American Board Game Sleeves, Zip-Up Binders, Squire Deck Boxes, Fourtress Deck Boxes, Casual Albums, & Playmat Tubes, Assorted
MDG: Stardust Dice Sets, Assorted
Monster: Playmat Tubes, Assorted
Chessex: Dice Sets, Assorted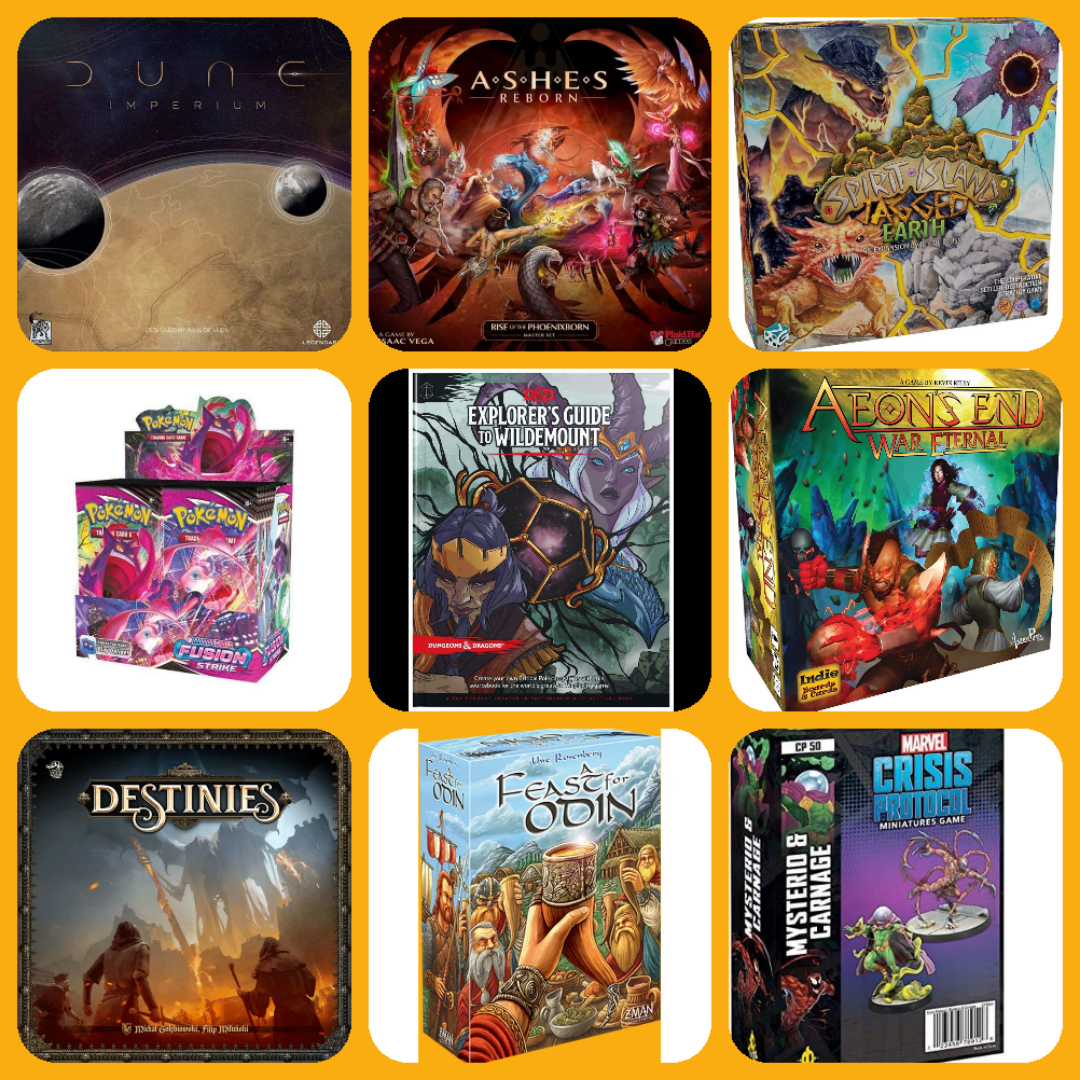 Restocked This Week at Mythic Games! (2/4/22)
Pokemon: Fusion Strike Boosters, Celebrations Pikachu V-Union Boxes, Battle Academy, Seaside Alcove Flip Deck Boxes, Mew 9-Pocket Binders, & Pikachu Alcove Flip Deck Boxes
Dragon Ball Super: Supreme Rivalry Boosters, Saiyan Showdown Boosters, Vermilion Bloodline Boosters, Rise of the Unison Warrior Boosters, & Saiyan Showdown Premium Packs
Spirit Island: Jagged Earth
Destinies
Dune Imperium
Meadow
A Feast for Odin
Pipeline: Emerging Markets
Nemesis: Void Seeders
Fantasy Realms
Orleans: Invasion
Terraforming Mars
Parks: Nightfall
Hallertau
Wingspan: Oceania, & European
Here to Slay: Berserker and Necromancer
Onitama: Way of the Wind
Viticulture: Tuscany Essential Edition
Call to Adventure
Castle Ravenloft Board Game
D&D: Explorers Guide to Wildemount, Monster Manual, Core Rulebook Gift Bundle, Essentials Kit, Plush Beholder Dice Bag, Creature and NPC Cards, Monster Cards CR 0-5, Class Folio Rogue, & Class Folio Warlock
Phunny: Beholder Plush, & Mimic Plush
Shadowrun RPG: Prime Runner Miniatures
Architects of the West Kingdom
So Clover!
Fairytale Gloom
Red Dragon Inn: Box 3, & Box 4
Ashes Reborn: Rise of the Phoenixborn
Raptor
Fox in the Forest
Plague Inc
Pandemic: On the Brink
Munchkin: Bosses, & Conan
Axis and Allies: Europe 1940
Undaunted: Reinforcements
Smash Up: World Tour International Incident
Marvel CP: Mysterio and Carnage
Marvel Champions LCG: Venom
Marvel Legendary DBG: Deadpool
Aeon's End DBG: War Eternal
DC Comics DBG: Forever Evil, & Rivals Green Lantern vs Sinestro
Epic Spell Wars of the Battle Wizards: Panic at the Pleasure Palace
Star Wars Legion: Imperial Royal Guards, Snow Troopers, & Rebel Troopers
Star Wars X-Wing: Naboo N-1 Starfighter
Warhammer 40K: Primaris Techmarine, Knight Valiant, Crisis Battlesuits, Gretchin, Dark Apostle, Primaris Repulsor Executioner, Deathwatch Veterans, Skitarii, Tactical Squad, Assault Intercessors and Paints, & 40K Paints and Tools
Warhammer Age of Sigmar: Lady Olynder, Start Collecting Sylvaneth, Start Collecting Slaves to Darkness, Arkanaut Company, Stormcast Eternals Paint Set, & AOS Paints and Tools
Warhammer Underworlds: Khagra's Ravagers
Cat Lady: Box of Treats
Saboteur
Farkle
Qwixx: Score Pads
Dad Joke Face Off: After Dark
Cards Against Humanity: Green Box, Pride Pack, Retail Product, Ass Pack, Period Pack, Jew Pack, & Season's Greetings Pack
D&D Icons of the Realms Painted Minis: Juiblex Demon Lord of Slime and Ooze, Denizens of Barovia, Denizens of Castle Ravenloft, & Goblin Warband
D&D Unpainted Minis: Beholder, Aasimar Female Fighter, Dwarf Male Paladin, Medusas, Gnome Female Wizard, Silver Dragon Wyrmling, Warforged Titan, Vampires, Ghouls, Human Male Wizard, Goblins, & Bugbears
Pathfinder Unpainted Minis: Plague Doctor and Cultist
Citadel: Skulls, & Chaos Black Spray
Army Painter: Paints, & Shades, Assorted
Vallejo: Champions of the Realm Paint Set
GF9: Basing Materials, Assorted
Masterson: Sta-Wet Handy Palettes
Ultimate Guard: Katana Sleeves, Omnihive Deck Storage Boxes, & Boulder Deck Boxes, Assorted
MDG: Stardust Dice Sets, & Dice Bags, Assorted
Dragon Shield: Water Tiger Sleeves, Emerald Matte Sleeves, Card Codex Binders, Double Shell Deck Boxes, & Deck Shell Deck Boxes, Assorted
Ultra Pro: Death Dealer Alcove Flip, Great Wave Alcove Flip, Starry Night Alcove Flip Deck Boxes, Eclipse Deck Boxes, Eclipse 4-Pocket Binders, & Magnetic Dice Trays, Assorted
Chessex: Dice Sets, Assorted
Gamegenic: Fourtress Deck Boxes, Standard American Card Game Prime Sleeves, Standard Card Game Prime Sleeves, & Standard Card Game Matte Sleeves, Assorted