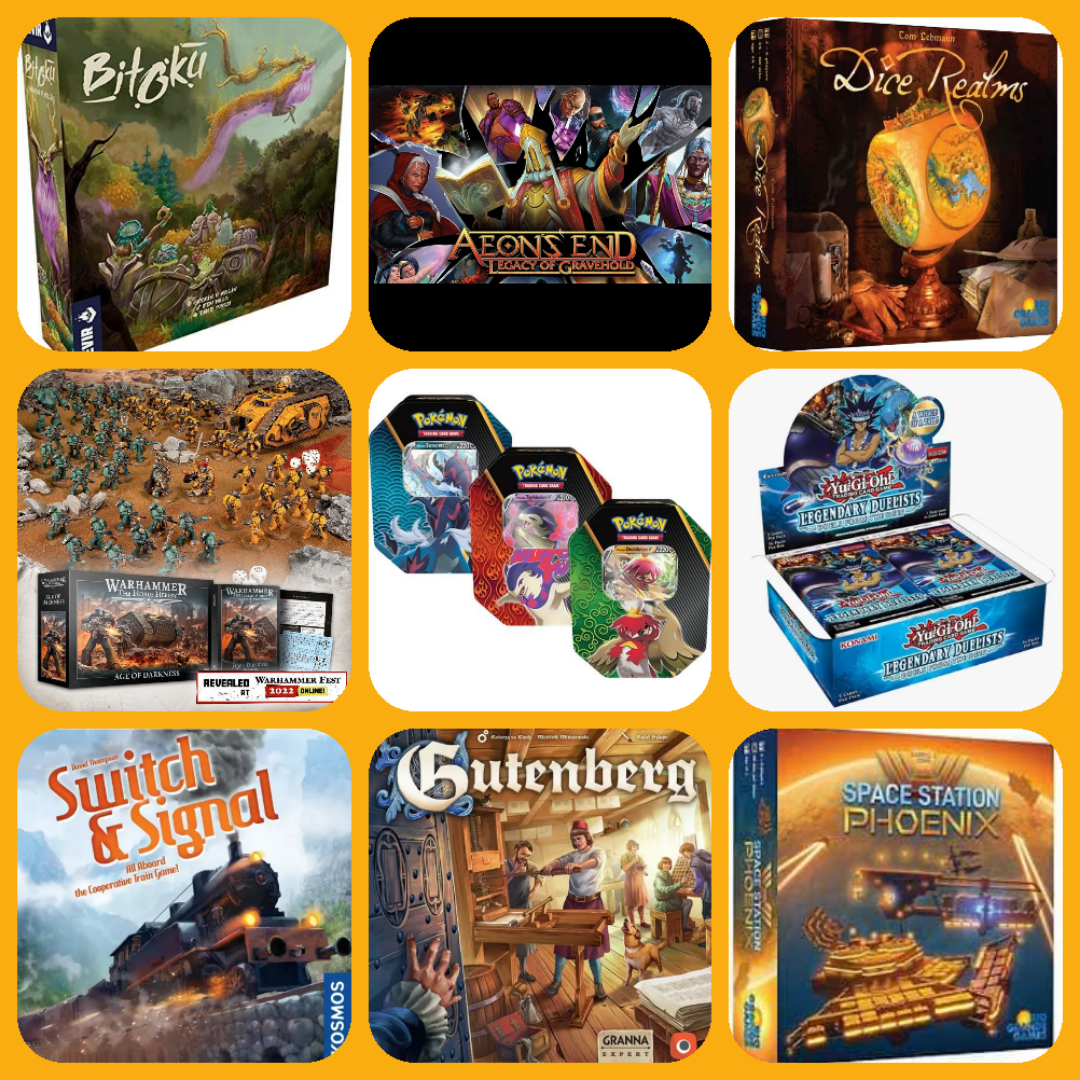 New This Week at Mythic Games! 6/17/22
Pokemon: Divergent Powers Tins, & Professor Juniper Premium Tournament Collection
Yu-Gi-Oh!: Legendary Duelists Duels From the Deep Boosters
Flesh and Blood TCG: Uprising Prerelease Kits (Sunday Event Only)
Horus Heresy: Age of Darkness, Loyalist Legions Astartes, Traitor Legion Astartes, Kratos Heavy Assault Tank, Deimos Pattern Rhino, Missile Launchers and Heavy Bolters, & Special Weapon Upgrade
Bitoku
Aeon's End DBG: Legacy of Gravehold
Switch and Signal
Space Station Phoenix
Dice Realms
Gutenberg
Scout
Godtear: Skullbreaker the Dragon Slayer
The Goonies: Under the Goondocks
Pocket Detective: Season 1
D&D Icons of the Realms Painted Minis: Aspect of Tiamat
D&D Pad of Perception: Player's Handbook, Dungeon Master's Guide, & Monster Manual
D&D: Beholder Dice Bag
Dark Crystal: 1000pc Puzzle
Dragon Shield: Matte Blood Red Sleeves
White Dwarf Magazine: Issue #477
Marvel: Loki Sleeves
Cat Dice Sets: Purrito, & Muffin
Foam Brain: Hurricane Dice Trays, Dagger of Venom Metal Dice Sets, & Dragon Scale Metal Dice Sets
MTG: 12-Sided Keyword Counters, Mythic Edition Loyalty Dice and Case, Mana 7 Deck Boxes (6 Styles), Mana 7 Sleeves (Plains & Color Wheel), & Mana 7 Alcove Mountain Deck Box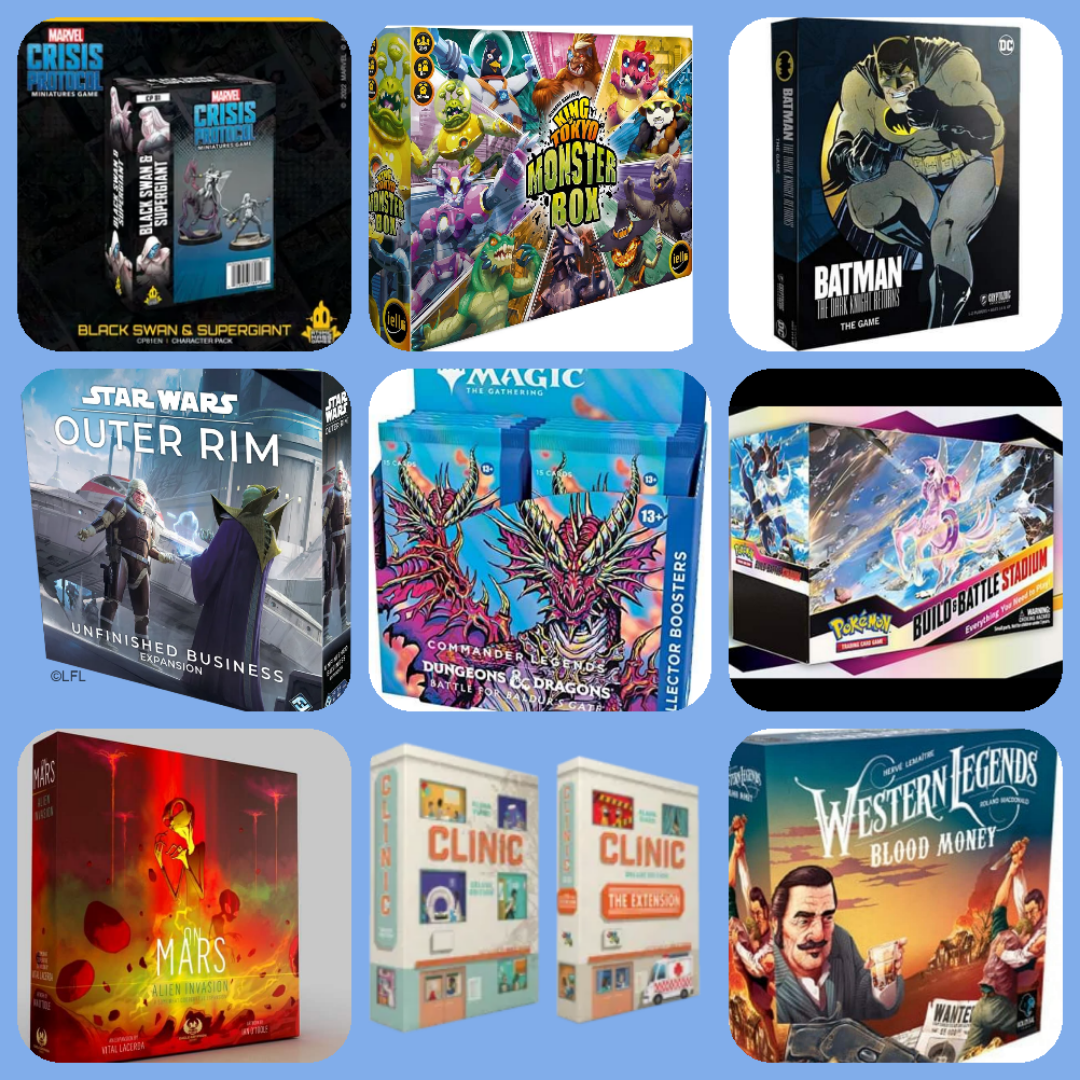 New This Week at Mythic Games! 6/10/22
MTG: Commander Legends Battle for Baldur's Gate Collector's Boosters, Set Boosters, Draft Boosters, Bundles, Commander Decks, & 2022 Starter
Pokemon: Astral Radiance Build and Battle Stadium
Star Wars Outer Rim: Unfinished Business Expansion
Marvel Crisis Protocol: Black Swan and Supergiant, Quinjet Terrain Pack, Card Pack 2022, & Black Order Squad Pack
King of Tokyo: Monster Box
On Mars: Alien Invasion
Tenpenny Parks
The Dark Knight Returns
The Dark Knight Returns: Deluxe Edition
DC Deckbuilding Game: Crossover Collection 1
Sobek: 2 Players
Western Legends: Blood Money
Vampire the Masquerade RPG: Cults of the Blood Gods
Rescuing Robin Hood
Clinic: Deluxe Edition, & Extension 1, 2, 3, 4, & 5
Stardew Valley
Exit: Nightfall Manor w/ Puzzle
Witchstone
War of the Ring: Lords of Middle-Earth, & Fate of Erebor
Ivion the Herocrafting Card Game: The Hound and the Hare, The Knight and the Lady, & The Sun and the Stars
Jim Henson's Labyrinth: 1000pc Puzzle
Theory 11 Playing Cards: Hudson, Provision, & Artisan
Bicycle Playing Cards: Guardians
Dragon Shield: Dual Matte Batman Core Sleeves
MTG: Commander Legends Battle for Baldur's Gate Playmats (8 Styles), & Mana 7 Dividers
Dragon Shield: Yu-Gi-Oh Sized Water Tiger Sleeves
Ultra Pro: 12-Pocket Vivid Pro Binder, Black
BCW: Playmat Tubes, Assorted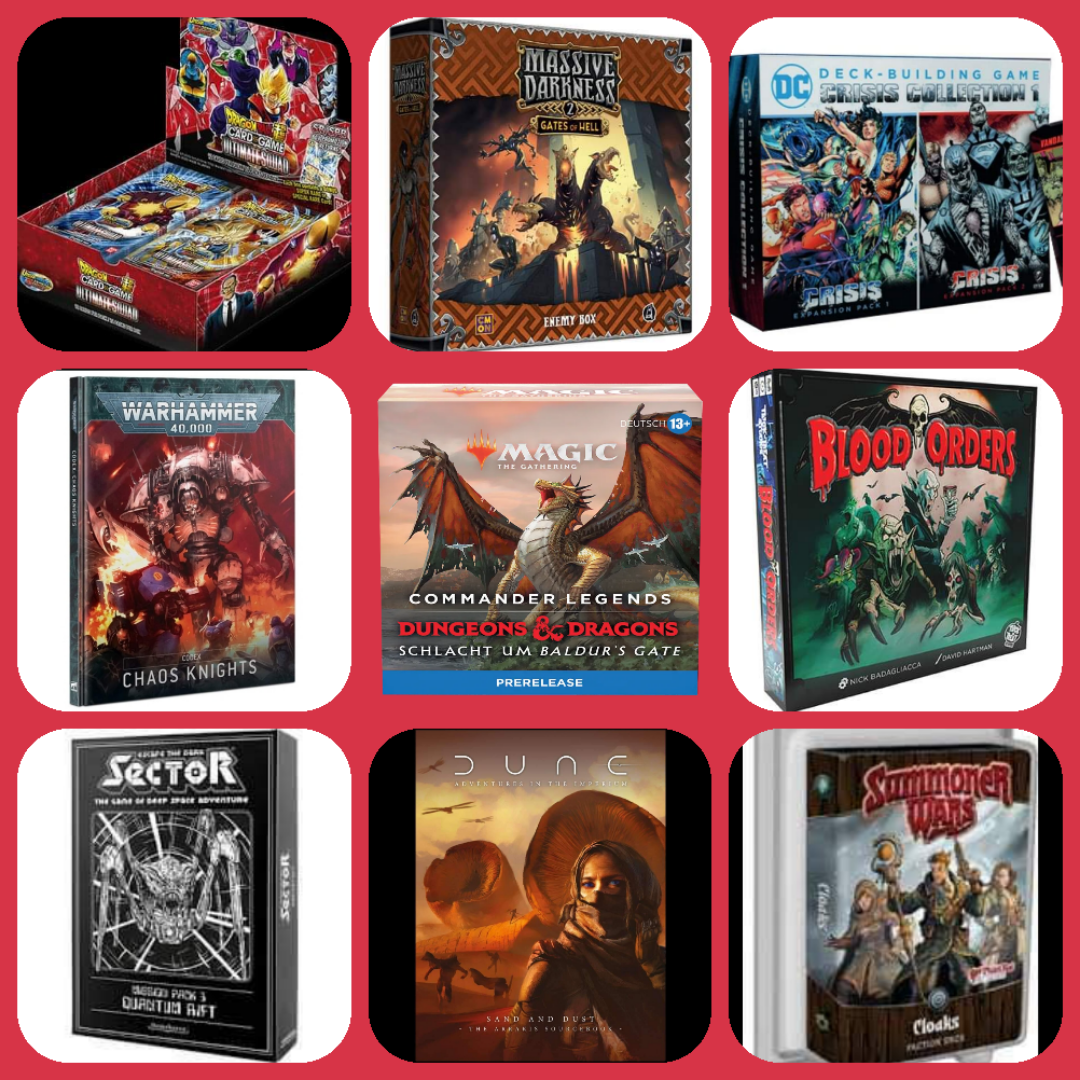 New This Week at Mythic Games! 6/3/22
MTG: Commander Legends Battle for Baldur's Gate Prerelease Kits, Draft Boosters, & Set Boosters
Pokemon: Astral Radiance Mini Binders
Massive Darkness 2: Gates to Hell, Monks and Necromancers vs Paragon, & Upgrade Pack
DC DBG: Crisis Collection 1
Dragon Ball Super TCG: Unison Warrior Set 8 – Ultimate Squad Boosters
Archmage
Maracaibo: The Uprising
Warhammer Kill Team: Moroch
Warhammer 40K: Chaos Knights Codex, Chaos Knights Wardogs, Chaos Knights Knight Abominant, & Chaos Knights Datacards
Blood Orders
BattleTech: Tamar Rising
Anomaly
Dune RPG: Sand and Dust
Summoner Wars: Cloaks Faction Deck, & Skyspear Avians Faction Deck
Escape the Dark Sector: Twisted Tech, Mutant Syndrome, & Quantum Rift
Kings Forge
Poetry for Neanderthals: More Cards Expansion
Libertalia: Winds of Galecrest Metal Doubloon Coins
Pocket Master Builder
D&D Tarot Deck
A War of Whispers
Steven Rhodes: Let's Summon Demons
War of the Ring: Battle of Five Armies, & Warriors of Middle-Earth
Ultra Pro MTG Battle for Baldur's Gate: 9-Pocket Pro-Binders, 12-Pocket Pro-Binders, Sleeves (7 Styles), Deck Boxes (7 Styles)
Foam Brain: Plastic Inclusions Dice Sets, Metal Dice Sets, Dice Trays, Roll-Up Dice Mats, & Dice Bags, Assorted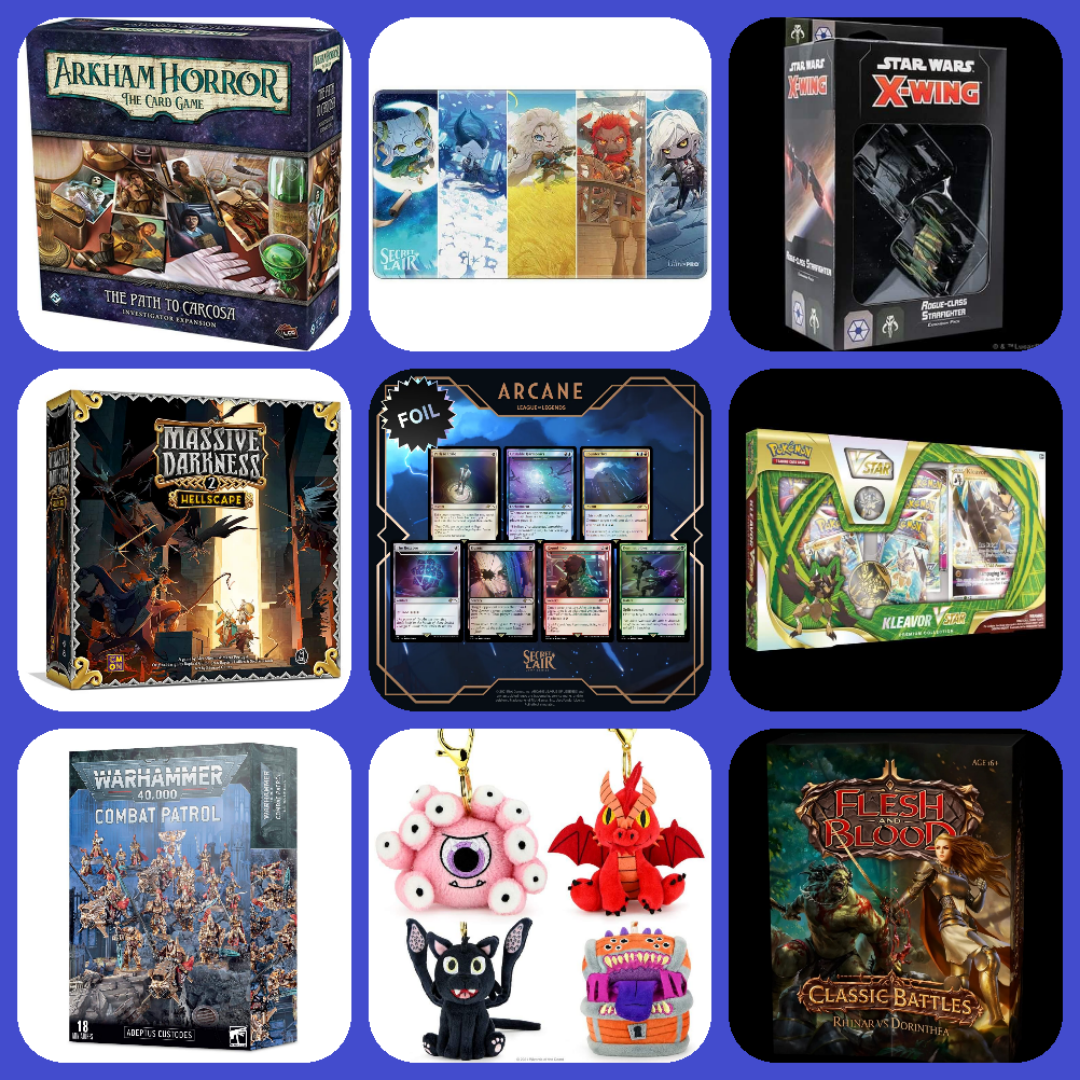 New This Week at Mythic Games! 5/27/22
MTG Secret Lair: Arcane Regular and Foil, Arcane Lands Regular and Foil, Pixel Snow Lands Regular, Foil and Foil Etched, Far Out Man Regular and Foil, Crocodile Jackson's Monstrous Menagerie Regular and Foil Etched, Fblthp Completely, Utterly, Totally Lost Regular and Foil, Dracula Lands Regular and Foil, Welcome to Castle Dracula Regular and Foil, & Astrology Lands Aquarius Regular and Foil
Pokemon: Kleavor VStar Box, & Lucario Sleeves
Flesh and Blood: Classic Battles Rhinar vs Dorinthea
Massive Darkness 2 Hellscape: Core Game, Heavenfall, Feyfolk, & Bards and Tinkerers vs Metal Angel
Warhammer 40K: Combat Patrol Adeptus Custodes, Genestealer Cults Reductus Saboteur, & Adeptus Custodes Blade Champion
Warhammer AOS: Warcry Tarantulos Brood, & Warcry Darkoath Savagers
Star Wars X-Wing: Rogue Class Starfighter, & Clone Z-95 Headhunter
Arkham Horror LCG: Path to Carcosa Investigator Expansion
Pokemon: Trainer Trivia
D&D: 3-Inch Plush Charms (Beholder, Displacer Beast, Mimic, & Red Dragon)
Ultra Pro: Mana 7 Plains Sleeves
Ultra Pro MTG Secret Lair Playmats: Ryu, Chun-Li, Blanka, Zangief, Sorin, Angrath, Ajani, Tamiyo, Ashiok, & Lil Walkers
Yu-Gi-Oh!: Albaz Deck Boxes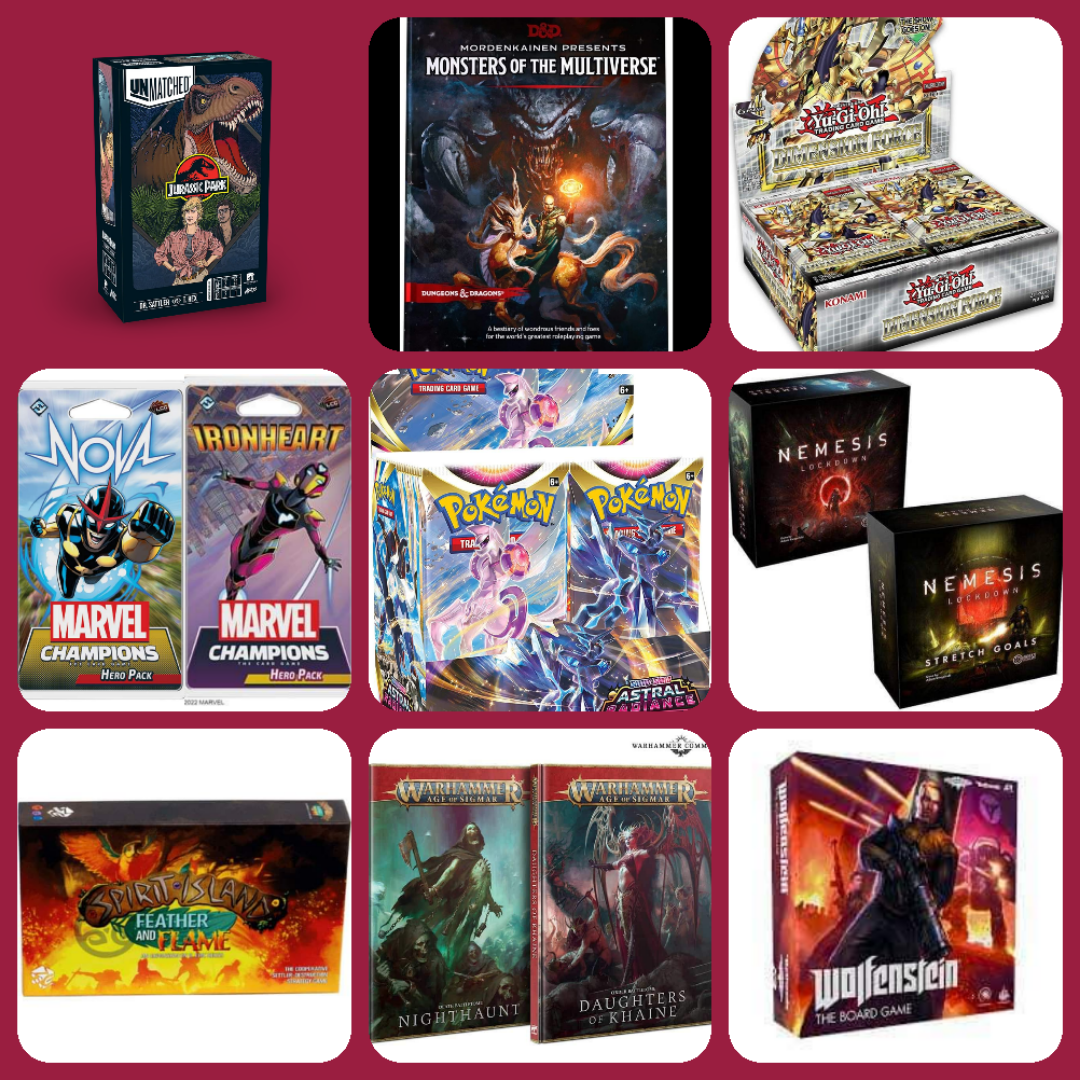 New This Week at Mythic Games! 5/20/22
Pokemon: Astral Radiance Booster Boxes, Boosters, ETBs, Build and Battle Boxes, & 3-Pack Blisters (Monday 5/23 Release)
D&D: Mordenkainen Presents Monsters of the Multiverse
Yu-Gi-Oh!: Dimension Force Boosters
Marvel Champions: Nova Hero Pack, & Ironheart Hero Pack
Spirit Island: Feather and Flame Expansion
Unlock: Jurassic Park Sattler vs T-Rex
Nemesis Lockdown: Core Game, Stretch Goals, New Cats Expansion, New Kings Expansion, & Playmat
Wolfenstein Board Game: Core Game, Old Blood Expansion, & 3D Terrain Expansion
Warhammer AOS: Battletome Daughters of Khaine, Battletome Nighthaunt, Awlrach the Drowner, Vanguard Fyreslayers, & Vanguard Idoneth Deepkin
Bureau of Investigation
Merchants of the Dark Road
Legends of Sleepy Hollow
Terra Mystica: Big Box, & Automa Solo Box
Air, Land and Sea: Spies, Lies, and Supplies Expansion
Watergate: White Box Edition
Fantastic Factories: Playmats
Shadowrun RPG: 6th World Companion
Tiny Epic Dungeons: Boss Meeples
Hanabi: Deluxe Extra Tiles, Black Powder Expansion, & Master Artisan Expansion
Bob's Burgers: It's Raining Belchers 1000pc Puzzle
Critical Role: Mighty Vibes Series Caduceus 1000pc Puzzle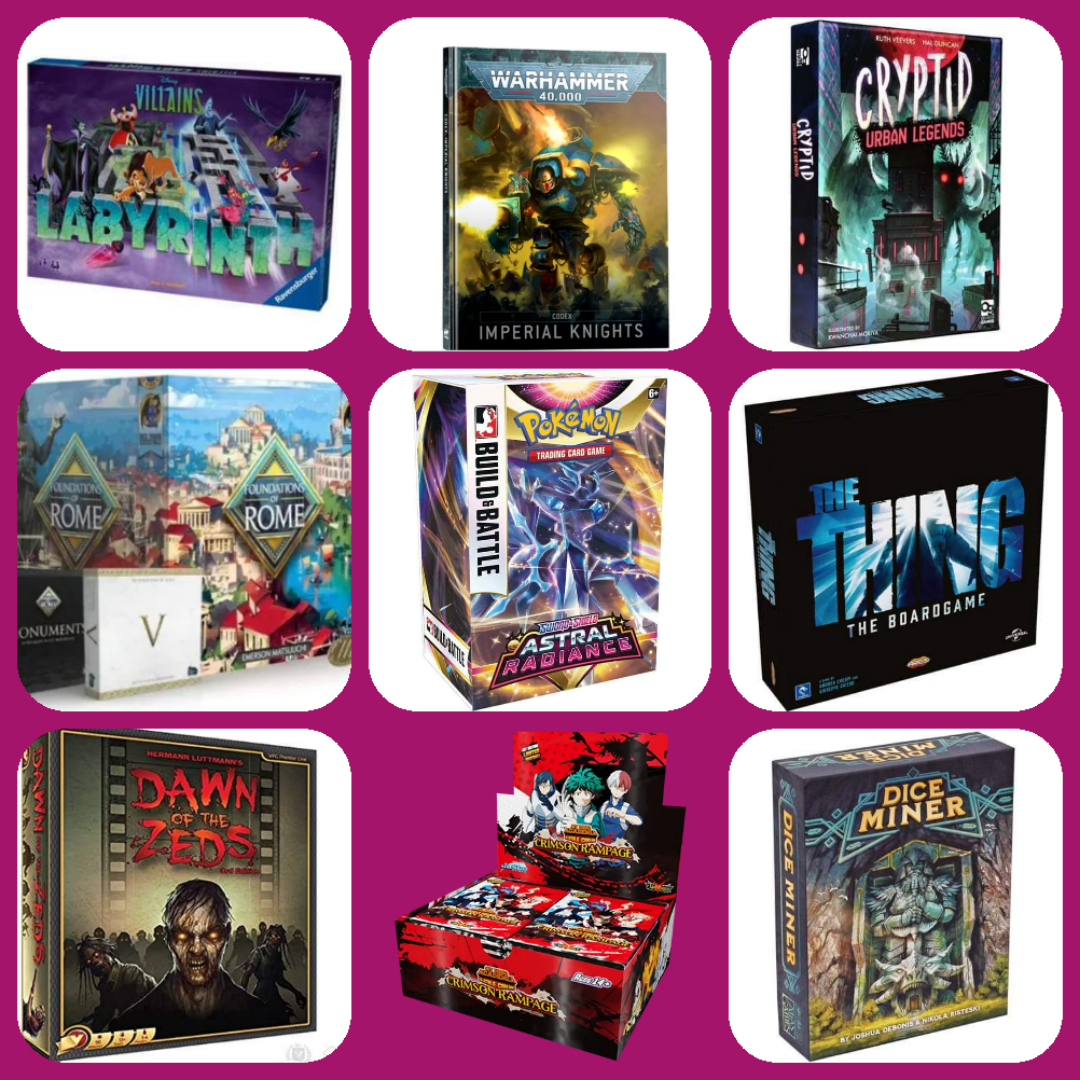 New This Week at Mythic Games! 5/13/22
Pokemon: Astral Radiance Prerelease Kits, & Pikachu Gaming Trove
Foundations of Rome: Emperor Pledge w/ Statue, Senator Pledge w/ Statue, & Playmat
My Hero Academia CCG: Crimson Rampage Boosters
The Thing: Core Game, Norwegian Outpost, Human Miniatures, Alien Miniatures, & Norwegian Miniatures
Dawn of the Zeds
Cryptid: Urban Legends
Dice Miner
Streets
Heroes of Normandie
Labyrinth: Disney Villains
Warhammer 40K: Codex Imperial Knights, Chaos Knights Army Set, Knight Armigers, Knight Dominus, & Data Cards Imperial Knights
Star Wars Legion: Unnatural Resources OP Kits
Star Trek: Missions (A Fantasy Realms Game)
Squid Inc.
Qwixx Mixx
Ashes Reborn: The Breaker of Fate
Shadowrun RPG: Emerald City, & The Third Parallel
Vaesen Nordic Horror RPG: A Wicked Secret and Other Mysteries
Big Book of Battle Mats: Volume 3
D&D Unpainted Minis: Brigante Celts, Orc Male Ranger, Half-Elf Rogue Female, Aarakocra Fighters, Harengon Rogues, Giant Mimic, Hellwasp, Oni Female, Young Emerald Dragon, Dragonne, Jabberwock, Griffon Hatchlings, Flesh Golems, Githyanki, Hill Giant, Cavern Troll, & Serpentfolk
D&D Icons of the Realms Painted Minis: Adult Bronze Dragon
Dragon Shield: Dual Matte Crypt, Dual Matte Peach, Dual Matte Glacier, Flesh and Blood TCG Matte Sleeves (4 Styles)
MDG: Layered Stardust Dice Sets, (3 Styles)
BCW: Plastic Card Bins, & Card Bin Partitions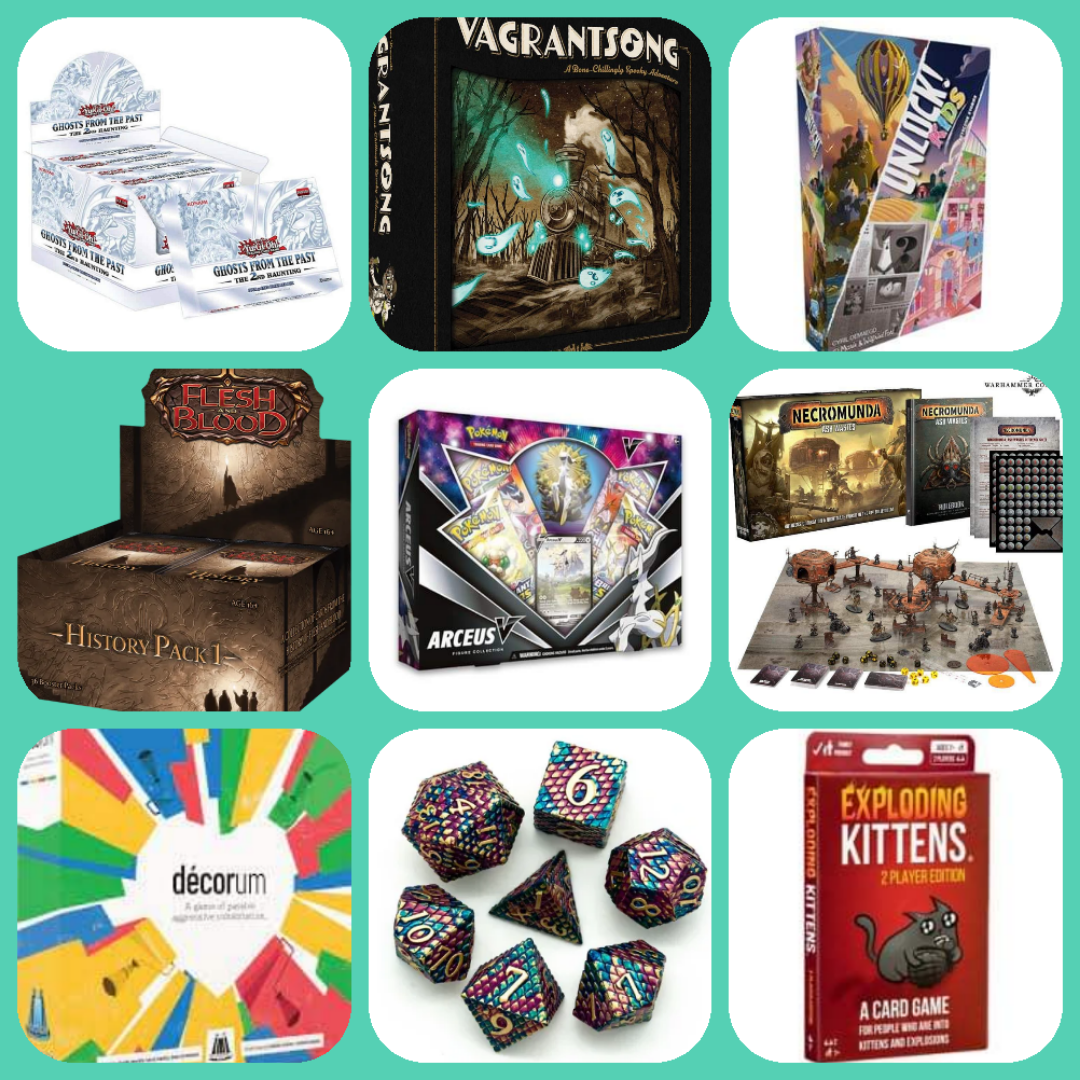 New This Week at Mythic Games! (5/6/22)
Pokemon: Arceus V Figure Collection, Pokeball Tins, & Collector's Chest Spring Tin 2022
Flesh and Blood TCG: History Pack 1
Yu-Gi-Oh!: Ghosts of the Past Second Haunting
Dragon Ball Super TCG: Unison Warriors Ultimate Deck 2022
Vagrantsong
Necromunda: Ash Wastes
MTG: Kamigawa Neon Dynasty Plush Dice Bag
Exploding Kittens: 2 Player Edition
Happy Salmon: New Edition
Unlock Kids
Decorum
Pathfinder RPG: Guns Deck
Overdrive: Gnaw vs Alpha Simian
Foam Brain: Dragon Scale Dice Sets, Assorted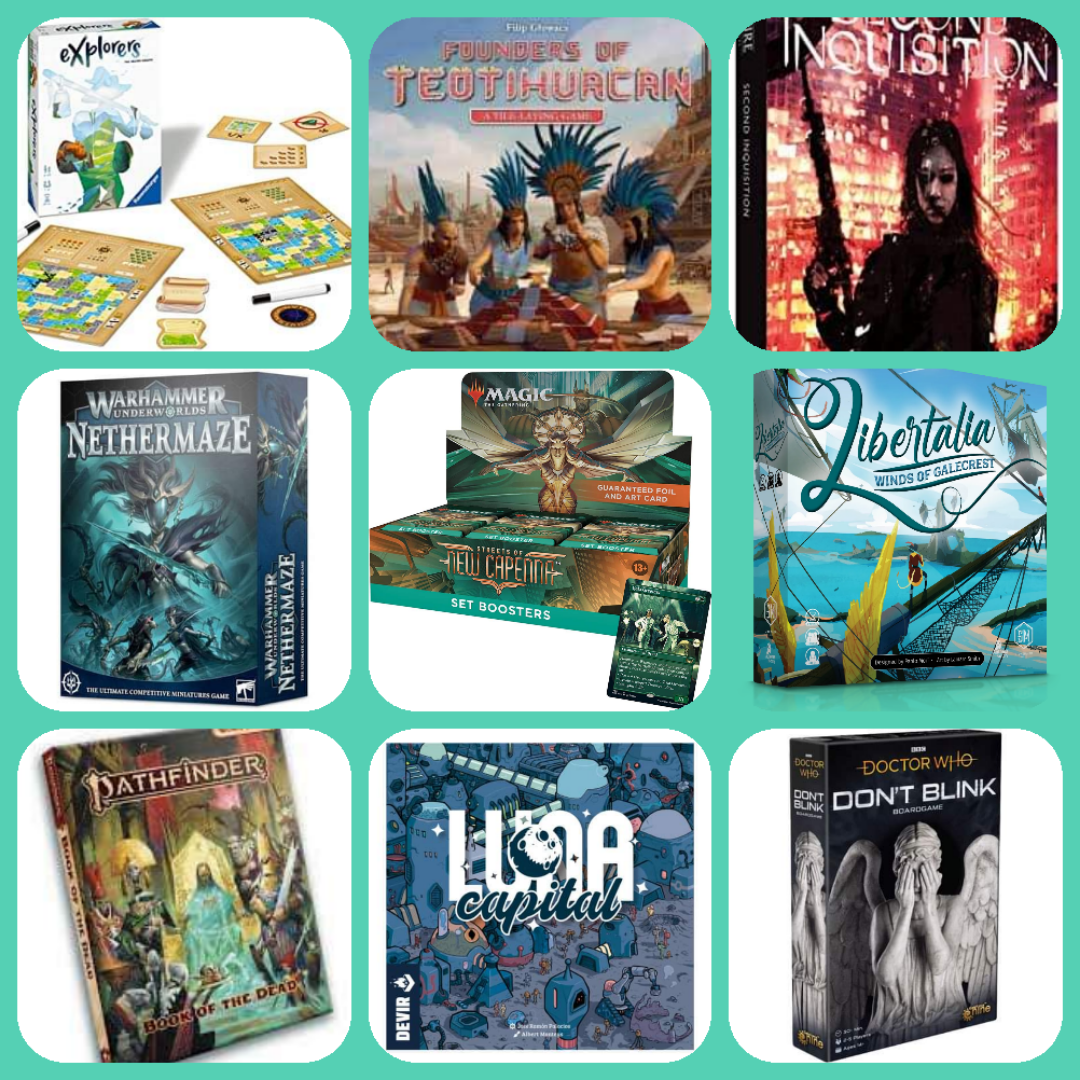 New This Week at Mythic Games! (4/29/22)
MTG Streets of New Capenna: Set Boosters, Collector's Boosters, Draft Boosters, Bundles, Theme Boosters, Commander Decks, 9-Pocket Pro-Binders, 12-Pocket Pro-Binders, Deck Boxes (10 Styles), Sleeves (10 Styles), & Playmats (13 Styles)
Libertalia: Winds of Galecrest
Warhammer Underworlds: Nethermaze, & The Exiled Dead
Pathfinder RPG: Book of the Dead (Regular and Special Edition), & Gears Deck
Pathfinder Level 20 Board Game
Vampire the Masquerade RPG: Second Inquisition
Dr. Who: Don't Blink
Luna Capital
Explorers
Founders of Teotihuacan
Red Cathedral
Pokemon: Lucario 3-Ring Binders
Dragon Shield: Double Shell Deck Boxes (Blood Red, Ashen White, Shadow Black, Forest Green, & Midnight Blue)
MTG Kamigawa Neon Dynasty: Sleeves (7 Styles)
D&D: Mordenkainen Presents Monsters of the Multiverse Playmat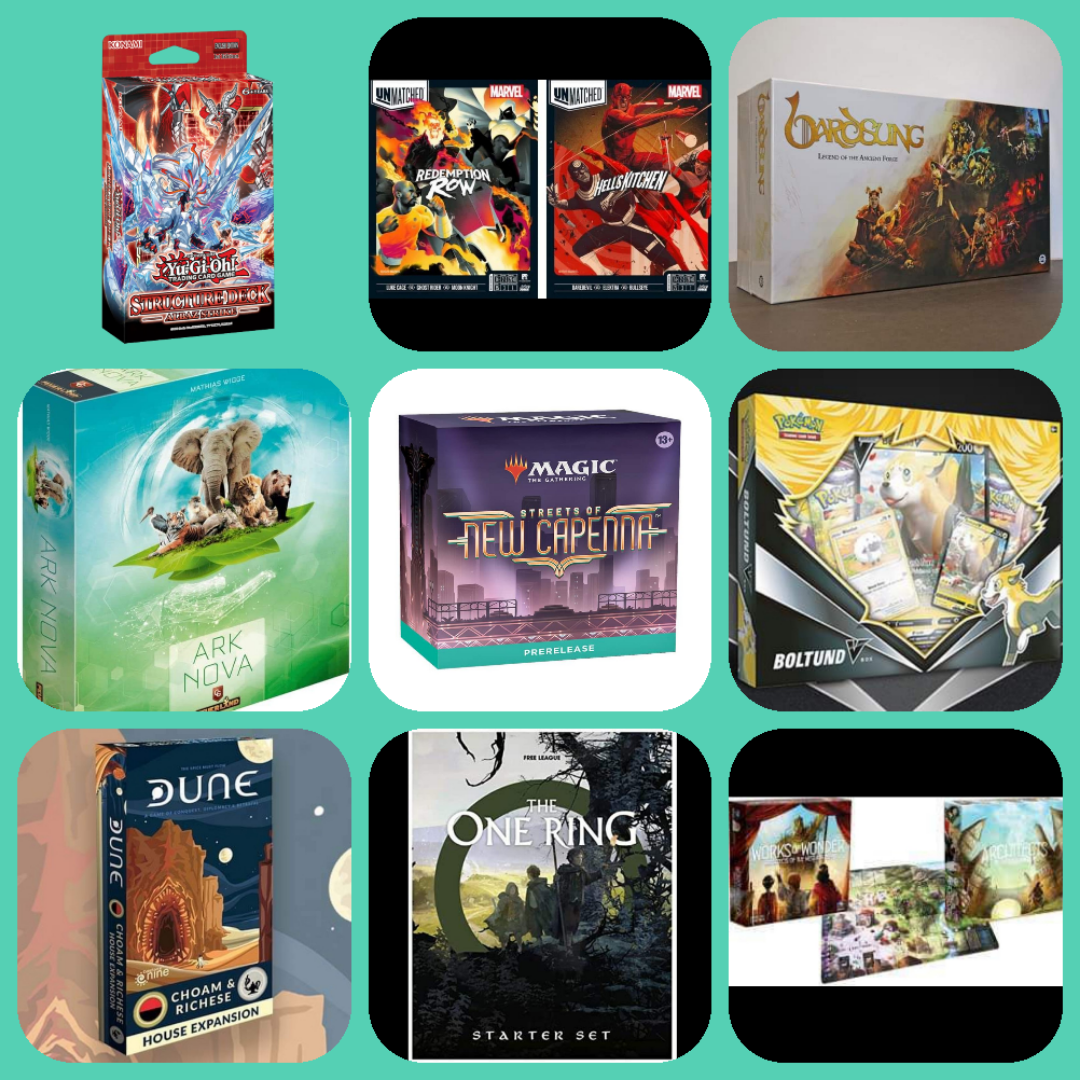 New This Week at Mythic Games! (4/22/22)
MTG Streets of New Capenna: Prerelease Kits (5 Styles), Set Boosters, & Draft Boosters
Pokemon: Boltund V Boxes, V Heroes Tins, Pikachu 9-Pocket Zip Pro-Binder, Lucario Deck Boxes, & Lucario Binders
Ark Nova
Bardsung: Legend of the Ancient Forge
Unmatched: Hell's Kitchen, & Redemption Row
One Ring RPG: Starter, Core Book. GM Screen, & Dice Sets
Ascension Tactics
Lockup: Breakout
Architects of the West Kingdom: Works of Wonder, Collector's Box, & Playmat
Dune Board Game: Choam & Richese Expansion
Space Base: The Mysteries of Terra Proxima Expansion
Yu-Gi-Oh!: Albaz Strike Structure Deck, & Speed Duel GX
Argent: The Consortium
Meeples and Monsters
Skull Canyon: Ski Fest
Wise Guys
Small Islands
Blaze
My Hero Academia Plus Ultra!: The Board Game
BattleTech: Elemental Star Minis Pack
Vampire the Masquerade RPG: Dice Set
D&D Frameworks Minis: Beholder, Night Hag, Mindflayer, Drider, Hill Giant, Wight, Ghast and Ghoul, Minotaur, Ogre, Orcs, Kobolds, Balor, Stone Giant, Human Male Cleric, Human Male Monk, Elf Male Ranger, Dwarf Female Cleric, Orc Male Barbarian, Human Female Druid, Human Male Fighter, Tiefling Female Rogue, Dragonborn Male Paladin, Elf Female Wizard, Human Female Fighter, Elf Male Monk, HUman Male Wizard, Drawf Female Barbarian, Tiefling Male Warlock, Dragonborn Female Sorcerer, Dwarf Male Fighter, Human Male Warlock, & Human Female Rogue
Cooper Island: Skilled Workers Expansion
South Park: Stick of Truth 1000pc Puzzle
Pixel Tactics: Deluxe Base Game, Box 2, Box 3, Box 4, Box 5, & Legends
Foam Brain: Grim Reaper Dice Set
Chessex: Glitter Dice Sets, Assorted
MTG: Mana 7 Forest Sleeves
Gamegenic: Retro Sleeves, & Thick Inner Sleeves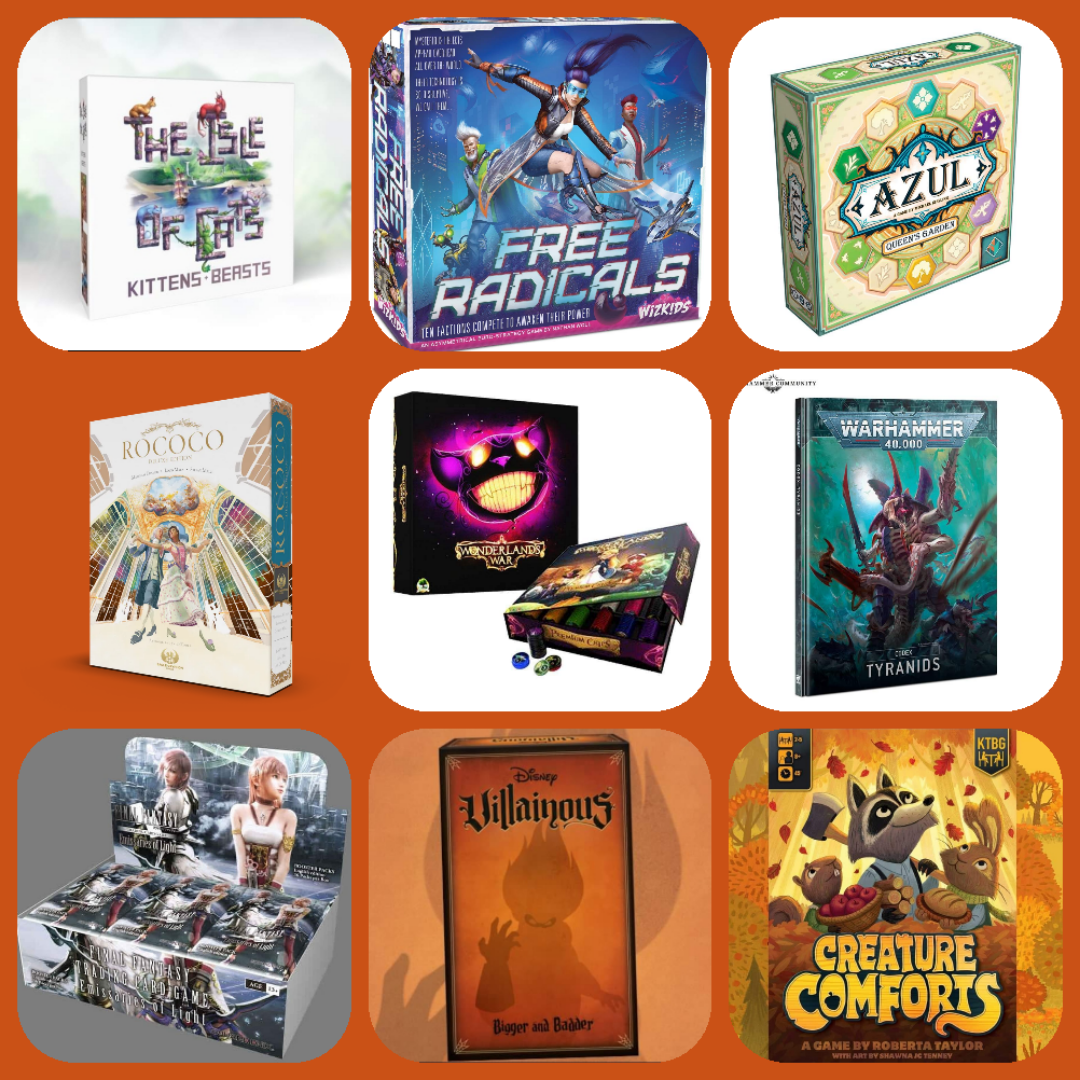 New This Week at Mythic Games! (4/15/22)
Wonderland's War: Kickstarter Deluxe Edition
Rococo Deluxe: Core Game, & Expert Tailors Expansion
Azul: Queen's Garden
Isle of Cats: Kittens and Beasts, Explore and Draw, & Boat Pack
Creature Comforts
Disney Villainous: Bigger and Badder
Warhammer 40K: Codex Tyranids, Combat Patrol Tyranids, Tyranid Parasite of Mortex, Tyranid Data Cards, & Tyranid Dice
Final Fantasy TCG: Emissaries of Light Boosters
Canvas
Quirky Circuits: Penny and Gizmo's Snow Day
Free Radicals
Golem
Zapotec
Digimon TCG: Next Adventure Boosters
Freight Cars
Murano: Light Masters
For Sale: Autorama
For Sale: Advisors Expansion
White Dwarf Magazine: #475
Munchkin Warhammer 40k: Rank and Vile
Baseball Highlights the Dice Game
Football Highlights the Dice Game
Pathfinder Battles Painted Minis: Mwangi Expanse Boosters, & Adult Cloud Dragon
D&D Icons of the Realms Painted Minis: Waterdeep Dragon Heist Box 1, & Box 2
Death Saves: War of Dragons Box 1, & Box 2
Fantastic Factories: Manufactions Expansion, & Subterfuge Expansion
Omega Virus Prologue
Illumination
Lost Ones
Key to the Kingdom
Kohaku
Mercado De Lisboa
Labyrinth Jr.
Uno: Ultimate Marvel
Railways of the Western US
Yu-Gi-Oh!: Card Back Sleeves
Avatar the Last Airbender: D6 Dice Set
Marvel: Gambit Sleeves
Ultimate Guard: Deck Case 133+ (Black, White, Red, Green, Translucent, Petrol, Orange, Yellow, Purple, & Pink)
New This Week at Mythic Games! (4/8/22)
Pokemon: Collector Bundles, Morpeko Vunion Special Collection, Lucario Vstar Premium Collection, & Sinnoh Stars Mini Tins
Marvel Champions LCG: Sinister Motives
Marvel Crisis Protocol: Nick Fury and S.H.I.E.L.D. Agents, & Shadowland Daredevil and Elektra
Warhammer Age of Sigmar: Arena of Shades
Warhammer 40K: Battlezone Fronteris Nachmund
Dune Imperium: Deluxe Upgrade Pack
The Witcher RPG: Essentials Dice Set
Clinic: Deluxe Edition
Cthulhu Wars Duel: Extinction
Army Painter: Speed Paint: Complete Line
MTG Kamigawa Neon Dynasty: Binders (9-pocket & 12-pocket), & Deck Boxes (7 Styles)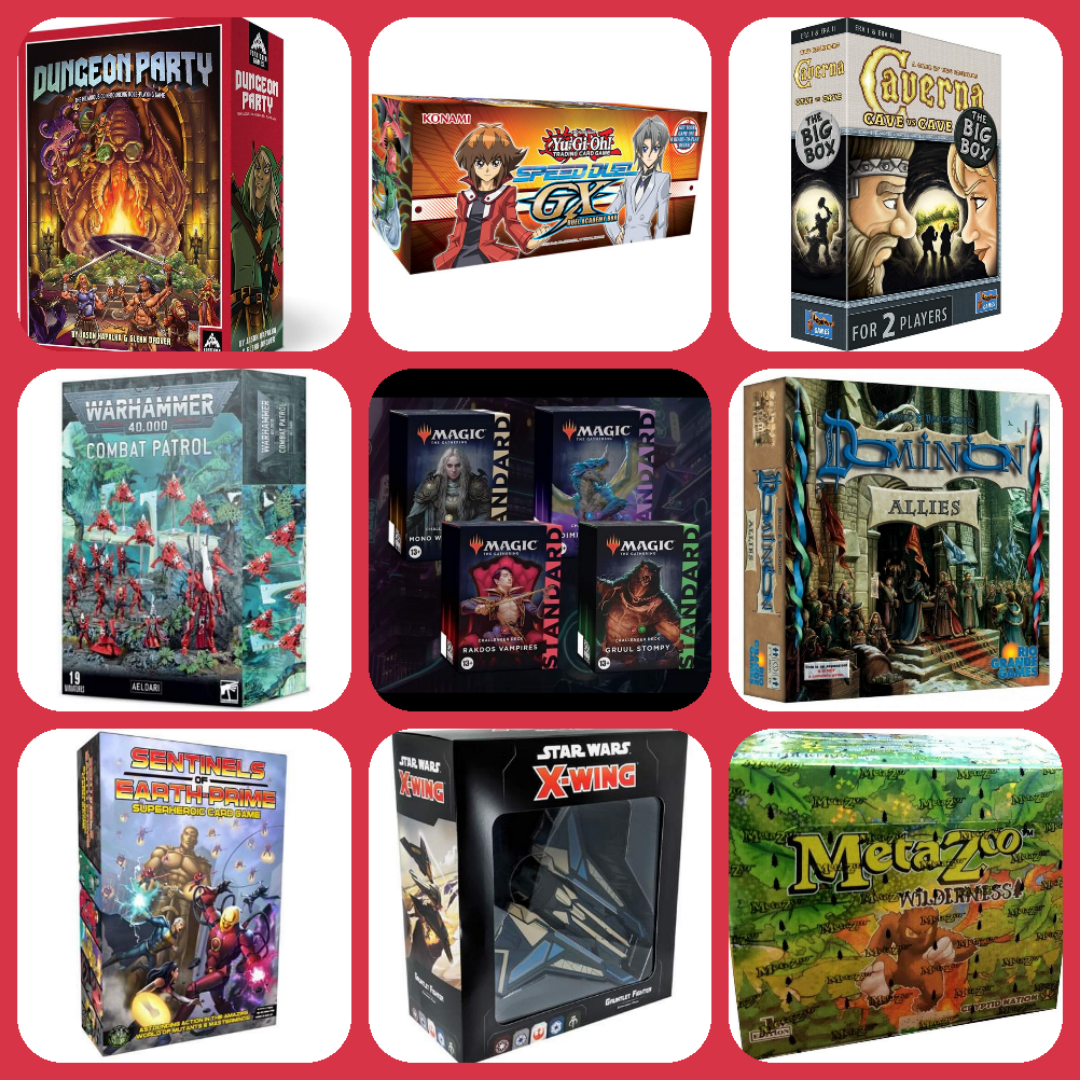 New This Week at Mythic Games! (4/1/22)
MTG: Challenger Decks 2022
Dominion: Allies Expansion
Cthulhu Wars Duel: Extinction
Star Wars X-Wing: Gauntlet, & Razorcrest
Dungeon Party: Starter Pack, & Big Box
Caverna Cave vs Cave: Big Box
Agricola: Consul Dirigens Deck
Cantaloop Book 2
Yu-Gi-Oh!: Speed Duel GX Duel Academy
Metazoo: Wilderness Boosters, Wilderness Release Event Boxes, & Wilderness Spellbooks
Pictures: Orange Expansion
Sentinels of Earth-Prime
Sailor Moon Crystal: Imposterous
Momiji
Living Forest
Warhammer 40K: Combat Patrol Aeldari, Avatar of Khaine, Shining Spears, Shroud Runners, Rangers, & Autarch
BattleTech: Interstellar Operations Battleforce, & Interstellar Operations Alternate Eras
G.I. Joe RPG: Core Rulebook
Tokyo Sidekick
Tree Lined Avenue
Botanik
Family Business
Call of Cthulhu RPG: Investigator Handbook
MTG x D&D Minis: Companions of the Hall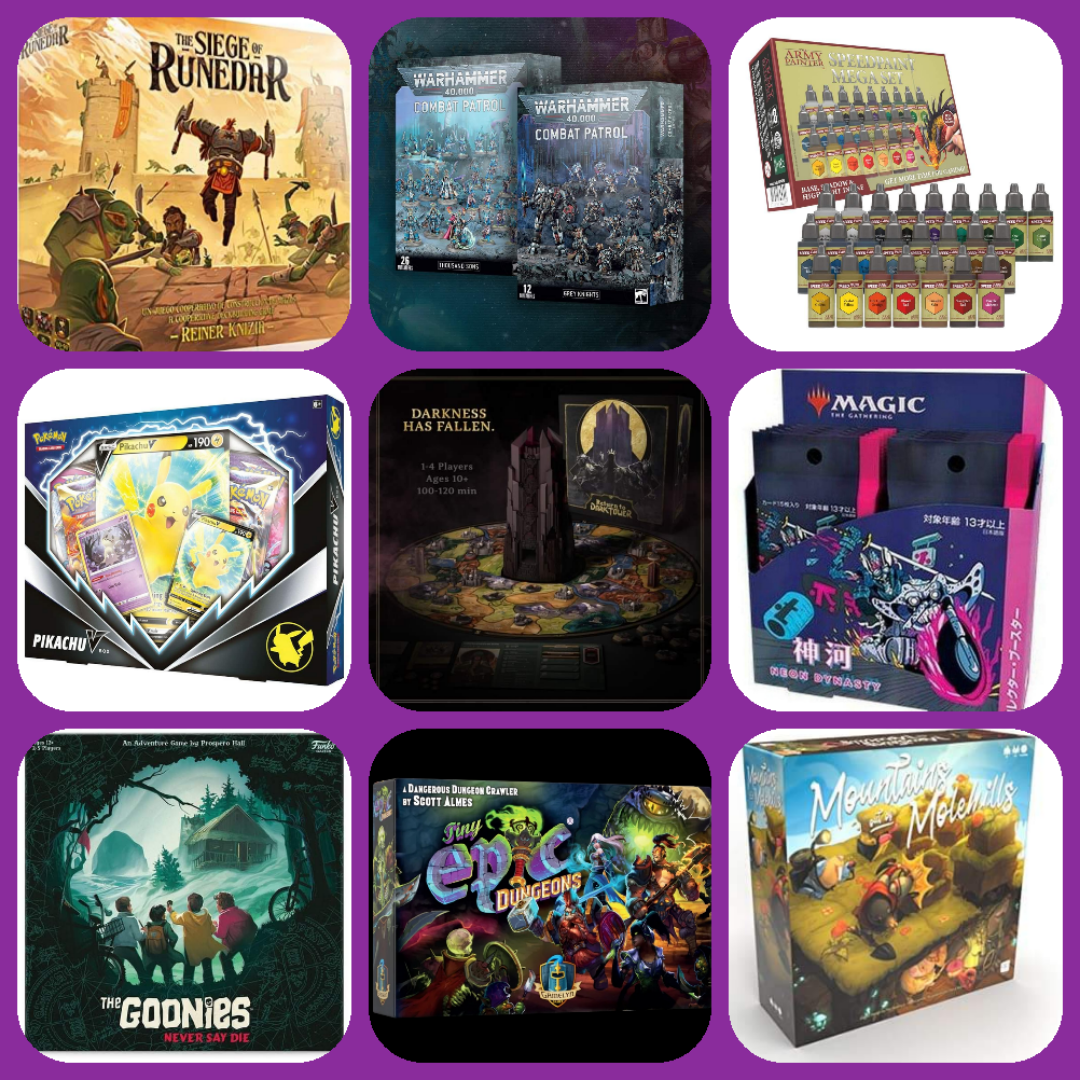 New This Week at Mythic Games! (3/25/22)
MTG: MSCHF Secret Lair, & Kamigawa Neon Dynasty Japanese Collector's Boosters
Pokemon: Pikachu V Box, & Battle Academy 2022
Return to Dark Tower: Core Game Kickstarter Edition, Alliances Expansion, Dark Horde Miniatures, Coffers Tokens, & Playmat (Delayed Until Early Next Week)
Warhammer 40K: Combat Patrol Thousand Sons, Combat Patrol Grey Knights, Thousand Sons Infernal Master, & Grey Knights Castellan Crowe
Tiny Epic Dungeons: Base Game, Stories, Dice Tray, Game Mat, & Playmat
Goonies: Never Say Die
The Siege of Runedar
Mountains out of Molehills
Happy Little Dinosaurs: Dating Disasters
Fiasco RPG: Pride and Panic, Join the Cult, & A Thousand Papercuts
Exploding Minions
Geek Out: Video Games
D&D Unpainted Minis: Redcaps, & Tomb-Tapper
The Army Painter: Speed Paint Mega Set
Gamer's Grass: Laser Plants, Wild Tufts, Dense Tufts, Spiky Tufts, Tiny Tufts, Basing Bits, & Flower Tufts, Assorted
MTG: Mana 7 Mountain Sleeves
Zelda: Alcove Flip Deck Boxes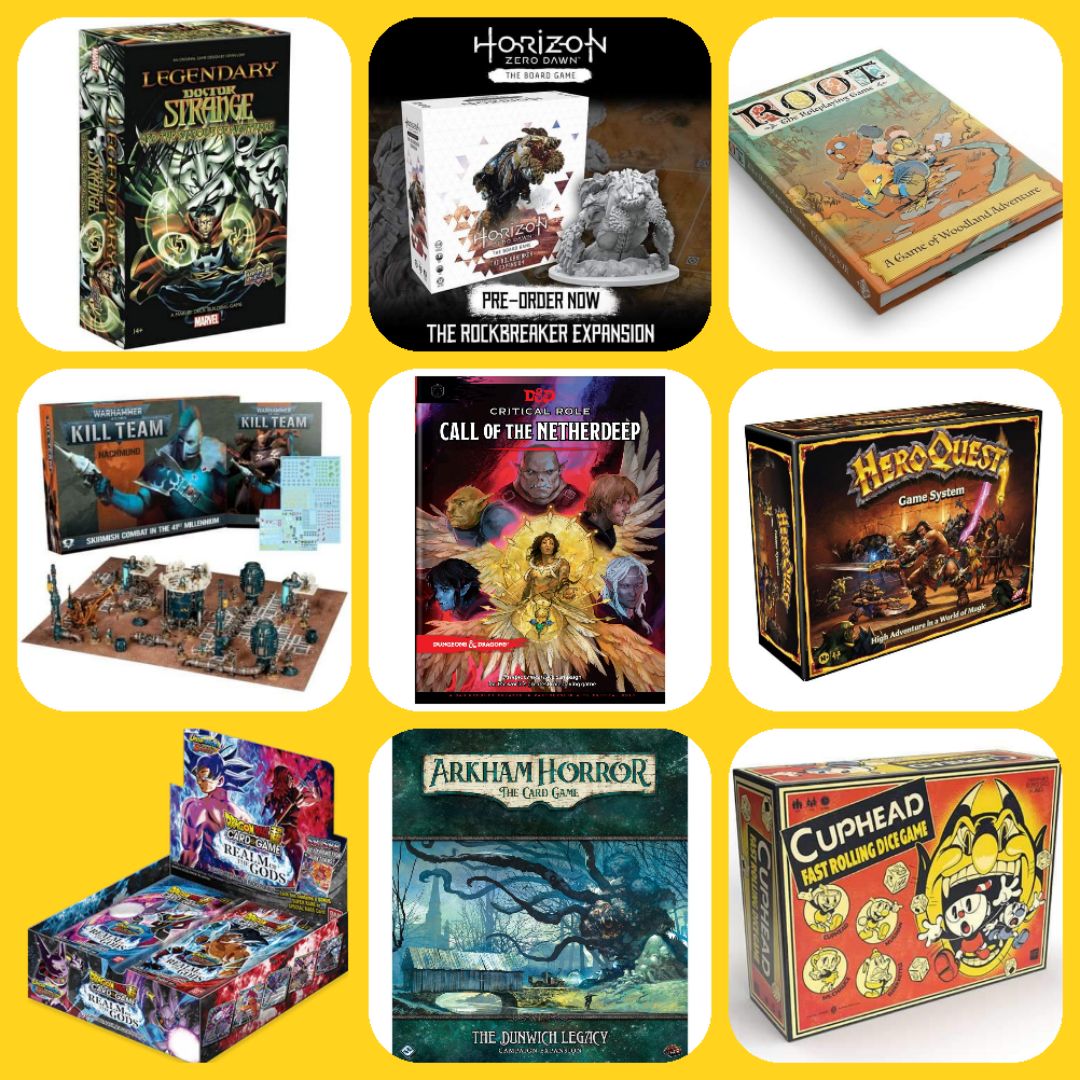 New This Week at Mythic Games! (3/18/22)
D&D: Call of the Netherdeep
HeroQuest
Root RPG: Core Book, Travelers and Outsiders, Equipment Deck, Denizens Deck, Faction Dice Pack, & GM Accessories Pack
Marvel Legendary DBG: Doctor Strange and the Shadows of Nightmare Expansion
Horizon Zero Dawn: Rockbreaker
Dragon Ball Super TCG: Realm of the Gods Boosters
Ginkgopolis: The Experts
Arkham Horror LCG: The Dunwich Legacy Campaign Expansion
Cuphead: Roll and Run
Mysthea: Essential Edition
Warhammer 40K: Kill Team Novitiates, Kill Team T'au Empire Pathfinders, Kill Team Codex Chalnath, & Kill Team Nachmund
White Dwarf Magazine #474
Echoes: The Cocktail
Dragon Shield: Card Codex The Batman Binder, Batman Playmat, & Easter Dragon 2022 Sleeves
D&D Unpainted Minis: Mouth of Grolantor, Boggles, Korreds, Giant Dragonfly, Abominable Yeti, Cyclops, Frost Giant Skeleton, Crag Cat, Pentadrone, Myconid Sovereign and Sprouts, Ogre Female, Ice Troll Female, Chimera, Snow Golems, Barbed Devils, Dwarf Fighter Female, & Elf Cleric Male
Pathfinder Unpainted Minis: Zombie Hulk, Zombie Brute, & Skeletal Horse
MTG Unpainted Minis: Wrenn and Seven, Blightsteel Colossus, Archangel Avacyn, Arlinn Kord and Tovolar, Zurgo Helmsmasher and Krumar, & Thraben Inspecter and Tireless Tracker
Yu-Gi-Oh!: Kuriboh Kollection Sleeves
Call of Cthulhu RPG: Core Rulebook, Keeper Screen, Alone Against the Tide, & The Children of Fear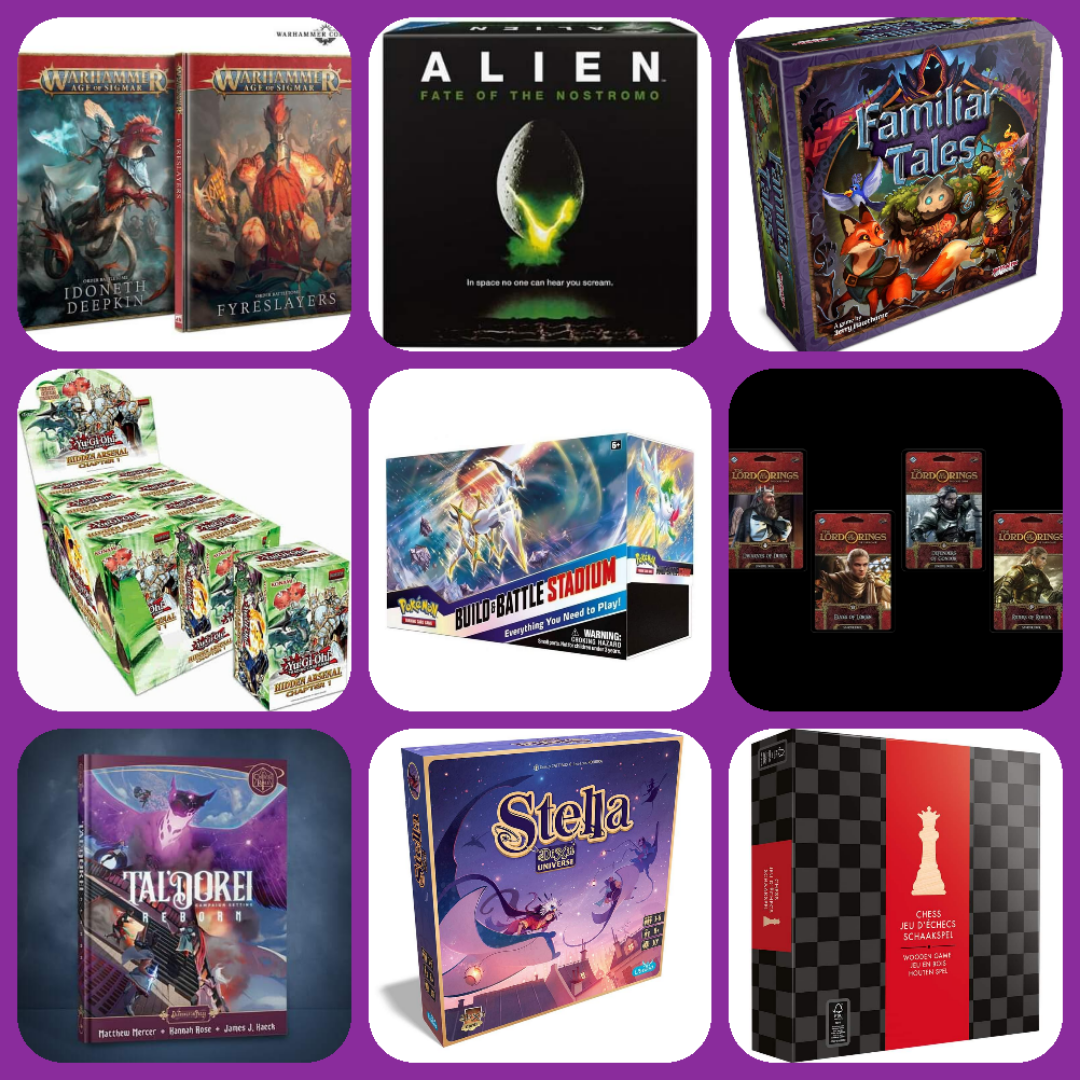 New This Week at Mythic Games! (3/11/22)
Pokemon: Brilliant Stars Build and Battle Stadiums
Alien: Fate of the Nostromo
D&D 5E: Tal'Dorei Campaign Setting Reborn
Yu-Gi-Oh!: Hidden Arsenal Chapter 1
Familiar Tales
Stella: Dixit Universe
Warhammer Age of Sigmar: Battletome Fyreslayers, Battletome Idoneth Deepkin, Fyreslayers Dice, & Idoneth Deepkin Dice
First Empires
Caper: Europe
Mystic Vale: Essential Edition
Shadowrun RPG: Core Rulebook Seattle Edition
BattleTech: Map Pack Alien Worlds
LOTR LCG: Dwarves of Durin Starter Deck, Elves of Lorien Starter Deck, Defenders of Gondor Starter Deck, & Riders of Rohan Starter Deck
Fluxx Remixx
Museum: Pictura
Critical Role Painted Minis: Dieter
Chess: Luxury Version, & Folding Version
Chess and Checkers: Folding Version
One Deck Dungeon: Abyssal Depths
The Plan
Scooby Doo Monopoly
Elf Monopoly
Sopranos Monopoly
Golden Girls Monopoly
My Hero Academia Monopoly
Godzilla Monopoly
Bob Ross Monopoly
Schitt's Creek Monopoly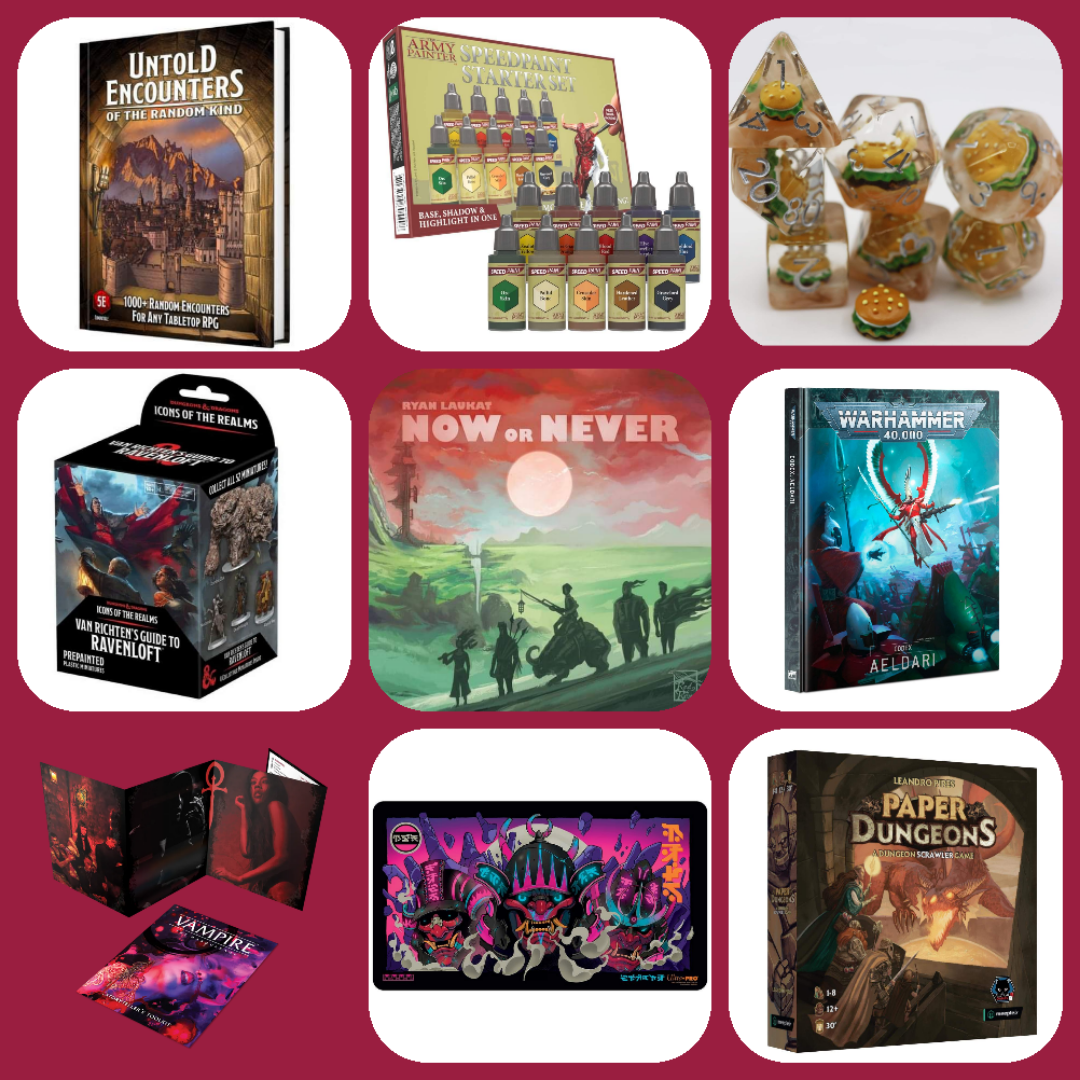 New This Week at Mythic Games! (3/4/22)
Now or Never
Warhammer 40K: Codex Aeldari, Aeldari Dice, Aeldari Datacards, Dark Reapers, Guardians, Warlocks, & Maugan Ra
Dungeons & Dragons Fantasy Miniatures Icons of the Realms: Van Richten's Guide to Ravenloft Boosters, & Gravedrinker
Vampire The Masquerade: 5th Edition Storyteller Screen and Toolkit
Battle Mats: Loke`s Immersive GM Screen, & Untold Encounters of the Random Kind
Munchkin Petting Zoo
Paper Dungeons
BattleTech: ComStar Battle Level II
Echoes: The Microchip
Marvel Villainous: Ultron Puzzle 1000pc
Army Painter: Speedpaint Starter Set
Foam Brain: Pink Triceratops Dice, Stegosaurus Dice, Hamburger Dice, & Pink Alpaca Dice
Pokemon TCG: 25th Celebration Deck Box, 25th Celebration Binders, Lucario Playmats, & Gengar Sleeves
Dex: 12-Pocket Zip Binders, (Black, Blue, Dark Blue, Green, Red, & White)
Kamigawa Neon Dynasty: Playmats (9 Styles)
Dragon Shield: The Batman Sleeves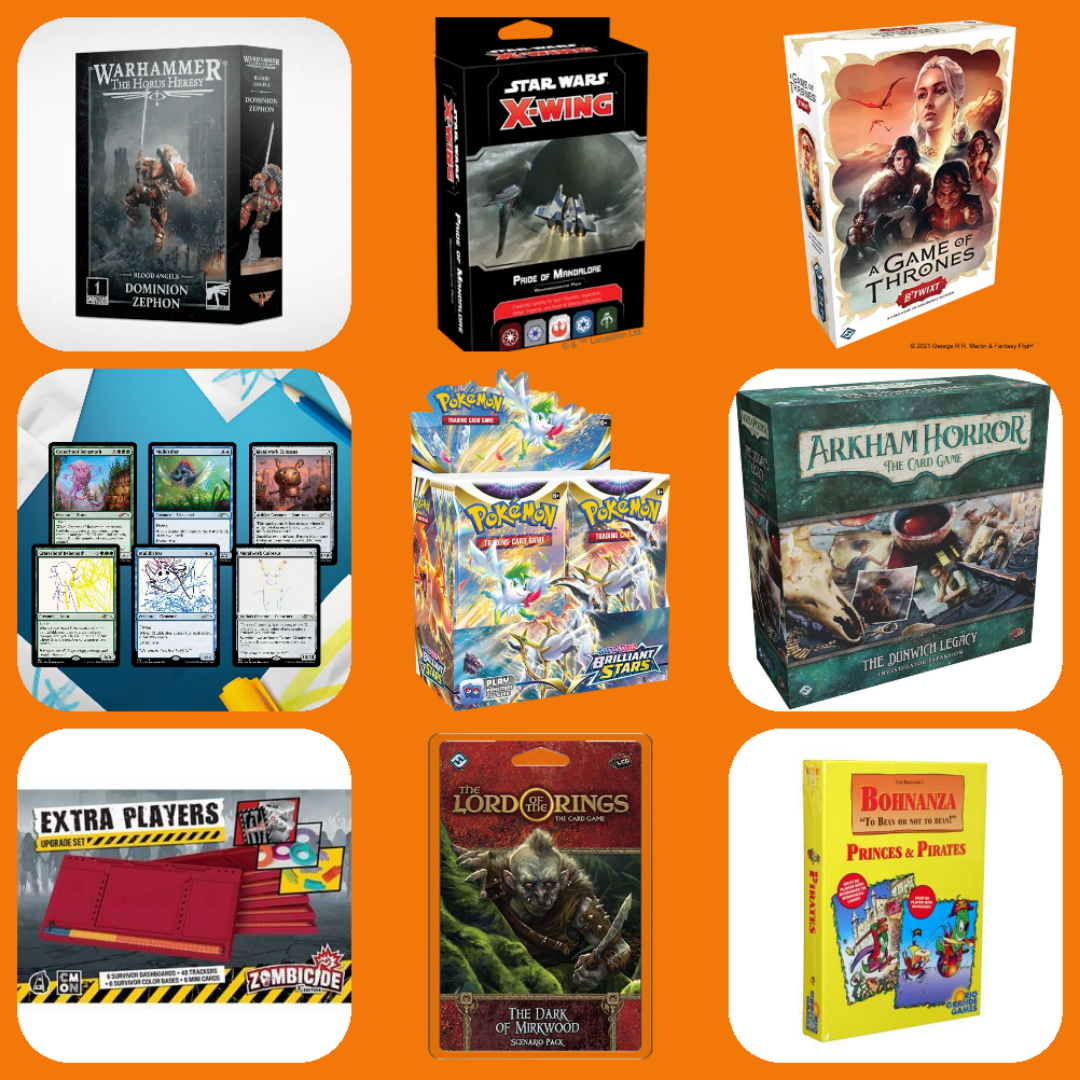 New This Week at Mythic Games! (2/25/22)
Pokemon Brilliant Stars: Boosters, Elite Trainers, Build and Battle Boxes, 1-Pack Blisters, 3-Pack Blisters, Mini Binder w/ Booster, & Lycanroc and Corviknight V Battle Decks
MTG Secret Lair: Extra Life 2021 (Foil and Regular Version)
Star Wars X-Wing: Pride of Mandalore
A Game of Thrones: B'Twixt
Lord of the Rings LCG: The Dark of Mirkwood
Warhammer 40K: Dominion Zephon, & Fafnir Rann
Zombicide: Extra Players Upgrade
Arkham Horror LCG: Dunwich Legacy Investigator Expansion
Bohnanza: Princes and Pirates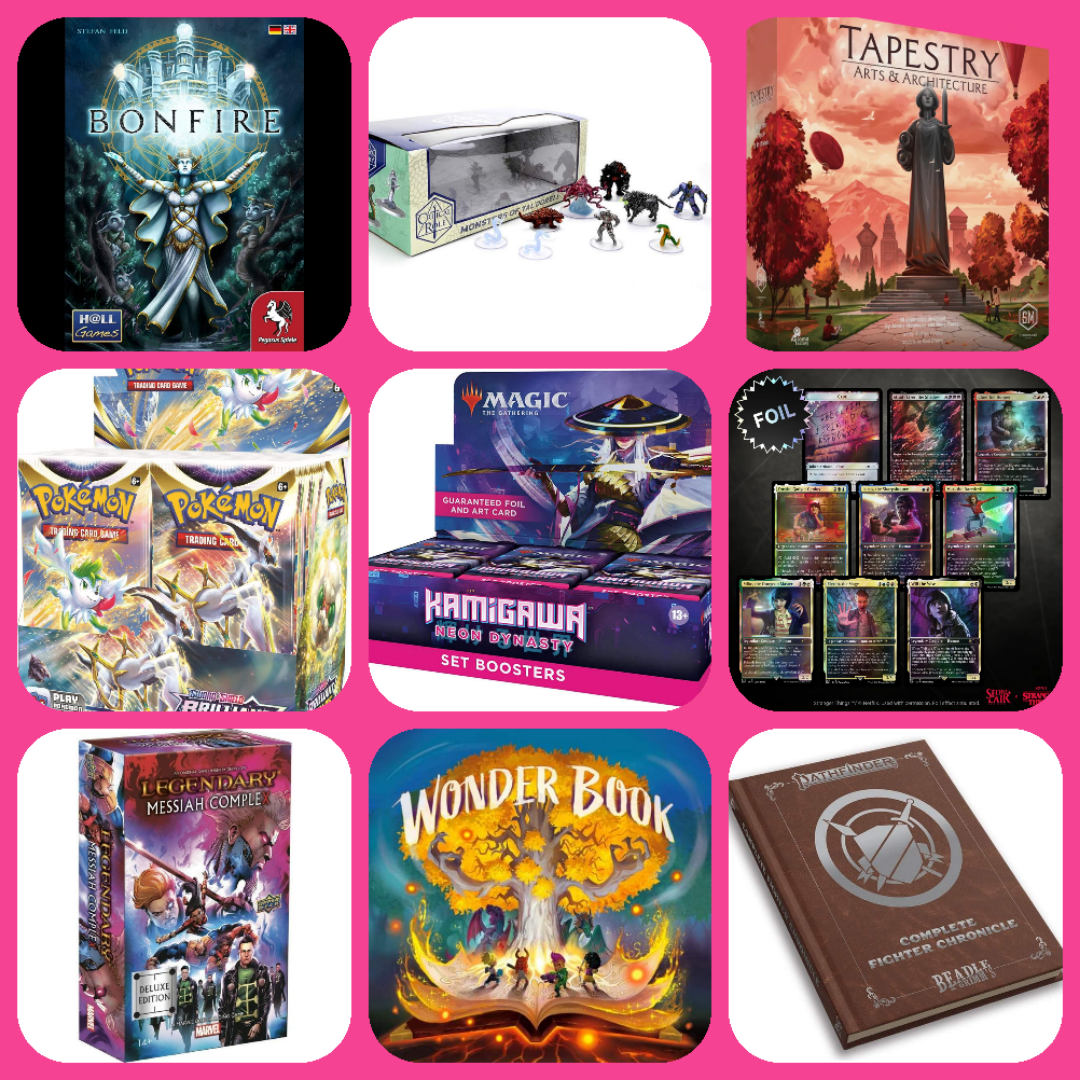 New This Week at Mythic Games! (2/18/22)
MTG Kamigawa Neon Dynasty: Collector's Boosters, Set Boosters, Draft Boosters, Bundles, Commander Decks, & Theme Boosters
Pokemon Brilliant Stars: Boosters, Elite Trainers, Build and Battle Boxes, 1-Pack Blisters, 3-Pack Blisters, & Mini Binder w/ Booster (Monday Release)
MTG Secret Lairs: Stranger Things (Normal and Foil), Mirrodinsanity (Normal and Foil), Monster Anatomy 101 (Normal and Foil), Thrilling Tales of the Undead (Normal and Foil), Read the Fine Print (Normal, Foil, and Etched Foil), Showcase Midnight Hunt (Normal and Foil), & Monster Movie Marathon (Normal and Foil)
Marvel Legendary DBG: Messiah Complex
Tapestry: Arts & Architecture Expansion
Warp's Edge
Concordia: Solitaria
Bonfire
Dog Lover
Munchkin Farkle
Parks Memories: Coast to Coast
D&D Paint Night Kit: Ice Troll
Critical Role: Characters of Tal'Dorei Set 1, Monsters of Tal'Dorei Set 1, Monsters of Tal'Dorei Set 2, NPCs of Tal'Dorei Set 1, & NPCs of Exandria Set 1
Pathfinder RPG Complete Chronicles: Cleric, Druid, Fighter, Rogue, & Wizard
Wonder Book
Book of Rituals
White Dwarf Magazine: Issue 473
MTG Mana 7 Playmats: Plains, Island, Swamp, & Color Wheel
Yu-Gi-Oh!: Kuriboh Collection Deck Boxes, Binders, & Playmats
Vallejo: Game Color Starter Sets
Dune RPG: Atreides Dice, & Harkonnen Dice
MDG: Silicone Sharp Edge Dice Sets, Gold Scatter, Volcanic Soot, Glacier Debris, & Regal Riccochet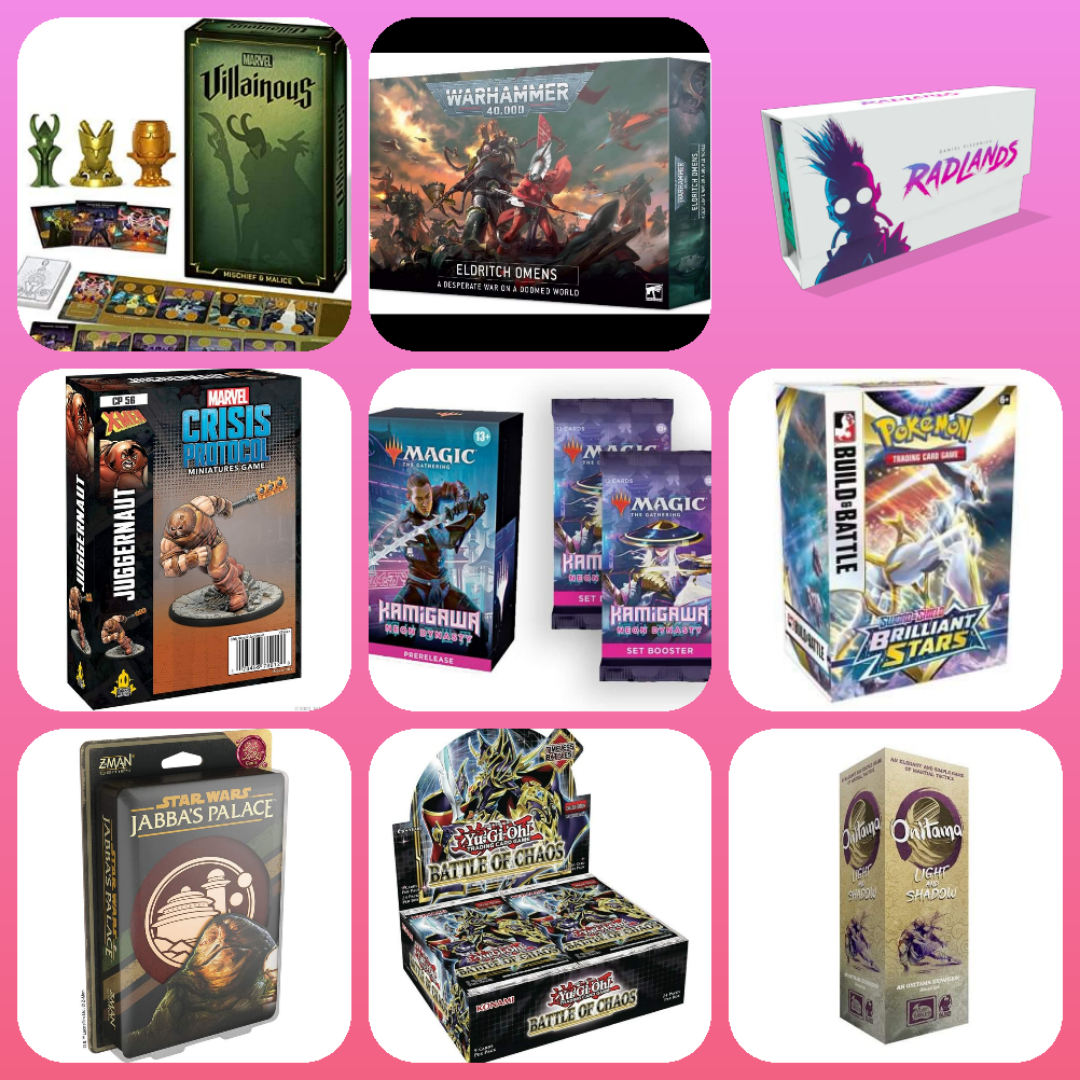 New This Week at Mythic Games! (2/11/22)
MTG: Kamigawa Neon Dynasty Prerelease Kits, Draft Boosters, & Set Boosters
Pokemon: Brilliant Stars Prerelease Kits
Yu-Gi-Oh!: Battle of Chaos Boosters
Digimon TCG: Ulforce Veedramon Starter Deck
Warhammer 40K: Eldritch Omens
Marvel Villainous: Mischief and Malice
Marvel Crisis Protocol: Juggernaut, Colossus and Magik, Rogue and Gambit, X-23 and Honey Badger, & Crashed Sentinel Terrain
Radlands
Star Wars Jabba's Palace: A Love Letter Game
Onitama: Light and Shadow
Welcome to the Moon
Jim Henson's The Dark Crystal: The Adventure Game
Power Rangers RPG: Core Rulebook
BattleTech: Clan Support Star, Inner Sphere Striker Lance, Clan Ad Hoc Star, Inner Sphere Urban Lance, ComStar Command Level II, & ComStar Battle Level II
Tabannusi: Builders of Ur
Origins: First Builders
Watch
Dune Imperium: The Spice Must Flow Sleeves, & Arrakis Sleeves
Nemesis: Dice Tray, & Game Mat
Exit: Kidnapped in Fortune City, & Deserted Lighthouse
D&D: Premium Zippered Book and Character Folio
Ptolus: Monte Cook's City by the Spire GM Screen
Battle Mats: Wilderness Book of Battle Mats, & Little Wilderness Book of Battle Mats
Infinidungeon: Blank Grid, Lost King, Space Freighter, Gates Of Aguafuus, Gates to the Castle, & Scroll Handles
E-Raptor: Brass Birmingham/Lancashire Box Insert, Nemesis UV Print Box Insert, & Nemesis Stretch Goal UV Print Box Insert
Foam Brain: Plastic Inclusions Dice Sets, & Dice Bags, Assorted
MTG: Mana 7 Playmats, Mountain, & Forest
Ultra Pro: Vivid 12-Pocket Zip Pro Binders, Blue, Green, Red, Light Blue, Teal, Purple, & Yellow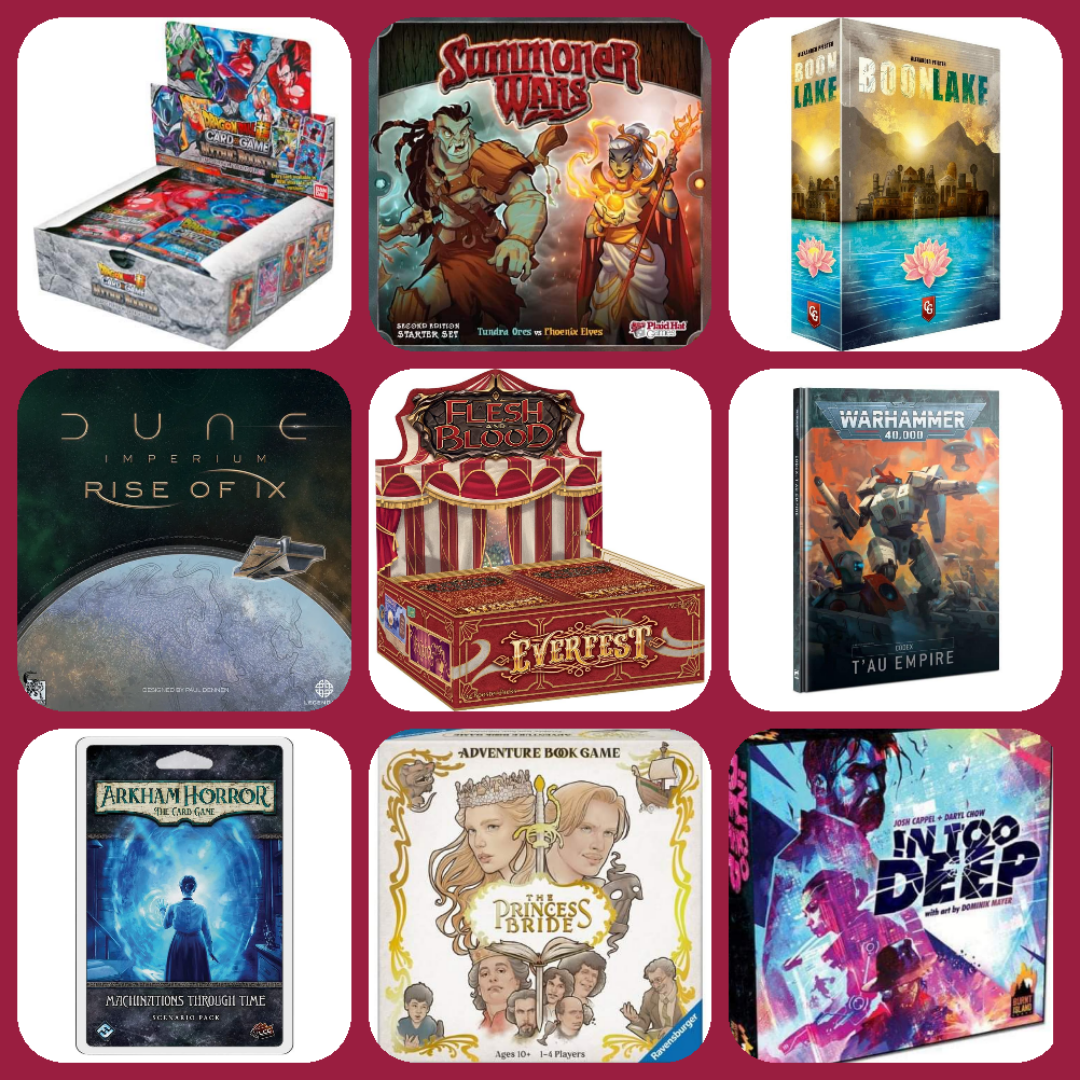 New This Week at Mythic Games! (2/4/22)
Warhammer 40K: Combat Patrol T'au Empire, Codex T'au Empire, T'au Empire Ethereal, T'au Empire Darkstrider, Space Marines Captain in Gravis Armor, Space Marines Primaris Ancient, Order of the Bloody Rose Dice Set, T'au Empire Dice Set, & Data Cards T'au Empire
Flesh and Blood TCG: Everfest 1st Edition Boosters
Dragon Ball Super TCG: Mythic Boosters
Dune Imperium: Rise of Ix Expansion, The Spice Must Flow Sleeves, & Arrakis Sleeves
Boonlake
In Too Deep
Summoner Wars: Tundra Orcs vs Phoenix Elves
Shinkansen Zero-Kei
Arkham Horror LCG: Machinations Through Time
Set a Watch: Swords of the Coin
Merchants of Magick: A Set a Watch Tale
Valeria Card Kingdoms Second Edition: Darksworn Expansion, & Flames and Frost Expansion
Nemesis: Dice Tray, & Game Mat
Trek 12
Ultimate Werewolf: Pro
D&D: The Deck of Many NPCs
Shadowrun RPG: The Kechibi Code
Jim Henson's Labyrinth: Chess Set
Exit: Kidnapped in Fortune City, & Deserted Lighthouse
Mascarade 2nd edition
Bohnanza: Bohna Nostra Expansion
The Princess Bride: Adventure Book Game
Infinidungeon: Blank Grid, Lost King, Space Freighter, Gates Of Aguafuus, Gates to the Castle, & Scroll Handles
Q-Workshop: Dragons Black and Copper Dice Set, & Dragons Red and Gold Dice Set
E-Raptor: Brass Birmingham/Lancashire Box Insert, Nemesis UV Print Box Insert, & Nemesis Stretch Goal UV Print Box Insert
MDG: Fruit Dice, & Love Dice