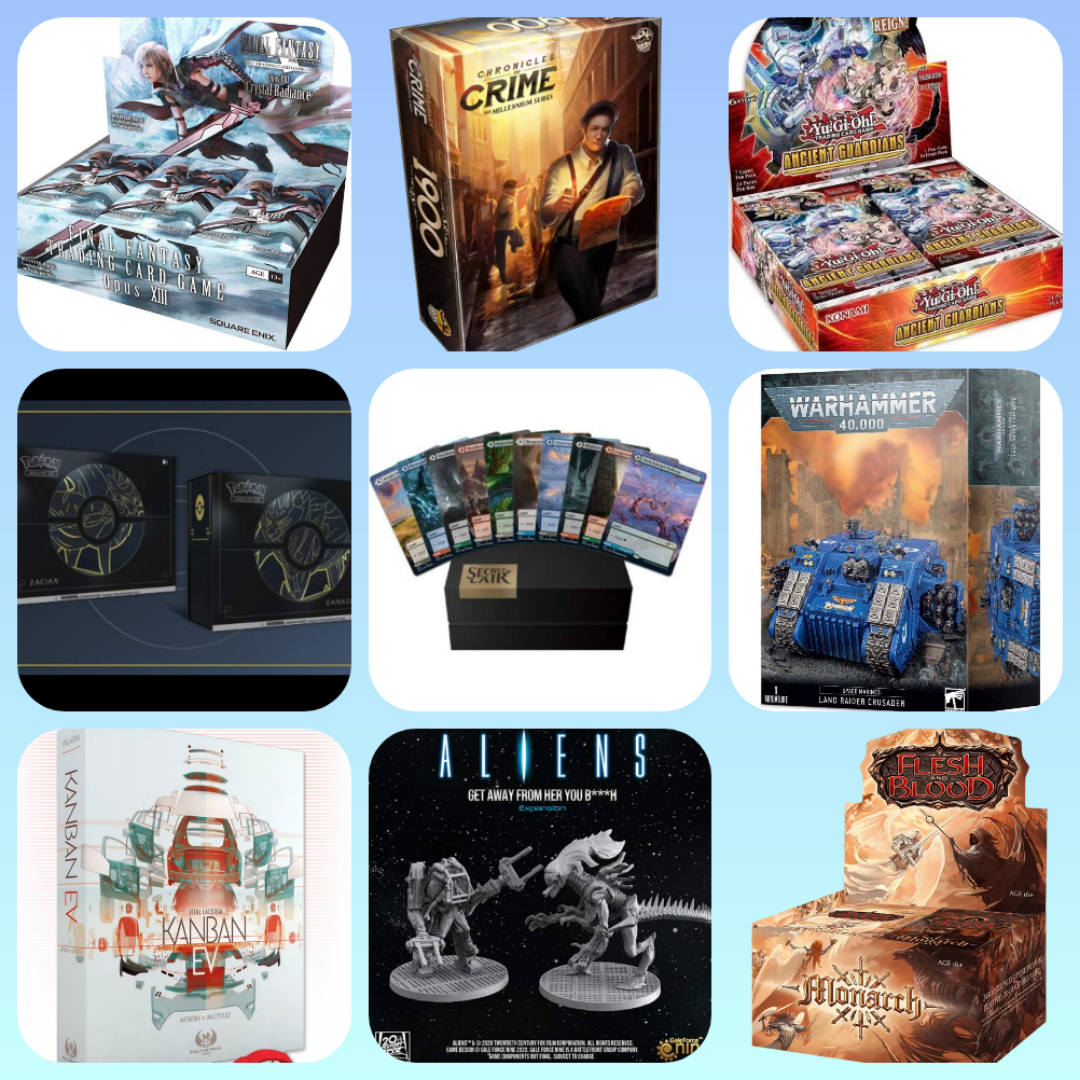 New This Week at Mythic Games!
– MTG: Secret Lair Ultimate Edition 2
– Pokemon: Sword and Shield Elite Trainer Box Plus, First Partner Kalos Packs, Victini vs Gardevoir Battle Decks, Victini V and Gardevoir V Decks, & Galarian Rapidash Boxes
– Kanban EV: Core Game, & Upgrade Pack
– Flesh and Blood TCG: Monarch Boosters
– Yu-Gi-Oh!: Ancient Guardians Boosters
– Final Fantasy TCG: Opus XIII Boosters
– Chronicles of Crime: 1900
– Sleeping Gods
– Arkham Horror LCG: Dark Revelation
– Aliens Another Glorious Day in the Corps: Get Away From Her You B***h! Expansion
– Deadwood 1876
– Unstable Unicorns: Adventures Expansion
– Rush M.D.
– Mangaka: The Game of Drawing Comics
– Warhammer 40K: Drukhari Raider, Space Marines Land Raider Crusader/Redemptor, Space Wolves Venerable Dreadnought, Adeptus Mechanicus Ironstrider, Drukhari Scourges, Adeptus Mechanicus Tech-Priest Enginseer, Space Marines Primaris Repulsor, Space Marines Primaris Invictor Tactical Warsuit, Space Marines Primaris Techmarine, Space Marines Primaris Invader ATV, & Death Guard Plagueburst Crawler
– Munchkin Enhancers
– Legends of Andor
– Theory 11: Purple Monarch Playing Cards
– Railways of Nippon
– Railways of North America
– Railways of Great Britain
– Railways of Europe
– Pathfinder Bestiary 1000pc Puzzle
– Solitaire for Two
– Wyatt Earp
– Struggle of Empires
– Army Painter: Tape Measure