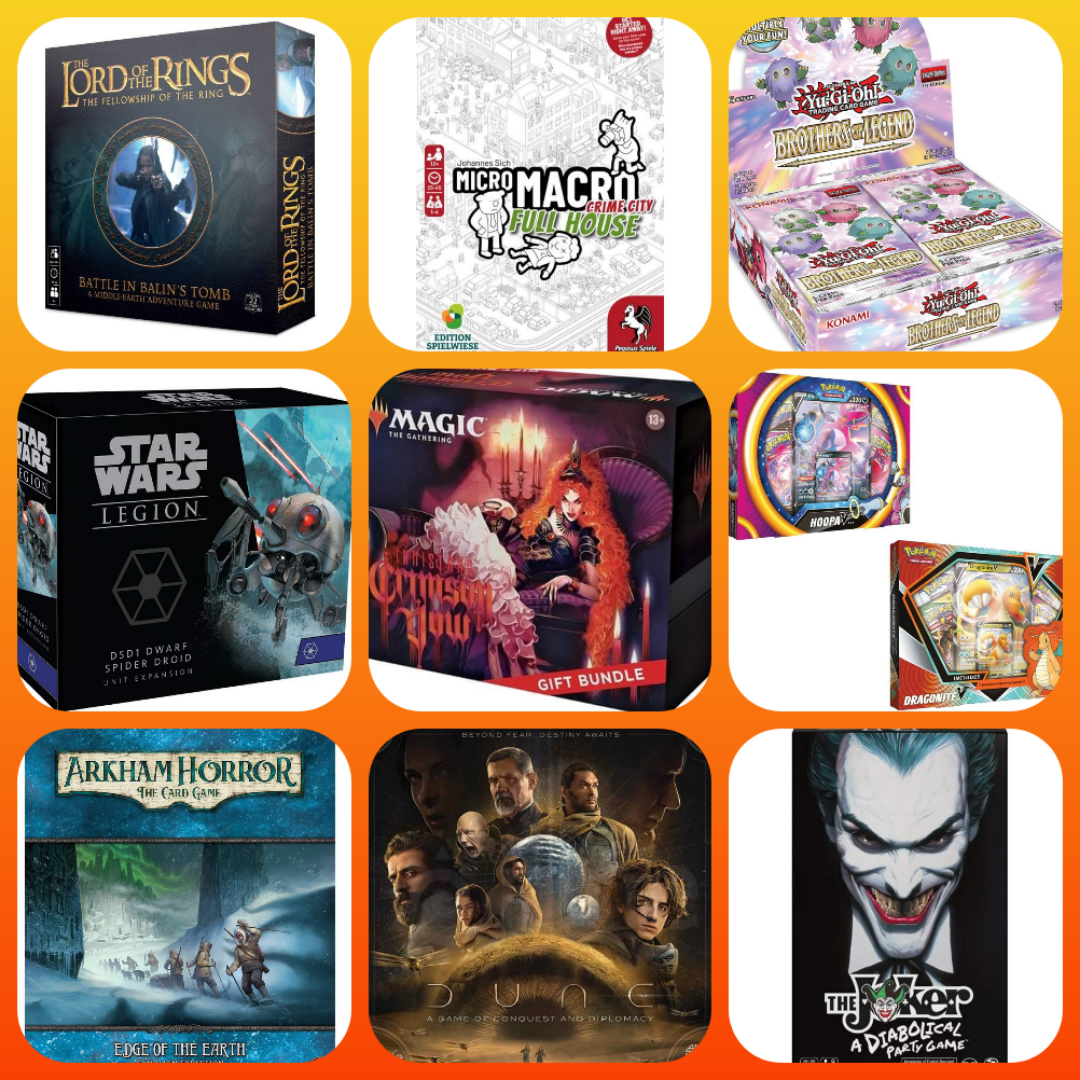 New This Week at Mythic Games! 12/3/21
MTG: Innistrad Crimson Vow Gift Bundles
Pokemon: Dragonite V and Hoopa V Boxes, Urshifu Vmax League Battle Decks, & Pokeball Tins 2021
MicroMacro: Crime City Full House
Dune: Film Version
Arkham Horror LCG: At the Edge of the Earth Campaign Box
Star Wars Legion: DSD1 Dwarf Spider Droid, IG-100 Magnaguards, Infantry Support Platform, & NR-N99 Persuader-Class Tank Droid
Pathfinder RPG: Guns and Gears Pocket Edition, & Hero Point Deck
Joker: A Diabolical Party Game
Camel Up: Off Season
Citadels: Revised Edition
Lord of the Rings: Battle in Balin's Tomb
Warhammer Age of Sigmar: Stormcast Eternals Stormdrake Guard
Yu-Gi-Oh!: Brothers of Legend Boosters
Transformers Deck-Building Game
G.I. JOE: Deck-Building Game
Savannah Park
Pitchstorm
Assault on the Castle
Detective City of Angels: Cloak and Daggered Expansion
D&D Icons of the Realms Painted Minis: Summoned Creatures 1, & Summoned Creatures 2
Critical Role Unpainted Minis: Goblin Sorcerer and Rogue Females, Ravenite Half-Dragon Barbarian Female, Lotusden Halfling Ranger Male, Husk Zombies, & Core Spawn Crawlers
Kompromat
Crime Scene: Helsinki, & Moscow
Sriracha The Game!
The Best Friend Game
Gulp
Spot It!: Teenage Mutant Ninja Turtles
Shelfie Stacker: Deluxe Deliveries Expansion
Deluxe Playing Cards: Mosaic Deck, & Aviary Deck
My journey to Catan: Signed by Klaus Teuber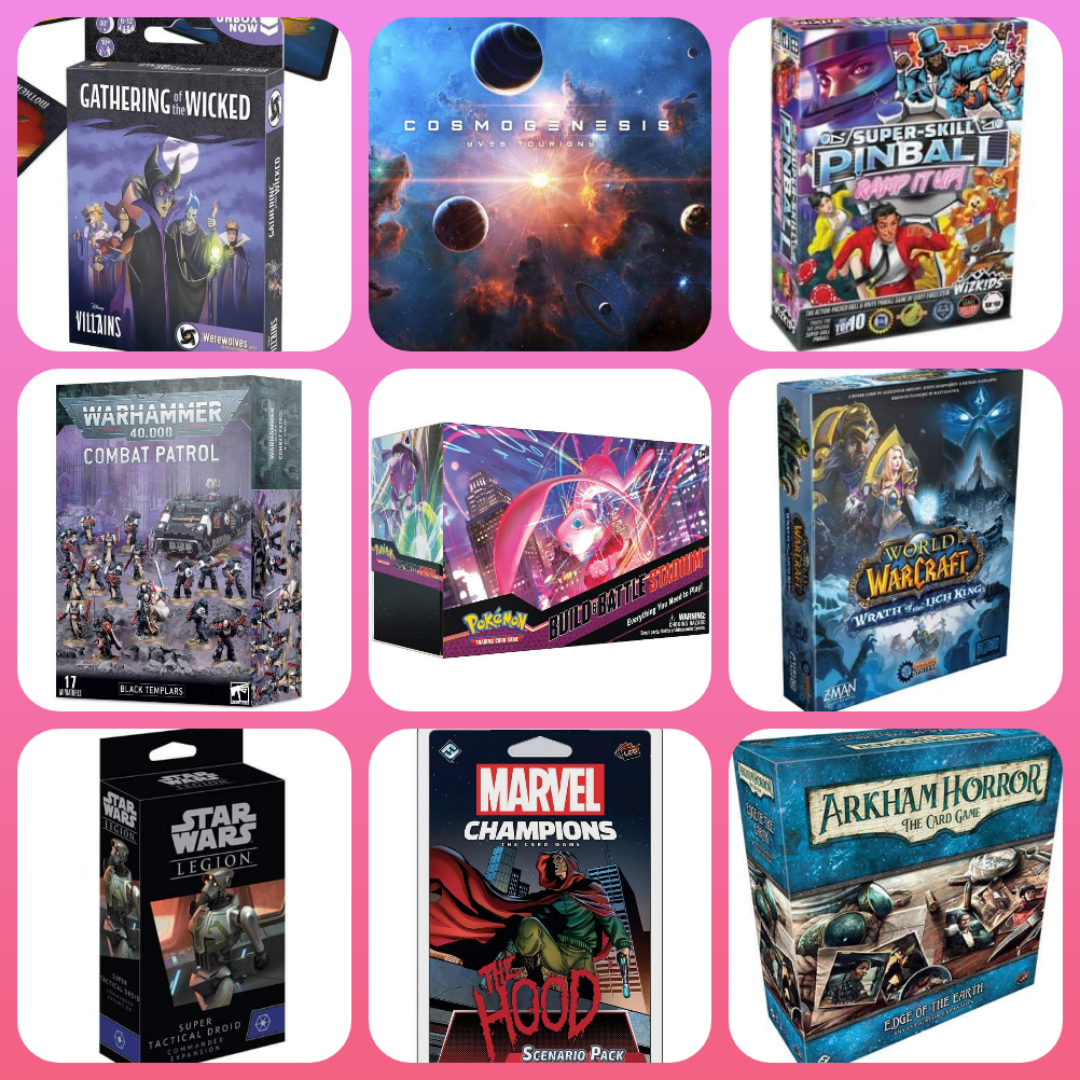 New This Week at Mythic Games! 11/26/21
World of Warcraft: Wrath of the Lich King
Marvel Champions: The Hood
Pokemon: Fusion Strike Build and Battle Stadium
Star Wars Legion: Super Tactical Droid, & Raddaugh Gnasp Fluttercraft
Arkham Horror LCG: At the Edge of the Earth Investigator Expansion
Super Skill Pinball: Ramp It Up!
Disney Villains: Gathering of the Wicked w/ Cruella Promo
Metazoo: Nightfall Release Event Boxes
Bequest
Catan Logic Puzzle
Mississippi Queen
Power Rangers DBG
Colors of Paris
Sriracha the Game
Tajuto
Cosmogenesis
Tikal
Warhammer 40K Black Templars: Combat Patrol, Codex, Chaplain Grimaldus and Retinue, Marshal, High Marshal Helbrecht, Emperor's Champion, Primaris Crusader Squad, Sword Brethren, Castellan, Upgrades and Transfers, Data Cards, & Dice
D&D Idols of the Realms 2D Minis: PC Pack, Sidekick Pack, Monster Pack 1, & Monster Pack 2
Critical Role Unpainted Minis: Shallowpriest, & Swavain Basilisk
Spot It: Minions
Cards Against Humanity: Climate Catastrophe Pack
You Laugh, You Drink
Best Story Wins
Foam Brain Dice: Inclusion Dice Sets, Assorted
Dragon Shield: Christmas 2021 Sleeves, & Playmat
Dragon Shield Card Codex: 80ct Black, 160ct Black, 360ct Black, & 576ct Black
MDG: Mini Stardust Dice Sets (Galaxy, Supervolcano, Grey, Purple, Turquoise, & Blue)