Welcome to Mythic Games! We are a one stop mom & pop shop for all your table top gaming needs. We have a MASSIVE selection of MTG singles and board games, dice, war games, TCG's, RPG's and tons of accessories. Recently, we expanded to 6300 square feet and have a variety of play space areas to accommodate all types of players, we even have our own TCG event room. We have worked so hard to get here and would love to see you join our community, we host a variety of events each day, please check out our calendar and come out to meet some like minded gamers, or better yet, bring a group and enjoy our vast, clean and bright play spaces.
Check Out What's New At Mythic!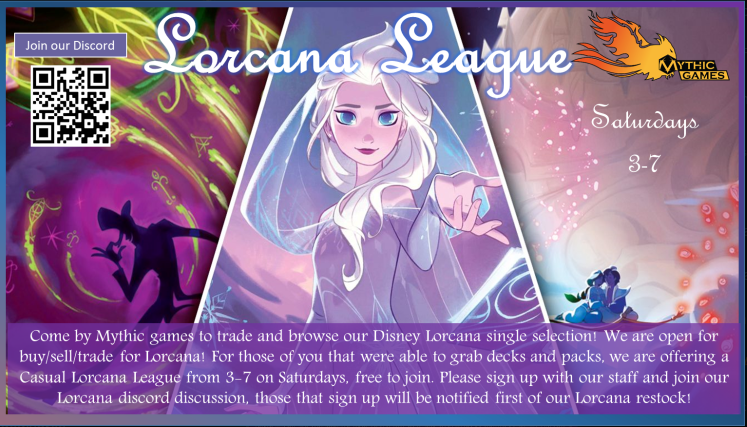 At Mythic Games we're running Lorcana League every Saturday from 3pm-7pm.
Free to play
Bring your friends, play some games, trade some cards, and earn promo prizes!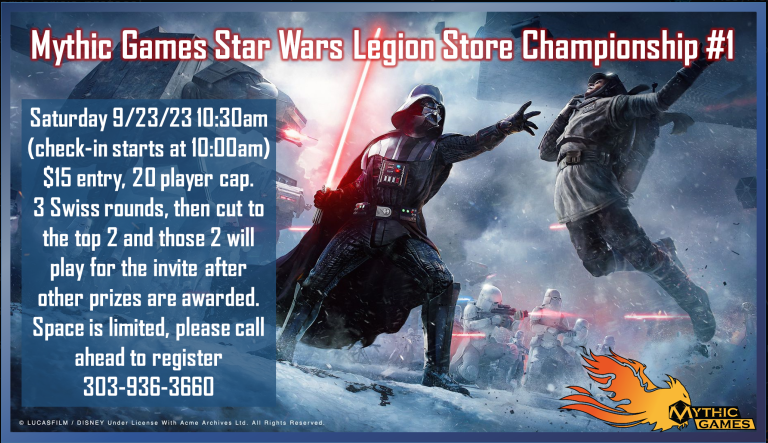 Mythic Games Star Wars Legion Store Championship #1
Saturday 9/23/23 10:30am (check-in starts at 10:00am)
$15 entry, 20 player cap
3 Swiss rounds, then we'll cut to the top 2 and those 2 will play for the invite after other prizes are awarded.
This event is limited to 20 players and will fill up fast.
Please Call the store to sign up at (303)-936-3660 during regular business hours to sign up. We open at Noon on Friday.
You can Find the event doc here
http://www.mythicgamescolorado.com/mythic-games-star-wars-legion-store-championship/
You can find the Game Uplink event here
https://legion.gameuplink.com/events/mythic-games-star-wars-legion-store-championship/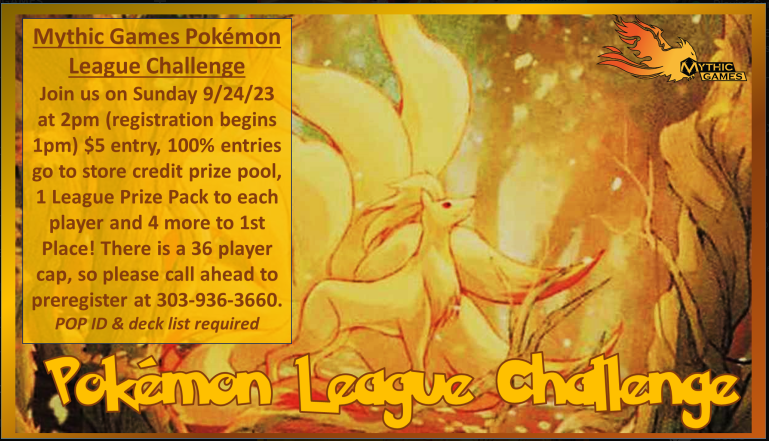 At Mythic Games we're hosting our next League Challenge!
9/24/23 at 2pm
$5 Entry, we'll put 100% of entries into the store credit prize pool, plus all participants get a Pokemon League Prize Pack, and the Winner gets 4 More!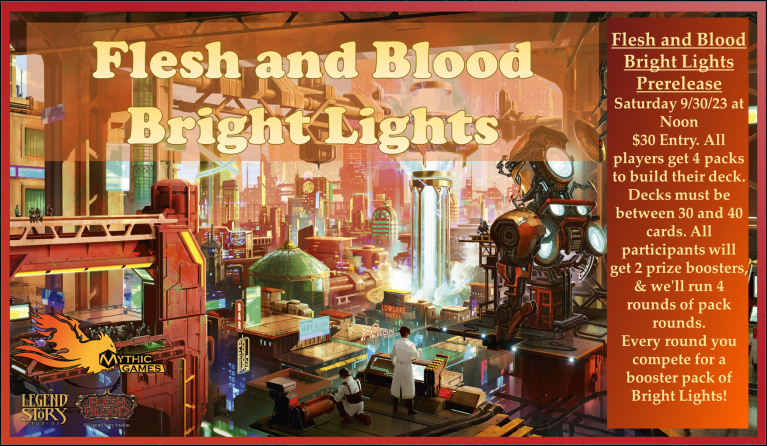 Flesh and Blood Bright Lights Prerelease at Mythic Games!
Saturday 9/30/23 at Noon
$30 Entry, All players get 4 packs to build their deck.
Decks Must be between 30 and 40 cards. All Participants will get 2 prize boosters, & we'll run 4 rounds of pack rounds.
Every round you're playing your opponent for a booster of Bright Lights!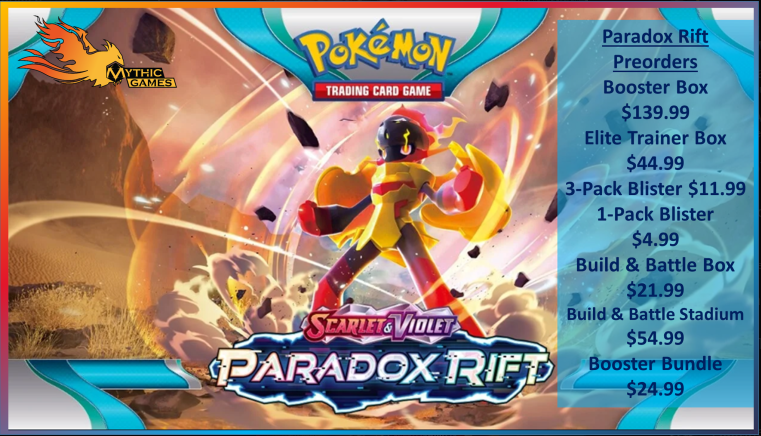 At Mythic Games we're now taking preorders for Pokemon Scarlet and Violet Paradox Rift Products. Give us a call at (303)-936-3660 to place your preorder.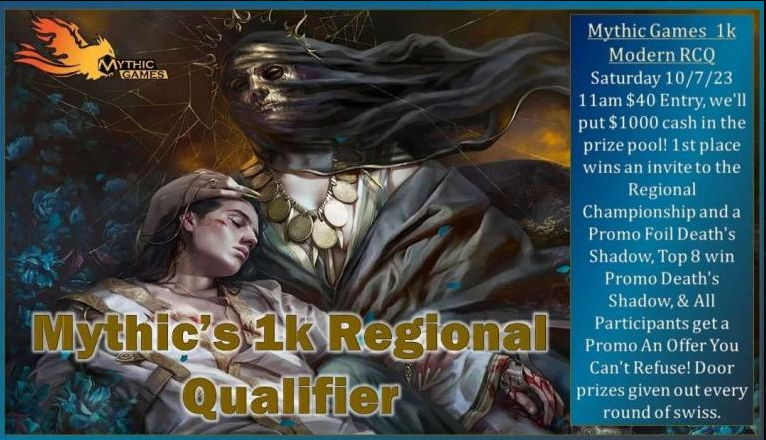 Mythic Games $1K Modern RCQ
10/7/23 at 11am
$40 Entry
We'll put $1000 into the cash prize pool!
1st place wins an Invite to the Regional Championship & a Promo Foil Death's Shadow, Top 8 win Promo Death's Shadow, & All Participants get a Promo An Offer You Can't Refuse! We'll give out door prizes every round of swiss.
You can sign up now in store or by calling us at 303-936-3660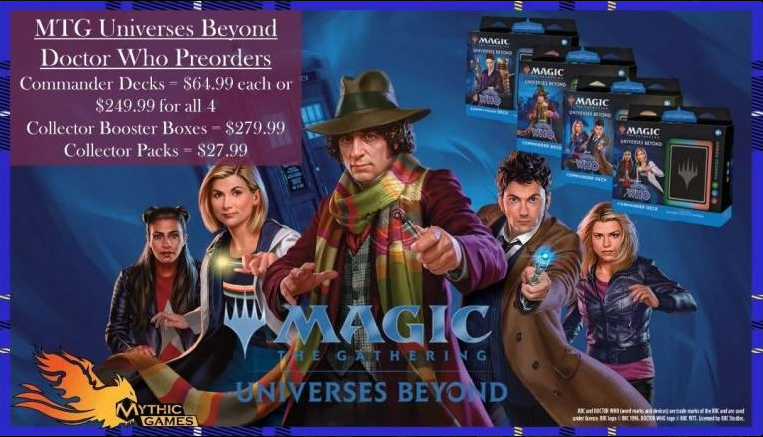 At Mythic Games we're now taking Preorders for
Universes Beyond Dr Who!
Give us a call at 303-936-3660 to place your preorder!
Looking for players like you to meet with at Mythic? Join our community group! https://www.facebook.com/groups/267778738156756/?ref=share
Find us on Facebook for all our events and info!
http://www.facebook.com/mythicgamesco
Then join our discord to plan a meet up online and play games at Mythic!
https://discord.gg/S2mdsHX
Be safe and stay healthy.