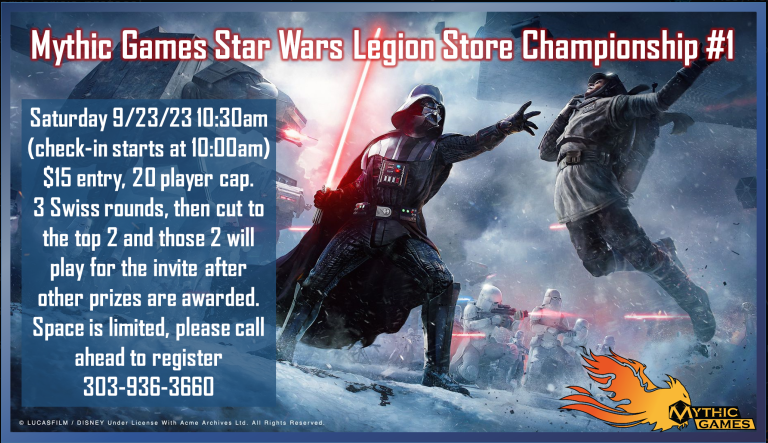 Saturday September 23rd, 2023
Entry Fee – $15
How to Register – In Store or Over the Phone at (303)-936-3660
Game Play: 800pt Standard Legion Games. Swiss Pairings over 3 rounds, then a cut to top 2 for a final 4th round. Players will have 2 hours and 30 minutes to set up, deploy, and complete their games. Players should strive to play at a good pace to encourage games going to 6 rounds or as many rounds as possible. Players will be given a 15 minute grace period after the time limit to quickly finish the round they are in.
In round 4, the top 2 players will use a Chess Clock, which will be provided by the event staff. Chess Clock Document Here. Shoutout to Griffin (@Faustein) for the document on chess clocks. (Players will not be expected to use chess clocks outside of the top cut.)
Tracking: The tournament will be tracked on Game Uplink:
https://legion.gameuplink.com/events/mythic-games-star-wars-legion-store-championship/
You must make a free account and also register for the event on game uplink to participate. Game Uplink is used to issue pairings, track results, and upload lists before the event.
Winners and Tiebreakers: The tournament will be 4 rounds total. Everyone will play three rounds, after which we will cut to our top 2 and the top 2 will play one final round. The rules laid out in AMG's Galactic Conquest Document will be used to determine tiebreakers. Depending on the number of players and the way pair ups/downs go, we may have 3 undefeated players, in this unfortunate case we will still cut to the top 2 based on tie-breakers. The Undefeated Player who doesn't make the cut will be awarded free entry and advanced sign-up to our next store championship in October. After the 4th round we will have our top player who will be crowned our champion and will receive the worlds invite.
Schedule
Saturday
Start Time
End Time
Registration
10:00am
10:15am
Opening Remarks and Round 1 Pairings
10:15am
10:30am
Round 1
10:30am
1:00pm
Lunch
1:00pm
1:45pm
Round 2
1:45pm
4:15pm
Score Round and Release New Pairings
4:15pm
4:30pm
Round 3
4:30pm
7:00pm
Score Round, Wrap up for most players, announce top cut, extra time for prizes
7:00pm
7:30pm
Round 4 (Top 2 Only)
7:30pm – 10pm
Prizes and Rules
Player Requirements
Registration: You must register in person or over the phone at (303)-936-3660
Tracking – Pairings, table assignments, viewing lists, and reporting match scores will be done via Game Uplink.
Lists – Upload your list to Game Uplink in list link format (You must use LegionHQ or Tabletop Admiral) no later than 8PM Friday September 22nd.

– Players must have at least one copy of each unit/upgrade card in their list, and have a method to mark the status of exhaust and deplete abilities to their opponent and judges. You do not need to bring duplicate copies of non tappable/ expendable/depletable cards (e.g. if you run 4 units of rebel troopers with the z6 upgrade and no other upgrades, you only need one copy of the rebel trooper unit card with one copy of the z6 upgrade card, not 4 copies of each).

If players are late for their matches by 0-9 minutes, additional time may be awarded to those players to finish their match, at the judges explicit approval and discretion. If a player is a late to their match by 10 minutes or more they will be issued a game loss.

Prizes
AMG 2023 Season Store Championship Kit! So lots of exciting promos for everyone who participates!
Other Cool Promos!
Painting awards provided by Mythic Games
Undefeated Players Receive Mythic Games Order Tokens!
Best in Faction will receive a Mythic Games Dice Tray!
Painting Requirement
There is no painting requirement for this event.
Proxy Cards/Modified Models – In general, you should use official FFG/AMG models and cards for this event. If you have a kit bashed/significantly modified model – YOU MUST SEEK T.O. APPROVAL BEFORE THE EVENT. In general, troopers that can use silhouettes, are recognizable, and use a majority of official FFG/AMG parts will be approved.
Cards – In general, upgrade cards that are released and available for official play may be proxied. This is subject to T.O. approval – ASK FIRST!
Example – you want to take Force Barrier on your Obi Wan Kenobi, but do not own a copy. You ask the T.O. beforehand and they approve. You may use a proxy force barrier during the tournament.
TO and Judges
TO – Mike Agnew @Mythic Games Colorado (Mike)
Head Judge – Stephen Cobb @ASpaceViking (stephen)
Painting Competition
Anyone who wants to enter the painting competition must participate in the tournament, and should put their whole army, one single miniature, or both on display during lunch on one of the tables (Dioramas, etc. will not be considered). Only units included in your army list for the tournament can be entered into the painting competition. Predetermined judges will judge the participants' armies during lunch and declare a winner after lunch! The judging criteria shall be as follows: painting skill (Weighted the heaviest), detail work, originality, creativity. Judging is subjective, but please respect the judges decision as final.
Painting Prizes will be awarded to the best army and best single miniature.

Conduct
Players are expected to conduct themselves in a respectful and sportsperson like manner. This event is open to players of all ages and skill levels and should be welcoming for experienced and new players alike. Players are expected to play their games in a friendly and respectful manner. Disputes should be solved amicably by calling a judge, and the judges call is final. If players are disrespectful to other players or judges, they may be issued a warning or banned from the event depending on the severity of the incident. In general, players should strive to be kind and friendly to their opponent and take the perspective that making a new friend who plays legion is more valuable than winning a game.

World's Invite
The winner of round 4 will be awarded a Worlds Invite from the store championship kit. In the event that one of the undefeated players who would otherwise earn a worlds invite already has a worlds invite, the invite will pass down to the next highest ranked eligible player.

Travel Groups
At the EO's discretion, players who travel a significant distance for the event can be assigned to a 'travel group', meaning they will not be paired round 1. The way this is conducted is that random pairings from Game Uplink are used, but if players in a travel group are randomly paired, then they will be swapped with each other's opponents. The EO has full discretion on what constitutes an eligible travel group and does not have to honor this. This only applies to round 1 and may not be used for subsequent rounds.
Rules Reference Updates, Rules, Etc.
The latest rules reference guide and errata as of 9/21/23 will be used for this event. Note – if a points update drops on or before 9/21/23, those new points will be used for the event. For any rules not covered in this document – The official tournament regulations will be enforced. Check with your T.O. This includes the code of conduct. Questions? DM @Mythic Games Colorado (Mike) on the 5280 or Mythic Games discord.